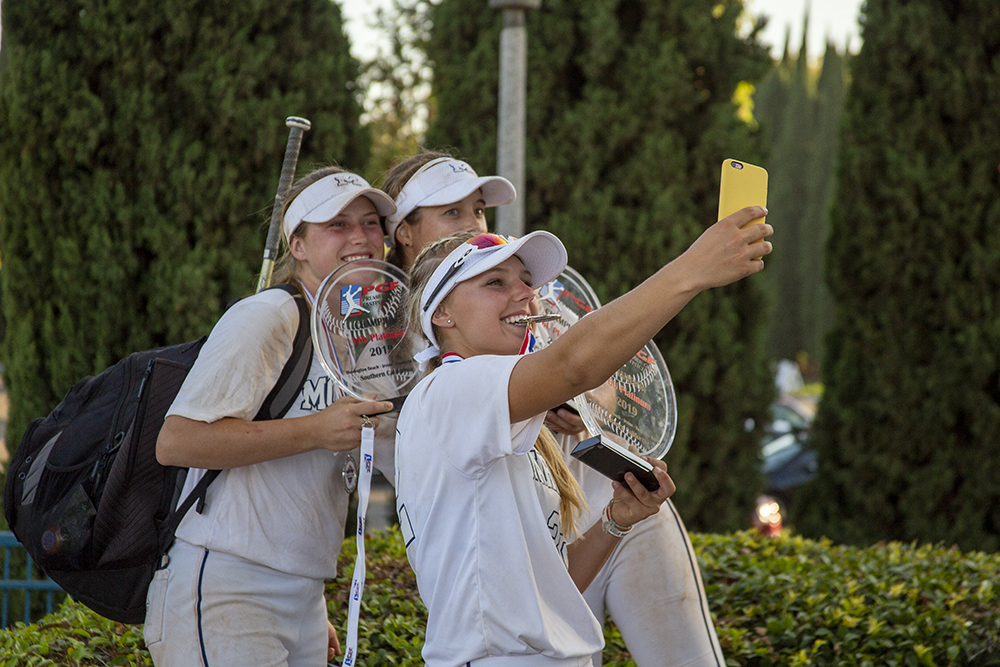 Team building is crucial to the success of any program as well as making every athletes' experience as positive as possible. This level of relationship building helps your team develop trust in one another, and especially when it is done off the field, can only have positive effects on the field.

Whatever you do, a big key to every team building activity: MAKE IT A PHONE, SMART WATCH FREE ZONE! If you host a sleepover have your athletes leave their phones in a room the team isn't in; if you attend an event have an adult collect them when you arrive at the event or monitor your team to make sure phones stay in bags; etc. Here are 9 activity ideas for your team to participate in:
1) Team Sleepover
A classic but always a hit! If possible, have the team get together for a few sleepovers! Watch movies, playing sleepover games, set up a fun photo booth, the possibilities are endless! If space allows you could also set up a set/projector screen, have your athletes bring tents, and hold most of it outside as a mini-camp out.

Absolutely make this a phone free event! Keep cell phones in another room away from your athletes. Let parents and guardians know about this and provide them the hosting family's contact information so they can still get in touch in the case of an emergency. The team should be focused on "team time" and enjoy being in the present moment with their peers.
2) Volunteer Work
There are tons of opportunities no matter where you are located to help your community, teach your athletes about giving back, and have some fun along the way. Organizations like Habitat for Humanity and Feed My Starving Children are classic options that do great work. You can also look into volunteering at other places like nursing or assisted living homes (playing cards, just hanging out, etc.); organizations that support veterans and/or veterans homes; children's hospitals; local schools; animal shelters; river/lake cleanups; and much more!
3) Escape Rooms
If you haven't tried an escape room or puzzle challenge, they are pretty fun! They can be a bit expensive but, again, they are a lot of fun and really push people to work together; communicate efficiently; listen to one another and be open to others ideas while avoiding bickering. You could even try your hand at setting one up yourself!
4) Competition Days at Practice
Have a "fun" practice where your athletes compete against one another! There are tons of games and challenge ideas out there you can incorporate into a day of fun that gets your athletes laughing with one another and just having a great time.

Do you have access to a gym? Play some classic gym games! If you don't, Reach out to your local schools and see what their process would be for utilizing their gym. If that doesn't pan out, a number of gym games can be played at any open field too!
5) Enjoy Seasonal Events
Even if you are "out of season" getting your team together is never a bad idea for those who can attend! Hit up an apple or berry orchard, go skating, attend a farmers' market or community festival, go the a state fair, go tubing if you're in a cold weather state with snow, hit up the beach, and much more!
6) "Teammate Dates"
I know of many colleges that do this but challenge your team to go on a "date" with every one of their teammates. They don't have to be long and they don't necessarily have to cost money. This one-on-one time can really help everyone get to know each other. They can hang out at one another's house, go grab coffee together, take a walk at a park, go to the zoo, etc.

If you have players from other states, they could spend some time with each other on Facetime or Skype! Don't let distance be a factor!

Give your players a timeline on which this needs to be completed. Once that is up you can have everyone come together and share a couple fun or interesting facts they learned about their teammates.
7) Attend a Sporting Event
Always a fun option, take your team to a sporting event! Many teams and colleges have special group pricing to help save money, reach out and look into it! Do you have an NPF coming to town or that competes out of your area, GO! Do you have a minor league team? How about a local college? In some cases it could even be free. It doesn't even need to be a softball or baseball team – go to volleyball, or soccer, or basketball. Shoot, roller derby is actually incredibly entertaining too! Get creative, exposure to things outside of softball is great too!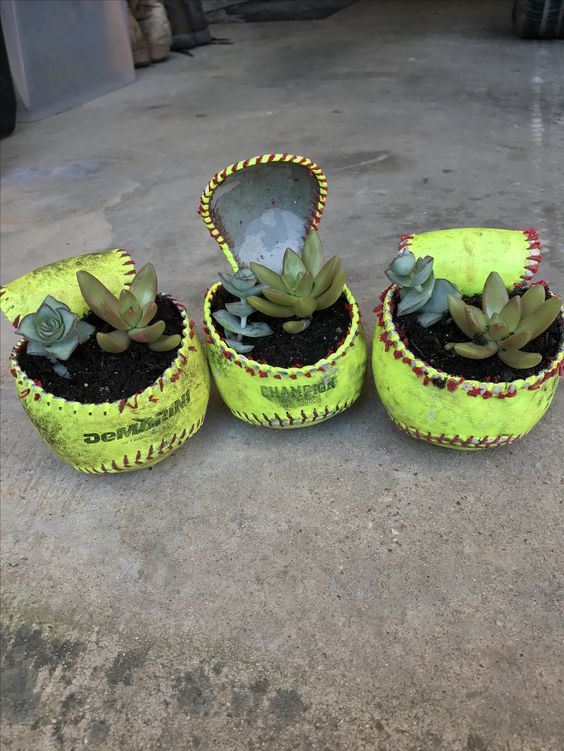 8) Team Craft
Sky is the limit here! You can make bows, key chains, bag tags, shirts, bracelets, necklaces, and much more. Lately, photos of softball planters have been going around and they are awesome! Especially as a way to recycle old balls that aren't playable anymore.

Aren't they cute?
9) Support a Teammate
Do your athletes participate in other sports, theater, music, or something else? Find out! Find out when their games, shows, or performances are and get a calendar together. Yes, now a days everyone is so busy, but something we need to teach our athletes is that showing up for people is important. If you can, go see your teammate in their play; go watch them compete in other sports, attend state if they qualify; attend their recital!

Even if it isn't a sport or activity you know much about or aren't maybe interested in, showing up for someone and supporting them is incredibly important and only helps strengthen a relationship to deeper levels.