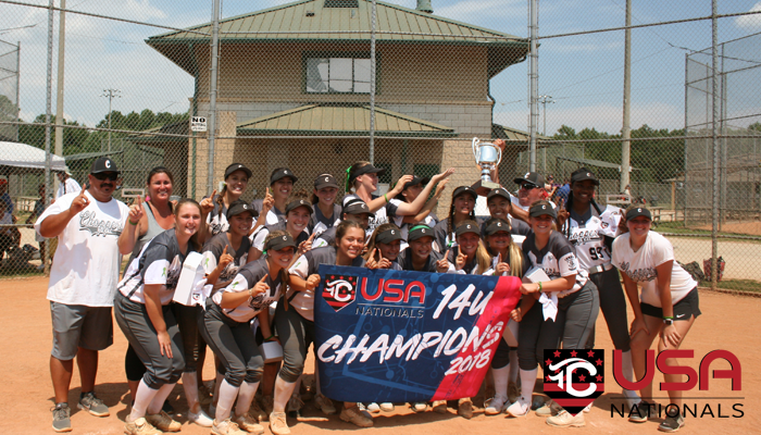 Last week we released of Super 60 Rankings for the end of the 2018 club season.  This week we are breaking down the top five teams. Often very little separates this caliber of teams. If you ever have questions or would like us to know more about a team, we welcome communication and information at support@fastpitchnews.com.
No. 5 Diamond Sports Hotshots – Nelson
Ranked in the fifth spot on the FPN 14U Super 60 is the Diamond Sports Hotshots (Nelson). The squad placed second at the 2018 PGF Nationals, all of the team's hard work had been leading up to trying to get to that Championship game. They fell short, but they came out swinging. This team also carries on the theme of balance and athleticism. The team has both and it showed this summer.
Key Players
Brooklynn Bockhaus (2022) UTL/3B/OF
Kelsey McKay Gaspard (2021) 3B/C
Abigail Savoy (2022) 1B/OF
No. 4 Corona Angels Tyson
Winning the 2018 PGF National Tournament with a score of 9-2 over Sorcerer-Schroll, the Corona Angels Tyson had an exciting close to their summer season. Putting in the work, they knew they needed; it paid off for the team. Bringing up younger kids to experience the championship feel, they are genuinely building their program for success. Making their eighth appearance as an organization in the PGF National Championship game, the Corona Angels Tyson has earned the fourth spot in the FPN 14U Super 60. They most likely would have threatened for the top spot had they placed in another national tournament. As we stated before, not much separates teams at this level.
Key Players
Jordin King (2021) P (Cal)
Kylee Magee (2022) P (Arizona State)
Korbie Otis (2021) P (Louisville)
Angelina Allen (2021) 1B (Iowa State)
No. 3 PA Strikers 14U National Team (Mizuno)
Making the most of their season, the PA Strikers 14U National Team Mizuno competed in nine different tournaments/camps from June to the beginning of August. That doesn't include their PGF National Qualifier in February where they swept their competition to send themselves back to California. The team went 8-0 in the Ohio Outlaws Summer Invitational, ended up finishing fifth in TC/USA Nationals, and fourth at PGF Nationals. With great athletes and coaching staff, the PA Strikers 14U National Team Mizuno continues to gain experience and compete at the highest levels.
The Strikers are the perfect example of a well-balanced team loaded with great athletes. They also have been together for some time and have valuable experience playing together.
Key Players:
Dani Hayes (2021) SS (Penn State University)
Brianna Peck (2021) P/UT (Drexel University)
Acelynn Sellers (2021) P/SS (Drexel University)
Kayla Tauber (2021) 2B/OF (Drexel University)
No. 2 Diamond Sports Hotshots Falterman
Winning the USSSA Elite Select 14U Championship this summer and placing in the top 10 at the PGF nationals, the Diamond Sports Hotshots Falterman came to compete in the 2018 season. They had to fight back to win that title after dropping a game to the Tennessee Mojo in bracket play. The team runs deep in the circle as well as at the plate. Consistent pitching coupled with an explosive offense with speed makes them dangerous.
Key Players:
Sam Landry (2021) P/1B (University of Louisiana Lafayette)
Halie Pappion (2022) P (University of Louisiana Lafayette)
Madyson Manning (2023) UT (Oklahoma)
Kayla Falterman (2021) OF (University of Louisiana Lafayette)
No. 1 So Cal Choppers Fausett
The So Cal Choppers (Fausett) take the number one spot in the 2018 Fastpitch News 14U Club Rankings. They were impressive winning the TC/USA 14U Nationals and finishing among the top 10 at the 2018 PGF Nationals.
They were very impressive at the TC/USA Nationals. They dropped their first two pool games and came back to capture eight straight wins on their way to the title.  Desiree Smith threw a complete-game shutout in the championship to defeat the East Cobb Bullets – Biele/Heath, 3-0. Coach Gary Fausett had this to say after winning the title "This is just the kind of kids I've had all year. They play their hearts out. They are a good group of kids from good homes. They aren't troublemakers. They knew they didn't get the job done early, but they came to me and told me not to worry because they'd get the job done."
At the PGF Nationals, the Choppers posted a 6-2 record in bracket play.
Key Players:
Alyssa Ramirez (2022) P/3B/OF
Cassandra Torres (2022) P/1B/OF
Kayden Ponek (2022) OF