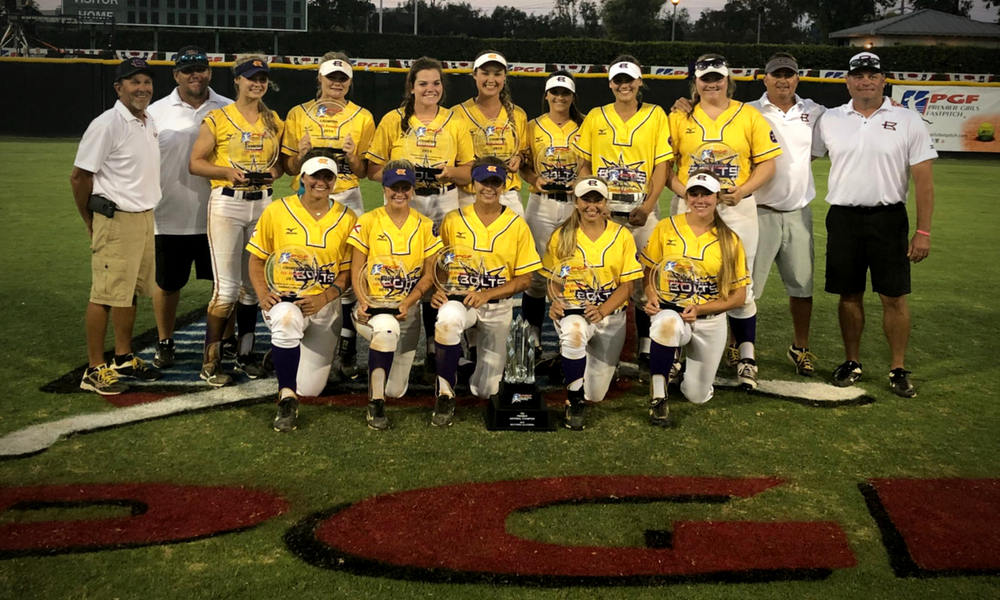 No. 5 Diamond Sports Hotshots Premier- Dumezich
The Diamond Sports Hotshots Premier (Dumezich) earned the number five spot in our FPN Super 60 16U Rankings. Winning the USSSA Elite Select World Fastpitch Championship was a huge accomplishment by the Hotshots this summer. Coached by former Texas A&M All-American Mel Dumezich, this Texas team also attended and placed among the top 10 at the PGF Nationals. They have a never-give-up attitude and that was on display when they won the championship on a walk-off grand slam. Not only do they have explosive power in their line-up they also have solid pitching to along with it.
Key Players
Katie Cimusz (2021) C/INF
Chloe Gomez (2020) C/3B (McNeese State)
Abbey Smith (2022) CF/3B (Auburn)
Hailey Hudson (2020) P/1B (Texas)
Olivia Lackie (2020) P/1B (South Alabama)
No. 4 Athletics Mercado 16U
The Athletics Mercado 16U team has a talented group that worked hard this season. Making it all the way to the Championship at the PGF Nationals but finishing as runner-up, the Athletics Mercado 16U made a good run in the 2018 season. Relying a lot on their outstanding work ethic, the team follows the motto, "if you're hungry, eat". The team had the bats going and some outstanding defense throughout their final tournament and definitely peaked at the correct time. Earning the fourth spot in our Super 60 Rankings, Coach Dave Mercado and his team kept grinding the whole summer to get to this position.
Key Players
Shannyn Bustamante (2020) P (Loyola Marymount)
Sara Kinch (2020) C (University of Minnesota)
Jessica Acosta (2020) 2B/SS (Ole Miss)
Aynslie Furbush (2020) P/1B (Ole Miss)
No. 3 Scrap Yard Internationals
The Scrap Yard Internationals shared the TC/USA Nationals 16U title. Starting their schedule in May and ending at PGF Nationals in August, they played a difficult schedule in 2018.  With one championship under their belt for 2018 along with strong finishes at other national events, this team showed consistency and tenacity all season long. Pitching was a real strength behind their season.
Key Players
Erika Flynn (2021) P
Mikayla Garza (2021) P
Olivia Amador (2022) C
Haylie Savage (2021) IF
No. 2 Texas Glory Adkins Gold 16U
Sharing the 16U Open Championship title at the 2018 TC/UCA Nationals, Texas Glory Adkins Gold 16U finished second in our FPN Super 60 Rankings. Head Coach Jack Fultz and assistants Rodney Kaderka and Steve Cantu work together to get their squad tournament ready. They've competed with some of the best in the nation with a dedicated group of athletes, the Texas Glory Adkins Gold 16U made a great run throughout their tournaments this summer. As an organization, they set the bar high and their players have responded and are playing at a high level.
Key Players
Rylee Seymour (2021) IF/UT
Tatum Seith (2020) 1B/P/OF
Brooke Bingham (2020) P/1B
Grace Cantu (2021) 1B/CF
No. 1 Birmingham Thunderbolts 01 Dorsett
Winning their first PGF Premier National Championship in program history, the Birmingham Thunderbolts 01 (Dorsett) deserve the first spot on the Fastpitch News Super 60 Rankings. Making their way to California for PGF Nationals, they were determined win and remained undefeated throughout the tournament. These girls showed up to play for the whole 2018 season and that is why they are first in our rankings. Their schedule was tough throughout the season and responded well at every event. This is a team to watch over the next two years and should be pushing for the top spot again in 2019.
Key Players
Shelby Lowe (2020) P (Auburn)
Madisyn Kennedy (2019) 3B (Mississippi State)
Carlee McCondichie (2019) IF/UT (Auburn)
Emma Claire "EC" Taylor (2019) OF (Florida)