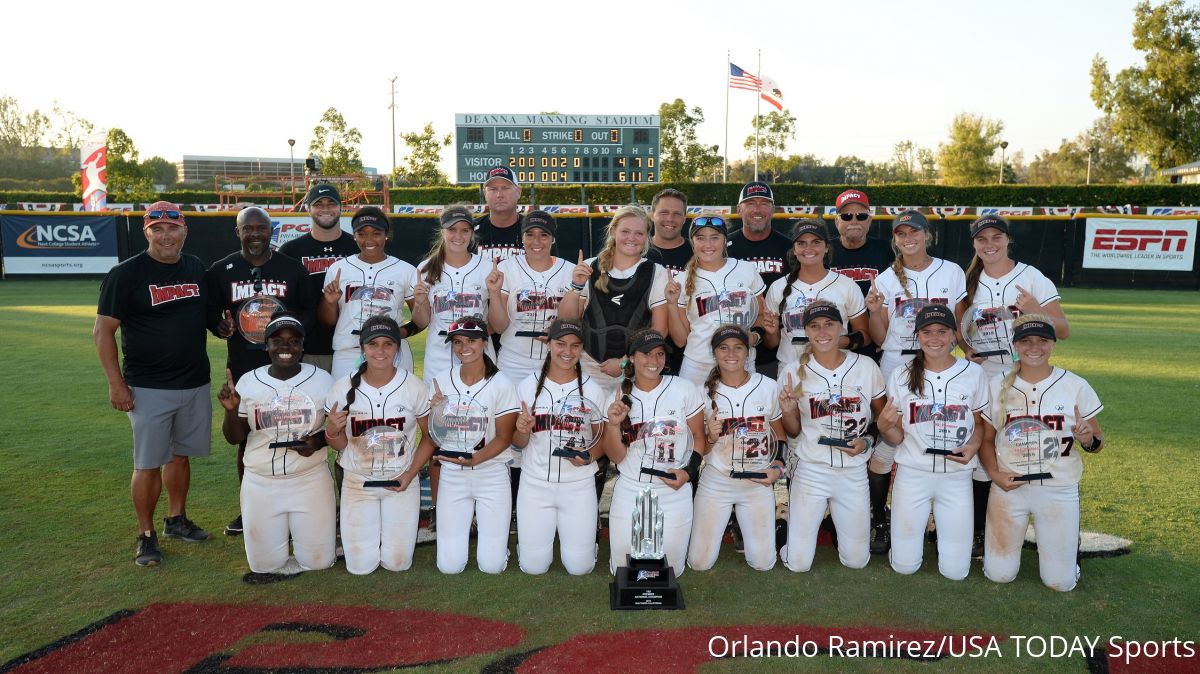 No. 5 East Cobb Bullets 18 Gold Schnute
Winning the 18U Open division at the Triple Crown Nationals, the East Cobb Bullets 18 Gold (Schnute) landed in the fifth spot of the FPN Super 60. An impressive note with this team is that a great majority of players will return next season. Their explosive offense was on full display in the TC championship when the won by run rule (20-8) against a very good Texas Bombers team. Not only is pretty much every player committed to playing at the DI level, many are headed to Power 5 conferences. The squad also had a deep pitching staff that made things tough on opposing hitters. With the bulk of this team back in 2019, they could make a push for the top spot.
Key Players
Kassidy Krupit (2018) IF (Baylor)
Lexi Kilfoyl (2019) P (Alabama)
Neely Peterson (2019) C (Colorado State)
Leea Hanks (2019) OF (Notre Dame)
Odalys Cordova (2018) SS/2B (Florida)
Chloe Culp (2019) 3B/C (Florida State)
No. 4 Aces Express Gold 18U
The Aces Express Gold 18U team took the fourth spot in our FPN Super 60 Rankings. With a rigorous schedule the team faced a high level of competition all season long. Finishing among the top teams in all tournaments, the Aces Express finished seventh at the JO Cup and third earlier this season at the TC Nationals. The team was well balanced with speed and power at the plate, a very athletic defense, and depth in the circle. The good news for them is that eight of the 16 should be back next season including two of their three pitchers. Much like the Bullets they should be threatening for the top spot in 2019.
Key Players
Amaya Montano (2019) 2B/SS (Texas A&M)
Courtney Day (2019) P/1B (Sam Houston State University)
Sydney Hoyt (2019) P/1B (Texas A&M – Corpus Christi)
Kelly Maxwell (2018) P/1B (Oklahoma State)
Janna Roberts (2018) IF (Texas)
No 3. OC Batbusters Stith 18U
The OC Batbusters Stith always come into the tournament season ready to play hard. Being a team with a great reputation for winning puts a target on their back from the very beginning of the season. Coming up just shy of their ultimate goal of winning the PGF National tournament, the Batbusters showed their determination and perseverance throughout summer ball. Getting knocked down to the loser's bracket early in California, they had to fight and win an outstanding nine games to make it to the Championship game. Even at the Elite Select World Fastpitch Championship, the OC Batbusters managed to remain undefeated until the Championship game where they came up just short of grabbing that title. On top of their success, Mike Stith was named the USSSA Pride Head Coach. Below we list some "Key" players, but let's be honest this team is loaded with talent.
Key Players
Terra McGowan (2018) C (Arizona State)
Tiare Jennings (2020) SS (Oklahoma)
Nicole May (2020) P/IF (Oklahoma)
Jadelyn Allchin (2019) OF (Washington)
Olivia Rains (2019) P (Oklahoma)
Reagan Walsh (2021) SS (Florida)
No. 2 Texas Glory 18U
Fighting hard to reach the top, the Texas Glory secured the second spot in our FPN Super 60 Rankings for 18U. Winning the 2018 USSSA Elite Select WFC 18U and a strong showing at the PGF championships are what propelled them. The Texas Glory are recognized as one of the top teams in the nation with a collection of great players that are committed to the game, the team always puts up a fight and shows a high level of consistency. Returning this year to the PGF Nationals, they started in the winner's bracket but had to play their way through the bottom to get close to the Championship. Unfortunately, they were unable to pull through for another Championship title but made a great run this summer.
Key Players
Mattie Boyd (2019) P (Oklahoma State)
Hayden Brown (2020) C/IF (LSU)
Rylie Boone (2019) P (Oklahoma)
Madison Hirsch (2019) C/IF (Kansas)
Jayda Coleman (2020) OF/UT (Oklahoma)
Raelin Chaffin (2021) P (LSU)
Trinity Cannon (2020) 1B/3B (Texas A&M)
No. 1 Georgia Impact Premier Lewis 18U
Winning the 18U Premier division at PGF Nationals this year, the Georgia Impact Premier (Lewis) squad had the perfect ending to their summer season. Patrick Lewis came into the season with high expectations for his team and defeated the OC Batbusters after losing twice to them already in 2018. Knowing their competition well and capitalizing on their opportunities is just one reason this Georgia Impact team landed at the top. They also posted a top five finish at the TC/USA 18U nationals. This is another team that is simply loaded with DI level talent.
Key Players
Kayla Davis (2018) 1B (Alabama)
Kloyee Anderson (2018) UT (Alabama)
Skylar Wallace (2018) SS (Alabama)
Savannah Stewart (2018) OF (LSU)
Julia Cottrill (2019) C (Florida)
Jaiden Fields (2019) 1B (Georgia)