Core Training
Getting Recruited from a High School with Little Exposure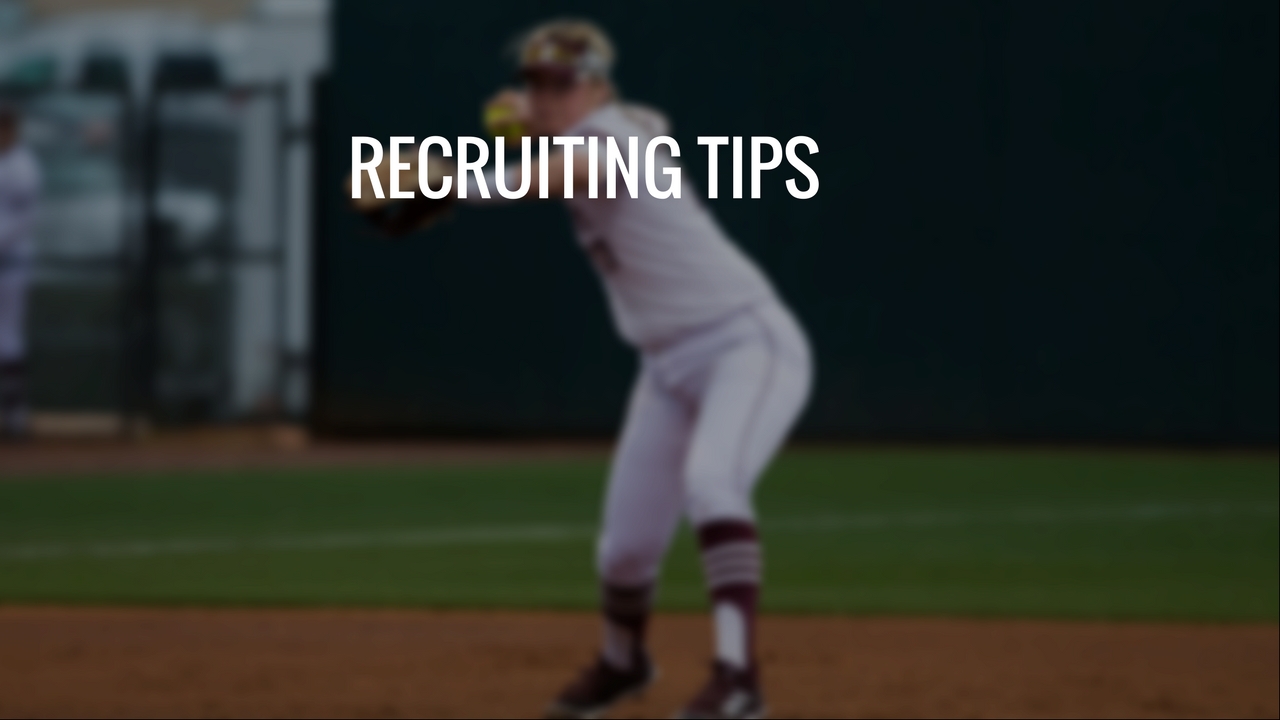 Getting recruited to a college program can be difficult in itself, and getting recruited from a small high school with little to no exposure can seem almost impossible. There are three very different levels when considering playing college softball. If you are one of the athletes who is deciding to take it to the next level, here are some tips to help your chances as a softball player to get recruited.
Contact college coaches yourself.
Coaches attend games, showcases, tournaments, and check stats for potential players on their list. If they don't know your name or anything about you, chances are they're not going to know to look for you. Make it known you're interested in their program and keep in constant contact with the coaches throughout the year updating them with your stats. Engaging in general conversation is important to getting to know the coach and team atmosphere. Just because a college coach has spoken to your high school coach, doesn't mean you're officially being "recruited". Sometimes how far you go in the recruiting process depends on how persistent you are. If you are unsure on what questions to ask or where to start in conversation, listed below are some potential questions to ask a college coach.
Six Questions to Ask a College Coach:
What do you expect from me as a player and person?
What is your coaching style?
When does your coaching contract end?
Does your team accept walk-ons? If so, how are they treated?
What does a typical year look like as a student-athlete on your team?
What does a typical day in the off-season look like as your student-athletes
Attend softball tournaments.
The more time you spend showing your skills in the off-season at tournaments, the more opportunity coaches get to come watch you play. There are plenty of club teams and tournaments around the country to gain exposure for yourself and showcase your abilities. Again, coaches usually have a list of players they are going to specifically watch, so if they are unaware of your skills or interest it's hard for them to know they should be evaluating you. If your team is looking for additional tournaments to attend, check out our F7 tournaments at http://f7softball.com.
The F7 Fall Classic @sluggerpeoria (Peoria, IL) is now open for registration! Labor Day Weekend, All Games Full 7 Innings, 6 Guaranteed games, 2 Umpires at every Game, Full Coverage by FPN and Early Bird Pricing! More info here: https://t.co/FkhRkRUKnJ pic.twitter.com/59cH1jqOwZ

— F7 Softball (@F7Softball) March 1, 2018
Have a great recruiting video.
Include your contact information and statistics in the video – height, weight, age, school, records, speed, NCAA ID#, coach's info, position, GPA/SAT score. The more information provided at the start for a potential coach, the easier it is for them evaluate you. Coaches don't like to go digging for information, so if your statistics and information are easily accessible, that's good news. High quality/high definition is a must when making a recruiting video. No one likes to watch a fuzzy, pixelated video especially with the amount of technology available to us. Take the extra time to purchase/rent/use a high quality camera if you plan on sending this video to a lot of different coaches, it shows you took the extra step in making a quality video. A good recruiting video is short and to the point. Coaches are very busy and have multiple recruits they have their eye on. Make sure you're video is long enough to showcase your abilities but short enough to avoid getting dragged out and boring. With a short video in mind, be sure to put your best moments first. You never know exactly how long a coach is going to spend watching your video, so be sure they see the best part of your softball skills from the beginning. Having tasteful music is also very important when making a video. If you do have sound, be aware not every coach has the same type of taste in music as you. Don't let the music distract from your softball skills, try sticking to instrumentals or anything subtle with no lyrics. Lastly, for easy viewing and sharing, upload your video to YouTube. Having your video on YouTube makes things easier for both you and a coach trying to get your video in the correct format to watch.
"THIS is a good as it gets."

This UNREAL catch by Aliyah Andrews is a MUST-SEE. pic.twitter.com/uyj8PyOt2v

— NCAA Softball (@NCAAsoftball) April 7, 2018
Do your research.
Make sure you're aware of the type of school you're looking to attend as well as potential open positions and the likelihood of playing time, this is where your questions for college coaches come in handy. Don't waste time on a school that doesn't have a major you're interested in or compromise your future plans for softball. Even though it may seem like softball is the only thing in your life at the moment, don't forget about your future career. Go for an official visit, this is the best way to get a realistic look at what a typical day looks like on campus. Don't be afraid to ask any and all questions or to even keep in contact with the host player to ask future questions about the program/campus life. If you are someone who doesn't normally travel far from home, be sure you can handle the distance when making a college selection. Home sickness can become a big mental factor when leaving for school for the first time. Another factor to consider in selecting a college is your ability to qualify for scholarships and financial aid. Out of state and Division I schools can come with a heavy price tag, so be sure to look at what kind of financial situation you'll be in after completing your four-year degree.