HS & Club Softball
HAGS: USA's Klingler, Canada's Messmer return to high school after WBSC Jr. World Championship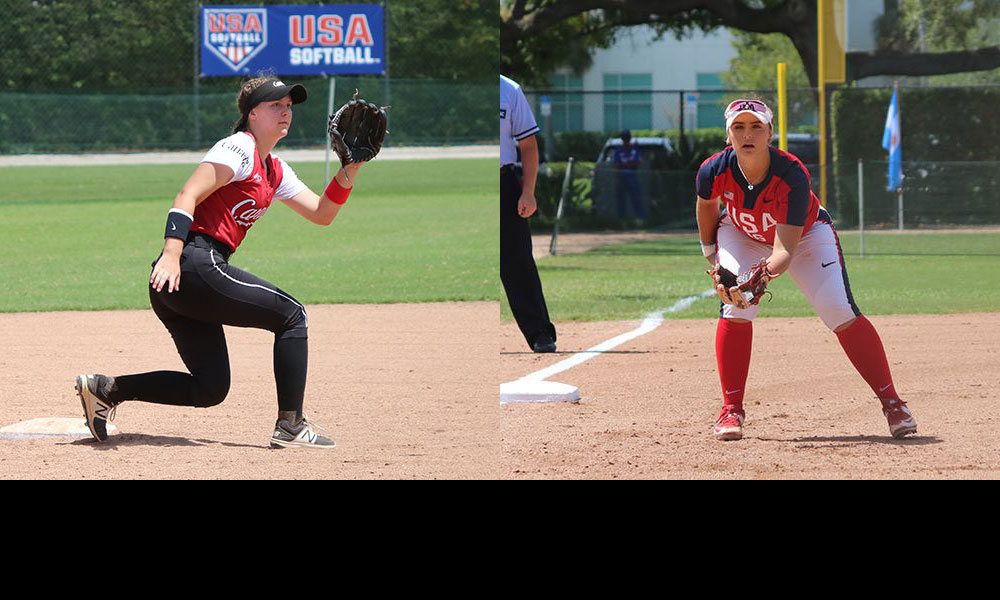 Before school lets out for summer, most kids go around and sign each other's yearbooks and write the famous, "HAGS."
For two high school girls at the World Baseball Softball Confederation Jr. World Championship, "Have a great summer," took on an entirely different meaning.
Baylee Klingler and Grace Messmer are from different parts of North America. Klingler is from Dickinson, Texas, while Messmer is from Surrey, British Columbia. The Texan played for the United States and Messmer for Canada. So what do they have in common besides softball? They are both in high school.
In October, USA Softball sent out invitations to 20 athletes to compete for 17 spots and it announced an open tryout. Those selected from the open tryout had the opportunity to participate in the selection camp the following two days. Of the 160 at the open tryout, 10 were selected for the JWNT Selection Camp and four made the team.
Fast-forward to July and Klingler found herself in the cleanup spot against Japan in the Gold Medal Game. In the fifth inning with her team down a run, Klingler took the pitch she wanted over the right field fence to give the USA a 5-4 lead and the Stars and Stripes never looked back.
"A lot of hard work, long hours, working as hard as I can on anything I can help me prepare for playing at this older level," said Klingler. "I've dreamed of this moment and I didn't think it would happen but I'm happy it did. I was waiting for the outside pitch, I knew it was coming and I just went with it."
Klingler returns to Dickinson High School where she will be a senior and is committed to play at Texas A&M.
"You can't speak enough about her," said head coach Laura Berg. "She has been consistent all summer long and she earned hitting in that four hole. You would never know by her composure that she was still in high school."
North of the border is where Messmer calls home. She entered the tournament as the youngest member of the Canadian team and played larger-than-life.
The starting shortstop for every game led her team in almost every offensive category and the only athlete to finish above her in the tournament overall was Bubba Nickles.
"I don't think I would have believed you," said Messmer about how she finished the tournament. "I came into this tournament just trying to have quality at bats and just to relax and be myself."
Playing shortstop and hitting at the top of the lineup is something that the B.C., native is used to and she didn't let her age come between her and making a play or getting on base.
"I realized my team believed that I could do it and keep up with the pitching so I had to have the confidence in myself and not worry about age," said Messmer.
Unlike Klingler, the 16-year-old is uncommitted and didn't bring home a medal because of a fourth-place finish. She did reflect back and realize that the tournament was more than the medal. It was about making memories that last a lifetime.
"I'll remember each game and how each person would be so happy to be there even if that game they weren't playing," she said. "I am going home with so many memories that I'll never forget."
Now, when both return to their respective high schools, they will both an epic answer to the question, "What did you do this summer?"