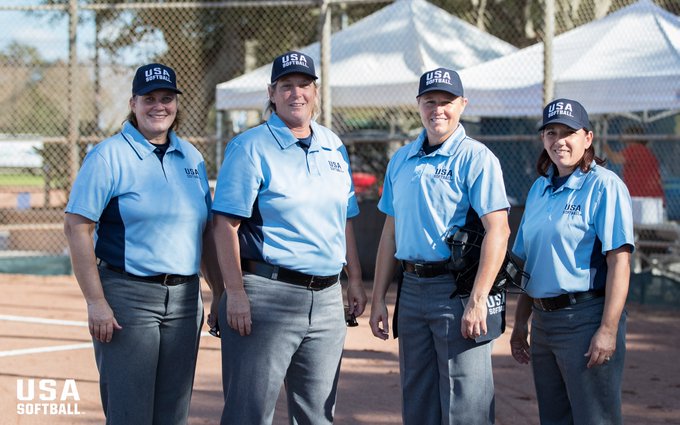 Image and Release from USA Softball
OKLAHOMA CITY – USA Softball announced eight USA Softball National Umpire Schools (NUS), including two National Umpire Advanced Camps, that will take place across the country from January through June 2020. The schools will take place in eight different states across the United States: California, Kentucky, Maine, Ohio, Oregon, Tennessee, Washington, and Wisconsin.

Click here to see the full list of 2020 USA Softball National Umpire Schools

Each USA Softball NUS is run by a team of National Umpire staff members, who serve as the clinicians. With a ratio of at least one clinician per 25-30 students, each participant will receive hands-on personal instruction on both fast pitch and slow pitch umpiring including base and plate mechanics. At the Fast Pitch and Slow Pitch Umpire Advanced Camps, instruction is focused and the ratio is one instructor per 10 students. Attendees at a USA Softball NUS can expect discussions on rule changes for the upcoming 2020 season while developing and enhancing their skills with lectures and on-field drills.

Registration fees for USA Softball NUS vary by location. To register for an upcoming USA Softball NUS, please contact the school coordinator listed on the National Umpire School section of USASoftball.com. Please note that only certain schools are currently open for registration, while others will open up when additional information becomes available.

About USA Softball
USA Softball (USAS) is a 501(c)(3) not-for profit organization headquartered in Oklahoma City, Okla., and is designated as the National Governing Body (NGB) of Softball in the United States and a member of the United States Olympic & Paralympic Committee. One of the nation's largest sports organizations, USAS sanctions competition through a network of Local Associations, which includes all 50 states and select metro associations. USAS is dedicated to providing people of all ages the opportunity to play the game they love at a variety of levels by offering recreational, league, tournament and competitive play for fast pitch, slow pitch and modified pitch. USAS annually conducts thousands of tournaments throughout the country including over 100 National Championships. The USAS umpire program is among the nation's largest and are widely known as the best trained umpires in the game.
As the NGB for the sport of softball, USAS is responsible for training, equipping and promoting the six USA Softball National Teams that compete in events such as the Olympics, Pan American Games, World Championships and other international and domestic events. For more information on USAS, including its founding and history as the Amateur Softball Association of America (ASA), please visit, www.USASoftball.com.