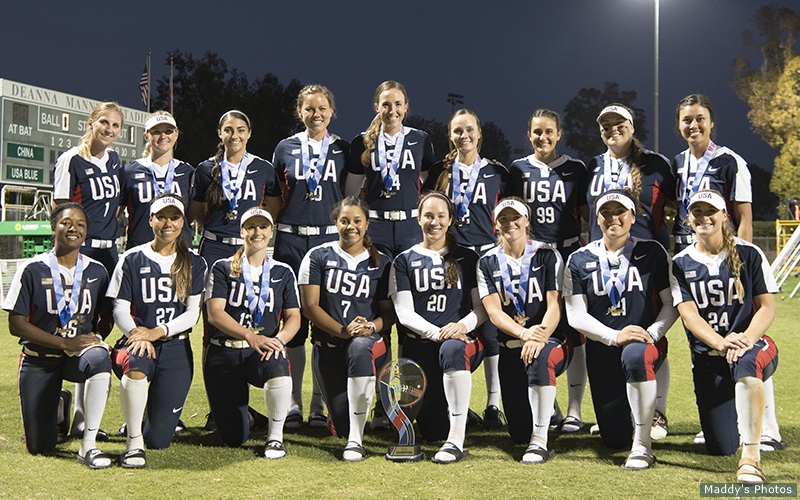 Valerie Arioto hit three home runs leading the USA Red team to a Gold Medal at the International Cup with a 10-5 win over Japan in the Gold Medal Game. Japan had won the last two World Cup of Softball events (2016 & 2017) which has since been renamed to the International Cup.
As a team, the USA Red squad hit six home runs to overpower the Japan pitching staff that had only given up one home run in the International Cup before the Gold Medal Game. Japan who had to knock off the USA Blue team to advance to the Gold Medal game on Saturday, trailed 4-1 early in the game but chipped away and tied it up at five in the top of the fifth when Saki Yamazaki hit a 2-run homer off Monica Abbott who had just come in relief.
But Arioto would have an answer in the bottom of the fifth when she hit a solo home run, her second of the game, to give USA Red the lead 6-5. Michelle Moutrie would add a solo homer of her own with one out in the same inning to extend the lead to 7-5.
Arioto would put the game away with a three-run homer in the bottom of the sixth to give USA Red a 10-5 lead they would not relinquish. Arioto ended up going 3-3 in the game with the three home runs, five runs batted in and four runs scored. Arioto ended up hitting five home runs in International Cup while USA Red hit 15 home runs in the tournament.
https://twitter.com/espnW/status/1018704329010753537
Up next for Arioto and the USA Red team, as well as Japan, is the World Championships in Chiba, Japan from August 2-12. The team that wins the World Championships earns an automatic bid into the 2020 Summer Olympics. If Japan wins World Championships, then the team that finishes as the runner-up would receive a spot in the Summer Olympics as Japan already has a place in the Olympics as the host nation.