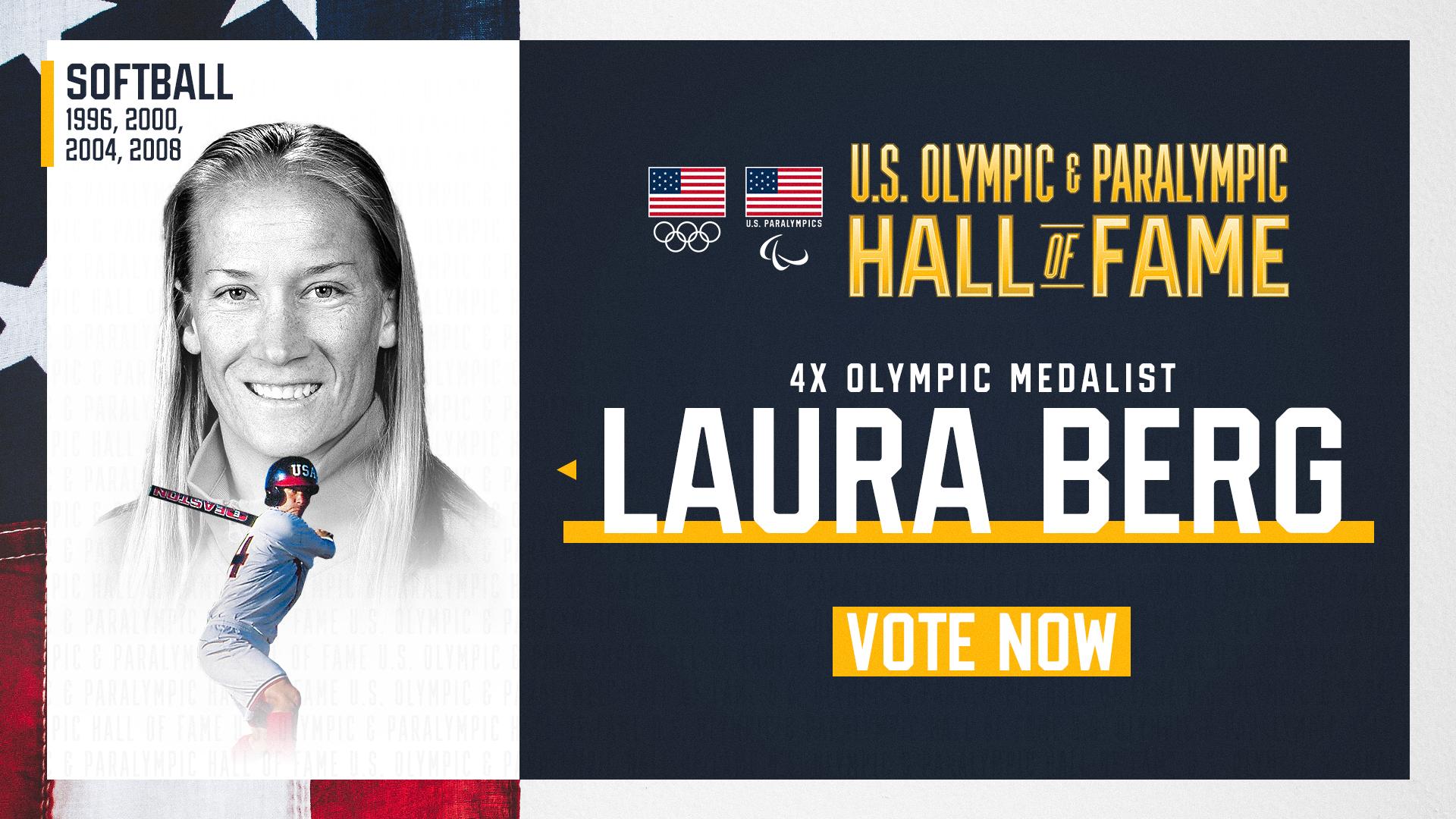 Release and Photo Courtesy of USA Softball
Cast your vote, here!
OKLAHOMA CITY — Four-time Olympic Medalist Laura Berg is among the final nominees for the U.S. Olympic & Paralympic Hall of Fame's Class of 2019, the United States Olympic and Paralympic Committee (USOPC) announced today.
As a player, Berg is one of four women who hold three Olympic Gold Medals. Considered to be one of the greatest outfielders to ever play the game, Berg helped the United States to a Gold Medal at the 1996, 2000 and 2004 Olympic Games and also holds an Olympic Silver Medal from the 2008 Beijing Olympics. In addition to competing in four Olympic Games, Berg also played in four World Baseball Softball Confederation (WBSC) World Championships and three Pan American Championships, all of which were Gold Medal finishes.
"I'm honored to be considered as a finalist for the U.S. Olympic & Paralympic Hall of Fame," said Berg. "Representing Team USA on the Olympic stage is one of the greatest honors and experiences I've had in my career with USA Softball. It's the pinnacle for any athlete and there is absolutely nothing better than hearing the National Anthem play with a Gold Medal around your neck. It feels very surreal to be considered a finalist because I never imagined this would happen."

The public can vote for Laura Berg to be inducted into the U.S. Olympic and Paralympic Hall of Fame at TeamUSA.org/Vote from Aug. 12 – Sept. 3.

"Laura Berg is the most decorated Olympian in USA Softball history," said U.S. Women's Olympic Head Coach (2004, 2008), Mike Candrea. "She has represented USA Softball as a player and now, a coach with great skills, passion, competitiveness and tremendous pride for the Red, White and Blue! I cannot think of anyone more deserving of this honor!"
Berg joined the Women's National Team coaching staff in 2012 and has helped lead the Red, White and Blue to two WBSC World Championship Silver Medals and one Gold Medal, along with a Silver and Gold Medal at the Toronto 2015 and Lima 2019 Pan American Games, respectively. Berg also has previous experience with the U-19 Women's National Team program, serving as the Head Coach for the 2017 squad that earned Gold at the WBSC Junior Women's World Championship (JWWC) in Clearwater, Fla. and as an Assistant Coach for the 2013 U-19 team that earned a Silver Medal at the 2013 WBSC JWWC in Brampton, Ontario, Canada.
"Besides the accolades that Laura Berg has garnered as a player for Team USA, Laura has represented the entire sport of softball in a manner that is envious," said current U.S. Women's National Team Head Coach, Ken Eriksen. "Her absolute adoration of the game was evident in her fearless play. Her game sense and anticipation of what was going to happen next made her a reliable teammate and a trustworthy player in the clutch. If there was ever a term "ambassador of how to play the game" her video highlights would define the term."
Established in 1979, the U.S. Olympic & Paralympic Hall of Fame celebrates the achievements of Team USA's premier athletes and teams, as well as the impact of legendary coaches and special contributors. Since the first hall of fame class was inducted in 1983, nearly 150 individuals and teams have been honored for their contributions to the U.S. Olympic and Paralympic movements.

If selected, Berg would join Lisa Fernandez and the 2004 U.S. Olympic Team, dubbed the "Real Dream Team" who went 9-0 in Athens, a record that included eight consecutive shutouts and four run-rule wins. No U.S. Olympic Team has ever given a more dominant performance with as many team and individual Olympic records broken en route to the Gold Medal. Among the teams records set were the most hits (73), highest team batting average (.343) and highest slugging percentage (.559).
Cast your vote, here!
About USA Softball
USA Softball is a 501(c)(3) not-for-profit organization headquartered in Oklahoma City, Okla., and is designated as the National Governing Body (NGB) of Softball in the United States and a member of the United States Olympic Committee. One of the nation's largest sports organizations, USA Softball sanctions competition through a network of Local Associations, which includes all 50 states and select metro associations, and has grown from a few hundred teams in the early days to over 150,000 teams today, representing a membership of more than 2 million.  USA Softball is dedicated to providing people of all ages the opportunity to play the game they love at a variety of levels by offering recreational, league, tournament and competitive play for fast pitch, slow pitch and modified pitch. USA Softball annually conducts thousands of tournaments throughout the country including over 100 National Championships.  The USA Softball umpire program is among the nation's largest and are widely known as the best-trained umpires in the game. 

As the NGB for the sport of softball, USA Softball is responsible for training, equipping and promoting the six USA Softball National Teams that compete in events such as the Olympics, Pan American Games, World Championships and other international and domestic events. For more information on USA Softball, including its founding and history as the Amateur Softball Association of America (ASA), please visit www.USASoftball.com.