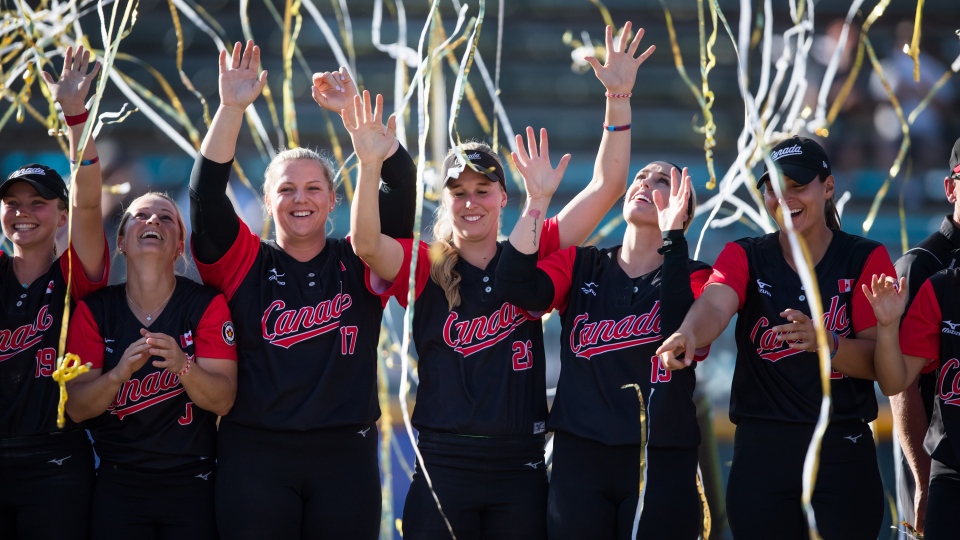 Release from Team Canada
Photo by THE CANADIAN PRESS/Darryl Dyck
Surrey, B.C. – The Canadian Women's National team punched its ticket to the Tokyo 2020 Olympic Games with a 7-0 run-rule win over Brazil at the 2019 WBSC Softball Americas Qualifier on Sunday. Canada became the fifth country to qualify for Tokyo 2020, joining Italy, Japan, Mexico and the United States. The sixth and final spot will be determined at the Asia/Oceania Qualifier, which will take place September 24-28 in China.

Canada got another great outing by pitcher Danielle Lawrie (Langley, B.C.) who held Brazil to only one hit and struck out eight, while Larissa Franklin(Maple Ridge, B.C.) and Kaleigh Rafter (Guelph, Ont.) supplied the key hits on offence to lead the red and white to victory.

After a scoreless first inning, Jennifer Salling (Port Coquitlam, B.C.) led off the bottom of the second with a walk, and after a fielder's choice retired her at second, Franklin lined a triple to right field to score the game's first run. The following inning, Victoria Hayward (Toronto, Ont.) led off with her second bunt single of the game and she stole both second and third base. A pair of walks loaded the bases with no outs, but the next two batters hit into fielder's choices with the lead runner being thrown out at home before Rafter pushed a run in to score with an infield single on a great diving stop by the third baseman who had no available throw. Franklin followed up with a two-run single through the right side of the infield, while Emma Entzminger (Victoria, B.C.) and Joey Lye (Toronto, Ont.) each drilled RBI singles as Canada built a 6-0 lead.

Looking to get back into the game, Brazil got their only hit in the top of the fourth on a surprise bunt with one out that was fielded but bobbled by the third baseman, allowing the batter to reach base. After a strikeout for the second out, Rafter picked off the runner at second on an attempted steal. In the bottom of the fifth, Rafter led off by launching a walk-off homerun to center to end the game on the run-ahead rule.

Box Score: Canada 7 vs. Brazil 0

Rafter hit a homerun, a single, drove in two runs and scored three times for Canada while Franklin had a triple, a single and knocked in three. Hayward singled twice and stole three bases, while Entzminger and Lye each had RBI singles. Holly Speers (Surrey, B.C.) chipped in with a single and a run scored.

Mexico earned an Olympic spot with their win over Canada on Saturday, finishing the Super Round with a 5-0 record, while Canada earned the second qualifying spot with a 4-1 record. The Women's Softball competition at the Tokyo 2020 Olympic Games will take place from July 22-28, 2020.