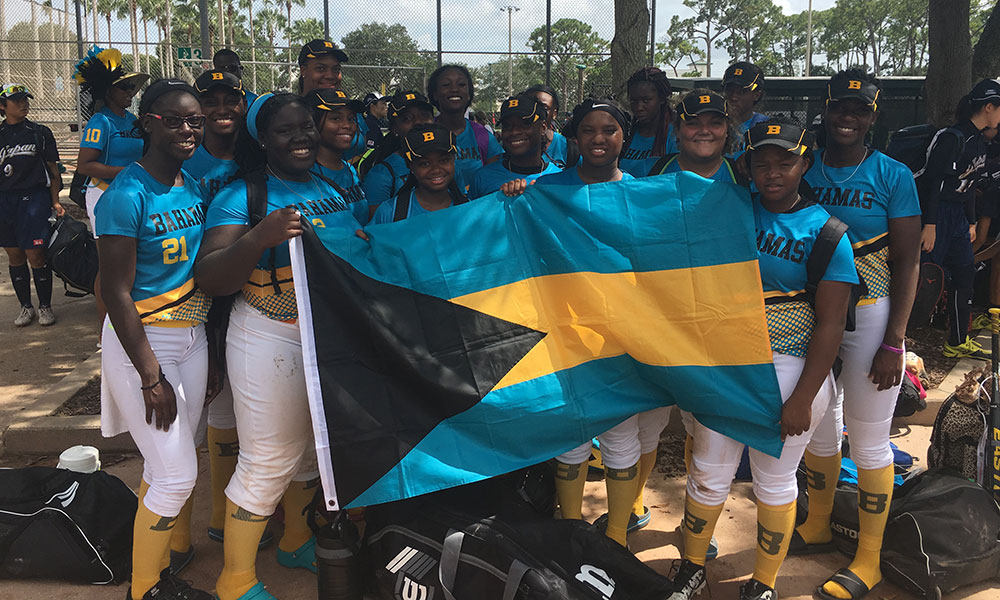 The Bahamas is comprised of 700 islands with a population of about 400,000. Positioned between Florida and Cuba, it was only a matter of time before the country's softball program exploded.
In January of this year, the youth baseball and softball seasons opened with over 75 teams with age divisions ranging between 4 and 18.
Baseball is the most popular sport according to the World Baseball Softball Confederation. Slow pitch softball is popular as well. The Bahamas is the two-time WBSC Slow Pitch Softball World Cup champions and proud of it but Monday, July 24 marked the beginning of a new chapter in the softball history books. The Bahamas played in its first WBSC junior women's fastpitch game and won.
"The girls were just looking forward to getting their first game underneath their belt," said Bahamas head coach Stephen Beneby about the team's 10-0 win against Israel (four innings). "The good thing about it, it was a win in our first game in this tournament."
Beneby started the Softball Division of the Junior Baseball League in Nassau in 2012 with his wife, Sherry. In November 2014, the Rotary of East Nassau donated $1,500 to girls' softball and was used to pay fees for those in need. Since the program's inception, the JBLN has sent several girls to the United States to continue their education and play softball.
Kendalia Turner is one of those athletes. She just completed her freshman season at Georgian Court Institute, a. NCAA Division II program in New Jersey. She is also the starting shortstop of the Bahamas Junior National Team and was 2-for-2 with a walk, a stolen base and three runs scored.
"We haven't played at this level before and to be the first set of girls to represent our country at this level is exciting," said Turner. "We came out with a W in our first game so (that's) pretty good!"
Valencia Gibson earned the win, only allowing four hits and striking out three. Eight batters collected at least one hit in the contest.
"We already got a WhatsApp from home so they were watching the live stream so that was great," said Stephen. "I know they are proud because we are proud of today."
The victory was a huge step forward for the Bahamas and nothing could wipe the smiles off the girls' faces.
"I'd like a steak," said a giggling Turner as she wrapped up her interview and hope she gets that steak because it is well deserved.