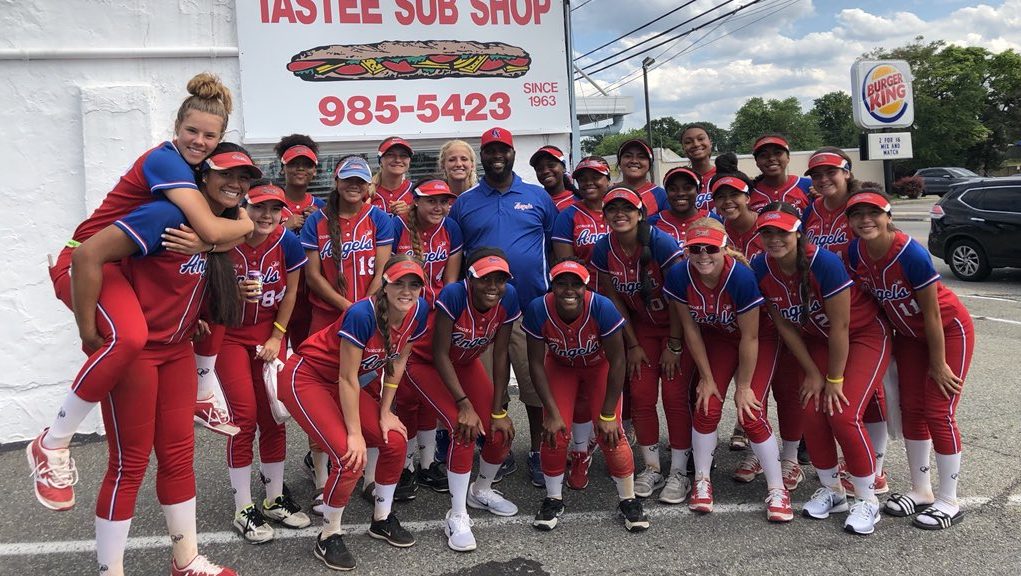 Recording top ten finishes at PGF Premier nationals the past three years in a row, the Cal Cruisers finished high again claiming an impressive 3rd place finish in 2018. Sievers' team also finished T-9 at IDT in Colorado. Sievers has helped developed an amazing, consistent, and powerful program that has been a staple in the California club ball scene and collegiate recruiting trial since 1994.
Key Players:
Jasmine Sievers (2018, SS) Oregon
Rachel Cid (2018, INF) Oregon
Huntry Ava (2019, 1B/3B) BYU
Alyssa Pinto (2018, UT) Oregon
Cameron Cecil (2018, INF) Iowa
Savannah Diederich (2018, P) Ole Miss
Ella Nadeau (2021, MIF) Stanford
NO. 18 / CORONA ANGELS
A staple in the club ball world, the Corona Angels made noise yet again in 2018 highlighted by a 3rd place finish at PGF Premier and T-9th at IDT Colorado. Comprised of a well-balanced, powerful, and veteran roster Marty Tyson's team dominated. It is always exciting to see the Angels year in and year out as it is another program that simply reloads across all age divisions with new talent when its athletes graduate or move up.
Key Players:
Jenna Servi (2019, INF) Louisville
Sydnee Huff (2019, INF) Stanford
Taylor Pack (2019, Catcher) Ohio State
Gisele Tapia (2019, INF) Duke
Madison Huskey / Washington
Nia Carter (2019, OF) Iowa
NO. 19 / TEXAS BOMBERS GOLD
In what has become a powerhouse program, the Texas Bombers organization has continued to grow and expand at a rapid rate. The Bombers perform at the very top levels nationally across all age divisions and are a tough challenge for any opponent. They check-in at No. 19 on our list after an impressive 2nd place finish at Triple Crown. The Texas Bombers have a massive roster stacked with impressive talent spread across the graduation years of 2019-2021. With this diversity in ages, don't expect to see them slowing down anytime soon. Look for the Bombers to only improve and reload year in and out for the foreseeable future.
Key Players:
Danieca Coffey (2020, INF) LSU
Tori Whillock (2019, OF) Texas Tech
Brionna Warren (2020, OF) Texas A&M
Sydney Fritsch (2019, OF) Texas A&M
Mariana Torres (2020, INF) Texas A&M
Anna Jones (2019, OF) LSU
Ashley Daughtery (2019, P) Texas A&M
Taylor Edwards (2019, P) LSU
Baylea Brandon (2021, INF) LSU
Jordan McClain (2020, INF) Baylor
Cait Calland (2019, C) LSU
NO. 20 / LADY LIGHTNING GOLD DEMARINI 18U
Another smaller yet powerful program, the Lady Lightning hails from the North Carolina/East Coast area and has a steady history of success on the national circuit. Notable finishes in 2018 include 5th a TC Nationals, 17th place at IDT in Colorado, and a berth to PGF Premier.
Key Players:
Kate Cressey (2018, SS) Stanford
Melody Coombs (2020, OF/2nd) Syracuse
Alayna Silvis (2018, OF) George Washington
Leanna Mathews (2019, 2B) Syracuse
Megan Osterhaus (2018, P) George Washington
Clare Zureich (2018, P) Virigina
Savannah Brown (2019, P) Syracuse
Sydney Nester (2018, P) NC State
Kelli Wagner (2018, 1B/C) NC State
Dakota Christie (2018, 3B) NC State