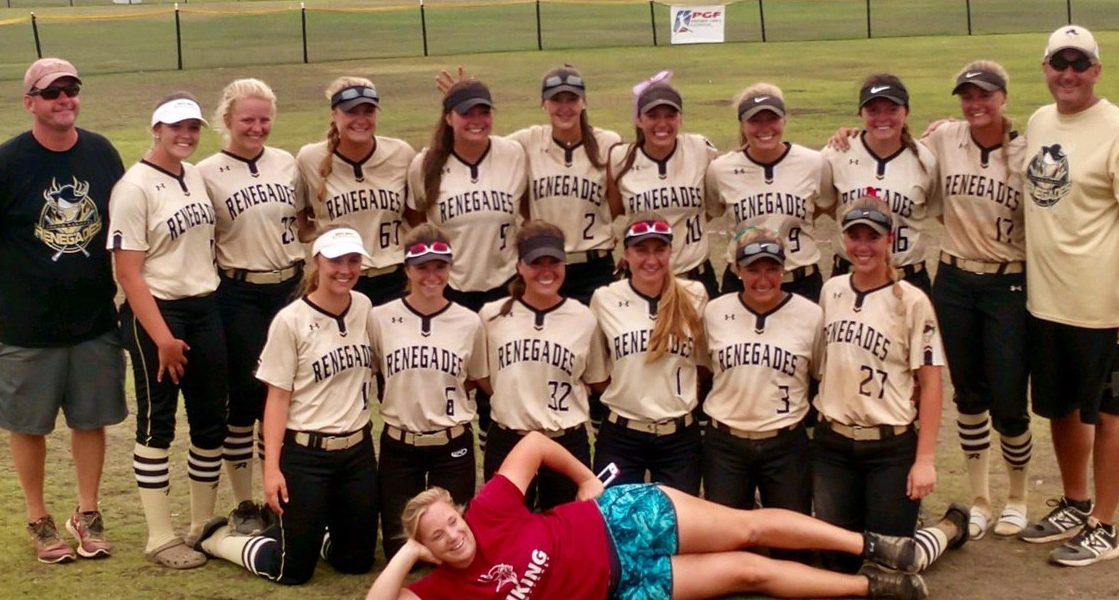 For any changes or additions to information, please let us know at support@fastpitchnews.com
NO. 46 / OKLAHOMA EXCLUSIVE GOLD DAVIS 18U
A 25th place finish at USA Elite Select lands Exclusive Gold on our list of Super 60 programs! It appears Davis' team has disbanded but with strong teams and talented athletes across all levels expect Oklahoma Exclusive to be competitive for a long time.
Key Players:
Contacted for roster but no response returned. Please contact us at support@fastpitchnews.com to submit!
NO. 47 / SOUTH DAKOTA RENEGADES
An exciting program with big time talent, the Renegades traveled the country and competed with the best around. Culminating with a strong 13th place showing at PGF, 18U Renegades will unfortunately disband with a number of its athletes leaving for college. This tight knit team of athletes, coaches, and parents made for a fun program to keep a close eye on and cheer for.
Key Players: 
Ali Lindner (2018) Minnesota
Sydney Nelson (2019) Minnesota State Mankato
Grace Glanzer (2019) SDSU
Cylie Halvorson (2019) SDSU
Maia Engelkes (2019) Auburn
NO. 48 / SO CAL CHOPPERS FAUSETT 18U
17th place finishes at both PGF Nationals and Triple Crown made for another successful season for the So Cal Choppers. A team that year in and year out is one of the most competitive and consistent groups in the nations, no less should be expected in the years to come.
Key Players:
Contacted for roster but no response returned. Please contact us at support@fastpitchnews.com to submit!
NO. 49 / TURNIN2 18U
Posting an overall summer record of 25-12-1.  Turnin2 played a very competitive schedule which included invites to Triple Crown Nationals (25th) and JO Cup (16th).
Coach Rodney Robenson had this to say about the season, "last summer was a great opportunity for our kids to play against some of the best and most talented 18u teams in the country. Being located in the north we don't always get the opportunity to see "the speed" of the game. Our kids look forward to participating and competing against the best players in the country!
We continue to move up the US Nationals rankings as an organization. Please keep in mind that this is only our 6th year in existence. We have alot of good coaches in place and our instructor base includes current USA Softball player Amanda Chidester along with Adam Arbour former asst at Alabama, Sara Dreisenga, Jenn Newman, McKenzie Long former player at MSU. The future is bright!!"
Key Players (information provided by Coach Robenson):
Alise Hale (2018 3B/SS) Purdue Ft. Wayne – GREAT pickup for Coach Germaine Fairchild. Alise has BIG hitting power and runs very well.   She batted .411 for her travel team with an OPS of 1.262 and led the team in RBI's, HR's and Runs. We anticipate that Alise will make a big impact right away for Coach Fairchild and the Mastodons.
Brianna Robeson (2018 2B/OF ) University of Toldeo – Primarily a left slapper. Great athleticism and speed. She was the lead off batter for both her travel team and her high school team. Batted .424 this past summer of her travel team and was second in runs scored. Good team leader and fearless competitor! Helped guide her high school team (Hartland High School) to the D1 Michigan State Championship game. 1st team All State INF. Always showed up to play in every game!

Julia Vollmer (2018 C) University of Las Vegas -Tremendous defensive catcher!! BIG arm, very athletic with good size. 1st Team All State catcher for South Lyon East High School in Michigan.

Sydney Pezzoni (2018 OF) Eastern Kentucky University – Sydney is a tremendous outfielder with great instincts on both defense and offense.   She's makes all the plays that are hit to her.  Good things happen with Syd. Good arm strength and fierce competitor!

Alexis Churchill (2018 P) Canisius – Left handed pitcher that is unflappable in the circle. Self taught grinder and big time competitor. She's not going to blow you off the dish with velocity but has good command of her pitches and keeps hitters off balance. I expect her to only get better!

Jenna Hardy (2019 P) South Alabama – Jenna has very good size 6'-1" hard thrower (consistently at 63mph to 65mph) with good command of her pitches. She has the ability to dominate the game. Has a high ceiling with a bright future and is only going to get better. Jenna had 133 strike outs in 106 innings pitched last summer. Her ERA was 1.263.

Sam Nagel (2019 INF/ OF ) Uncommitted – Sam was originally not going to pursue playing at the collegiate level because she is planning to go into nursing. However, since this past summer she has decided to pursue playing collegiality and I do not anticipate it will take long to find the right program for her to contribute at. Sam is a gifted hitter. Led her travel team in batting average with at .468 was second on the team in RBI's. Good arm and can play alot of positions!!  She has D1 ability.
NO. 50 / SO CAL ATHLETICS TO
A 17th place finish at PGF lands So Cal Athletics TO on our Super 60 list! Yet another strong team under the So Cal name, we're always excited to keep an eye the Athletics.
Key Players:
Contacted for roster but no response returned. Please contact us at support@fastpitchnews.com to submit!