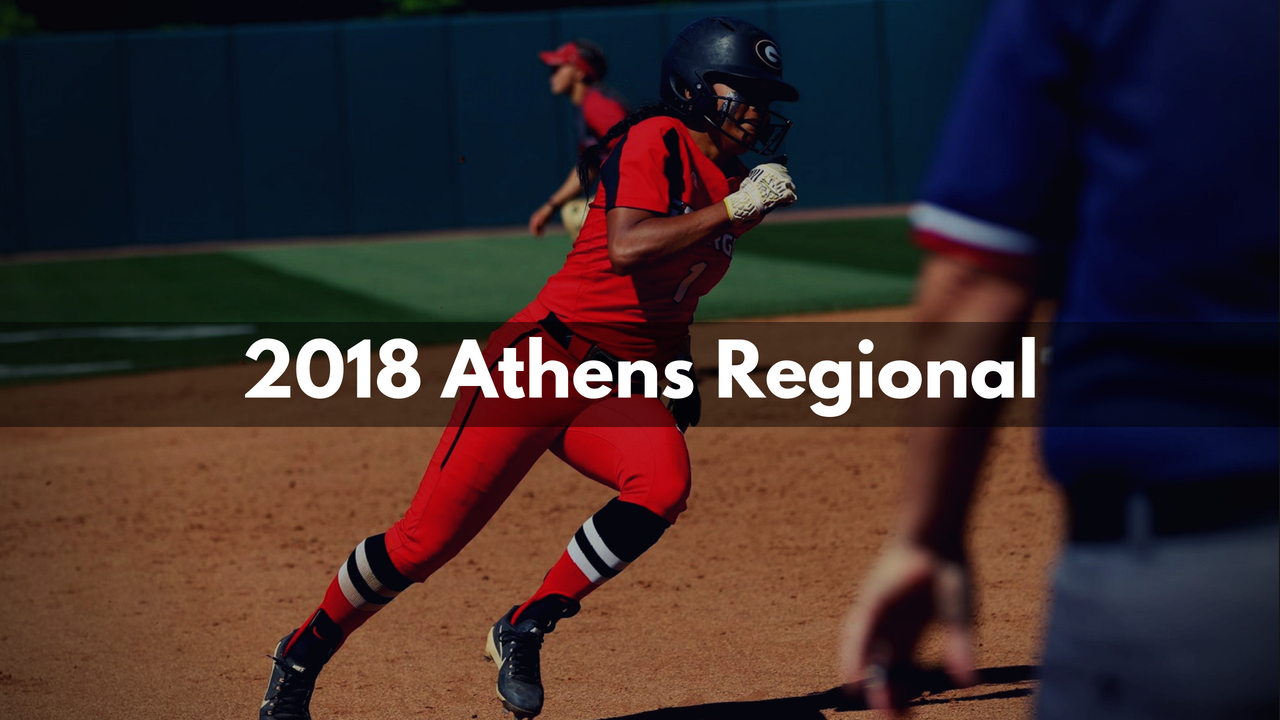 No. 7 Georgia (43-11, 16-8 SEC) is set to host the 2018 NCAA Athens Regional on May 18-20 at Jack Turner Stadium in Athens, Georgia. Northwestern (36-17, 14-8 B1G) vs. California (34-19, 7-16 PAC-12) will be played at 12:00 pm ET on Friday and broadcasted on ESPNU to kick off the first game of the tournament. Georgia will then face Harvard (23-16, 14-7 Ivy) on Friday at 2:30 pm ET and can be viewed on the SEC Network. The winner of this four-team, double elimination tournament will go on to face the winner of the Knoxville Regional. Find more info here.
Top Seed
Making their 17th consecutive NCAA appearance in the postseason, No. 7 Georgia is looking to move on to the next round of the tournament. They've also made it to nine Super Regionals, three Women's College World Series, and two Final Fours in years past all under head coach, Lu Harris-Champer. This year, the Bulldogs are coming into the Athens Regional batting .335 with six in the lineup batting over .300. They have also successfully stolen 82 extra bases out of their 95 attempts, 297 RBI, and 55 home runs as a team so far.
Best Shot at Upset
Making an appearance in 2016 in the NCAA tournament, Northwestern has just come off a loss in the Big Ten Tournament championship against Minnesota Sunday morning. After rain delays, Northwestern was the last team to start playing their 2018 tournament but never gave up fighting. Finishing with an impressive overall record and conference record, it's hard to believe the Wildcats will leave this tournament quietly.
Players to Watch
Jamzyn Jackson, a California senior, has earned her second-consecutive first team selection. She is tied with teammate Lindsay Rood, leading the team with 59 runs each. Jackson also had a career-high four home runs and her first grand slam this season.
Sabrina Rabin of Northwestern is batting .379 and has scored 72 runs on the season. She also has racked up 33 stolen bases on the year. Also, keep an eye on Harvard's Rhianna Rich who enters the weekend batting .442.
Prediction
Last time California made it to Athens in 2010, they lost both games to host Georgia. The Golden Bears also fell to the host team in the Regional final in Auburn, AL just last year. It is difficult for non-host teams to work their way into winning the tournament, but all of these teams have the potential for some great softball games. With years of experience in the regional tournament and the overall highest seeded pick, we can go on to assume that Georgia will be in the final game of the Athens Regional. The other team that could be facing the Bulldogs in the championship game on Sunday, May 20 is Northwestern, with Georgia coming out the 2018 Athens Regional Champions.