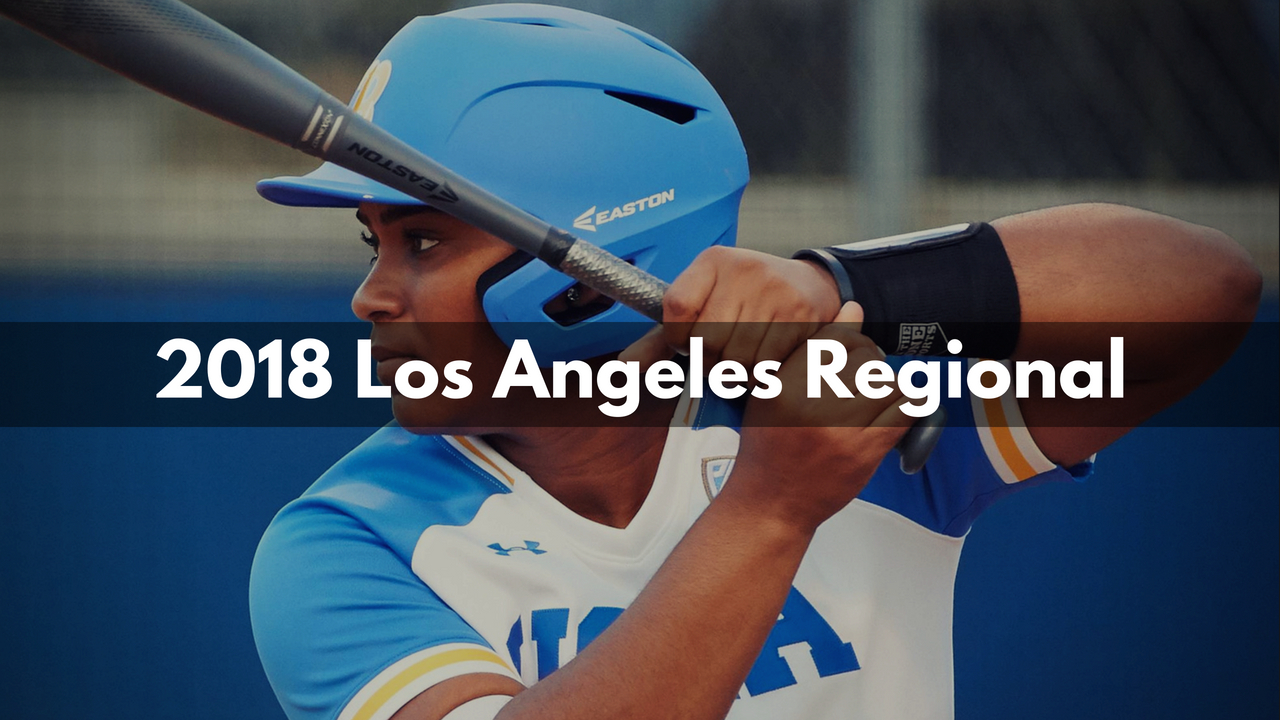 Los Angeles Regional
UCLA (50-4) will host the regional after coming in a close second in the Pac-12. Matter of fact they held the top spot in our rankings for several weeks. Games will get underway Friday at Easton Stadium Easton Stadium at 5:30 PM. UCLA comes in as the No. 3 overall seed. The other three teams joining the Bruins are Cal State Fullerton (33-23), Sacramento State (31-18) and Texas State (42-14). Games can be found on ESPN 3 and ESPN Family of stations. Full Schedule here.
Top Seed
UCLA, as stated, comes in as the top seed in the region. The Bruins posted 50 regular season wins which is always impressive and had the nations second best win percentage (.926) just behind two-time defending NCAA champion Oklahoma. They have been impressive at the plate all season and rank second in batting average (.340), fourth in scoring (6.54) and fifth in slugging (.526). Leading them at the plate is Aaliyah Jordan who enters the postseason batting .444 as a redshirt freshman. Jordan also leads the team in doubles (14), home runs (11) and RBI's (63). Pretty good and it should be noted that seven of the nine regulars are hitting .300 or higher. Bubba Nickles sits with a .390 average with 12 doubles and six home runs herself. In the circle, the Bruins have used four pitchers but leaned more on Rachel Garcia (21-2) and Holly Azevedo (15-0). Garcia has been great in the circle and at the plate as well. On the year she carries a 1.08 ERA with 218 strikeouts over 142.2 innings of work. Azevedo comes in with a 2.05 ERA and 82 strikeouts over 106 innings of work. UCLA has the bats and the pitching to go deep, we will have to wait and see if it all comes together for them.
Best Shot at the Upset
Texas State has, in our opinion, the best chance of upsetting UCLA. They would have to be at their best, but they do have a pitcher capable of giving them a shot. The 2018 Sun Belt champions will rely heavily on senior Randi Rupp (28-10). Rupp enters the regional with a 1.20 ERA and 325 strikeouts over 264.2 innings. She will most likely see the majority of the innings in the postseason. At the plate, the Bobcats will be led by Ariel Ortiz who is hitting .343 with 15 home runs and 47 RBI's. This team relies on solid pitching and timely hitting. It will be interesting to see how they hold up against a team like UCLA who will put pressure on them from the start.
Players to Watch
We already mentioned a few in Jordan, Nickles, Garcia, Rupp, and Ortiz, but who else should we watch and may not know? Sophomore Suzy Brookshire of Sacramento State has 17 home runs on the year with 50 RBI's and a .379 average. Another Bruin to keep a close eye on is Kylee Perez. Perez is third on the team for average (.388) and leads the teams in runs (55). She is also a perfect 10-10 in stolen bases on the year.
Prediction
On paper, it is hard to see any other scenario other than a dominating performance by UCLA. With that said, we all know there is a reason we play the game, well outside the SEC that is. If Rupp is at her best, Texas State may have a shot at taking a game. The issue is can the Bobcats generate enough offense to give themselves a chance? Texas State should pay attention to Fullerton also who snuck up and won their conference ahead of a tough Long Beach squad. Unless something crazy happens, we expect to see UCLA advance to the Super Regional.