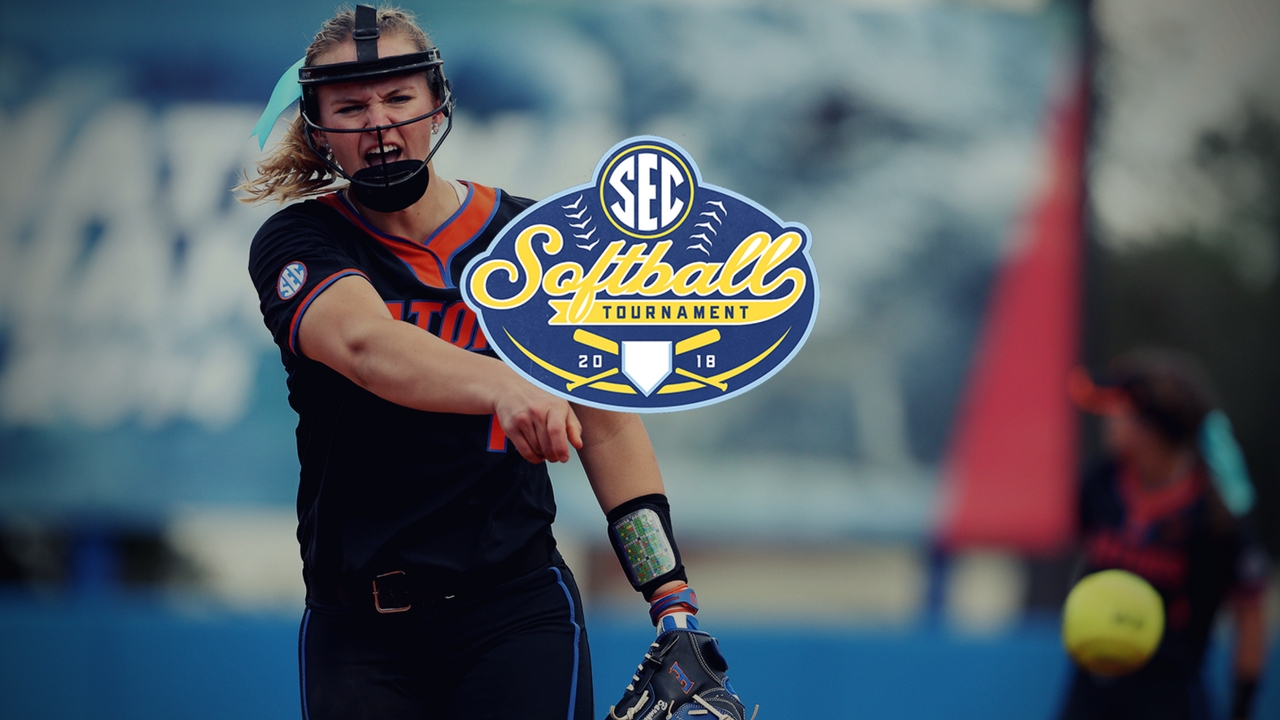 Tournament play is always an exciting experience in the SEC conference. This time of the year is where anything can happen, and every team has their eye on that championship game.
The top four teams, Florida, Georgia, South Carolina, and Tennessee have already received an advancement to the second round.
The 2018 Southeastern Conference Softball Tournament will commence Wednesday, May 9 and end Saturday, May 12 at the Mizzou Softball Stadium in Columbia, Missouri.
Follow the action here: 2018 SEC Softball Tournament Page
Here is the bracket for the 2018 @SEC Softball Tournament.#SECSB pic.twitter.com/a7K8rZUAbh

— SEC Softball Tourney (@SECSBTourney) May 6, 2018
Favorites
Coming into the tournament, No. 1 Florida (47-8, 20-4 SEC) is one of the prominent favorites to win it all. After ranking fifth at the beginning of the season, the Gators have made their way to the top spot in the SEC. Coming off a sweep in the Missouri series, Florida has claimed their fourth straight, and eighth overall regular season SEC title. The Gators are now only the second team in SEC history, behind LSU ('99-'02) to win four straight SEC regular-season championships. With a conference batting average of .259 this season and .291 overall, Florida has successfully created 108 RBI out of their 151 hits in the SEC. They have also kept their opponents to a .176 batting average thanks to their outstanding pitching staff holding a 1.78 ERA versus their opponents 4.33 in conference play. Florida will face the winner of No.8 Alabama and No. 9 Auburn on Thursday, May 10 at 7:30 ET/6:30 CT.
No. 3 South Carolina (43-13, 15-9 SEC) is another favorite in the SEC tournament. After not expecting much out of the Gamecocks at the beginning of this season, they have shown a lot of promise and fought their way to the top of the pack finishing third in the SEC. South Carolina had made some significant changes before the season starting with a new hitting coach as well as a new mental coach. A brilliant move by coach Bev Smith to mentally prepare her athletes and giving them the resources to become successful softball players. The Gamecocks come into the tournament batting an overall .281, outscoring their opponents this season in hits, runs, RBI, and slugging percentage. South Carolina also has a talented pitching staff with a total 2.10 ERA compared to the opponents 5.17. The Gamecocks will battle the winner of No. 6 Texas A&M vs. No. 11 Mississippi State.
Dark Horses
No. 6 Texas A&M (40-15, 13-11 SEC) has kept a pretty solid position all year in the SEC. After being ranked seventh in the preseason, the Aggies have held their own in both regular season and conference play to be where they are at the start of the tournament. Texas A&M bats an average of .250 collectively, with 83 runs and 78 RBI coming from their 155 hits in conference play. The Aggies pitching staff contains five pitchers who divide their time on the mound and is coming into the tournament with an overall 2.87 ERA and 114 strikeouts. Another thing to be noted, is their fielding percentage as a team in the SEC, at .979. Texas A&M will face No. 11 Mississippi State at 12:00pm ET/11:00am CT
No. 8 Alabama (32-17, 12-12 SEC) just came off a sweep of Texas A&M on Sunday with their last game going into extra innings and finishing with a walk-off home run. The Crimson Tide, after being put toward the bottom of the ranks at No. 11 in preseason polls, they are not to be overlooked with momentum like this going into the tournament. Batting .269 as a team in the SEC, Alabama has turned 168 hits into 103 runs and 95 RBI. As a team, the Crimson Tide keeps an impressive slugging percentage of .421 in conference play. The three pitchers have a 3.17 ERA with 139 strikeouts in the SEC. Alabama will play against No. 9 Auburn at 7:30ET/ 6:30CT on Wednesday, May 9. This game can be watched live on the SEC Network.
Top Players to Watch
Amanda Lorenz, Florida
An outfielder for the Gators, Lorenz has recorded two grand slams this season and currently leads the team in SEC play with a .410 batting average, five home runs, 19 RBI, 25 hits, 22 runs, a .753 slugging percentage, and has walked 27 times.
Kelly Barnhill, Florida
The right-handed pitcher has not stopped this season. Tied in the nation for shutouts with 10, she maintains her 13-1 record on the mound. Barnhill has also thrown a perfect game as well as five no-hitters, all while leading the team with a 1.41 ERA.
Alyssa DiCarlo, Georgia
A junior infielder that currently tied to lead the league with 16 home runs. DiCarlo also ranks on a national level, fifth in the country with 57 runs and eighth in home runs. She is batting .373 in conference play and ranks second in the league for slugging percentage and third in RBI.
Aubrey Leach, Tennessee
Leach leads the SEC in batting average (.451), runs scored (65), and on-base percentage (.578). She is close behind leading in hits as well with 65.
Opinion
Though Florida is coming into the tournament the No. 1 seed, things haven't always progressed smoothly in the post-season for the Gators. Being defeated in the first game of the SEC tournament last year, Florida put up a good fight in the regular season but sometimes look too far ahead of themselves to the NCAA tournament. With the current bracket, Kentucky is forced to win if they want a chance at hosting. Another battle to take a step into hosting would be Alabama vs. Auburn. We are predicting a showdown between No. 2 South Carolina and No. 4 Tennessee with South Carolina coming out SEC Tournament Champions. However, if either of these teams come out on top, they will most likely be locked into a top 8 seed nationally.
Stay up to date on all of this weeks National Conference Tournament scores at http://fastpitchnews.com/scoreboard/