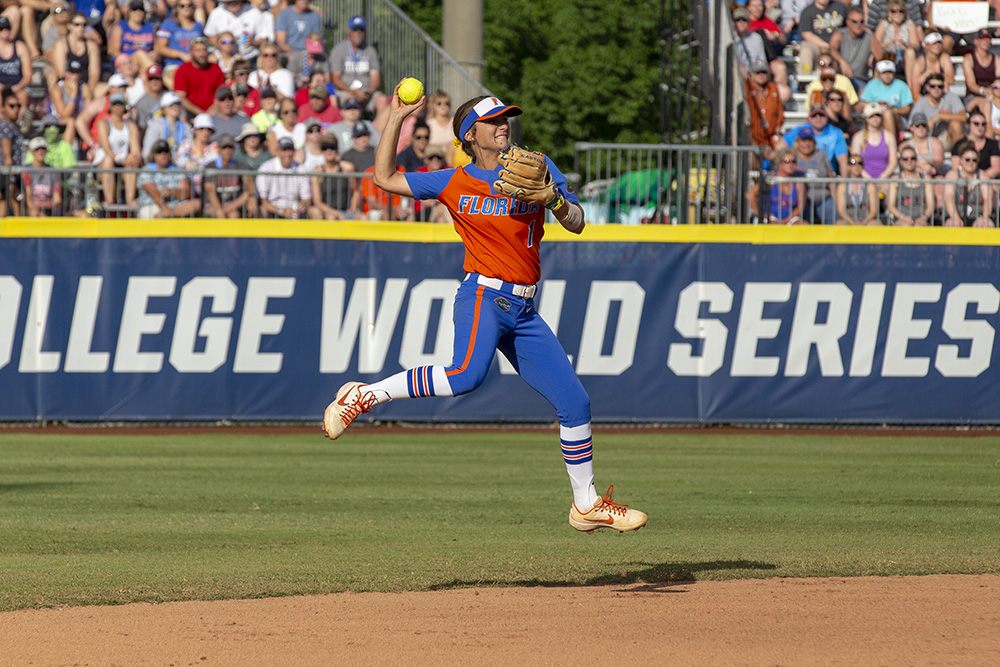 1,800,000: The number of viewers who tuned into game two of the WCWS championship series broadcast.
69,667: The total reported attendance number from the official box scores. Many session records were set and session three's record crowd of 9,820 is an all-time WCWS record for any session.
2010: The last time UCLA made the championship series. They defeated Arizona 6-5 in game one (eight innings) and 15-9 in game two to win its 11th NCAA Title.
1998: The last time the Oklahoma State Cowgirls won a game in the WCWS defeating Michigan, 3-1. OSU upset Florida (2-1) to advance in the winner's bracket.
1200: During their contest versus the Oklahoma State Cowgirls Kelly Barnhill surpassed the 1,200 strikeout mark becoming just the fourth pitcher in SEC history to reach that mark.
895: Washington's Taran Alvelo joins Danielle Lawrie (four times) and Jennifer Spediacci (2000) as the only Huskies with 300 strikeouts in a season. Alvelo also moved past Spediacci into sole possession of second place on UW's all-time strikeout list with 895.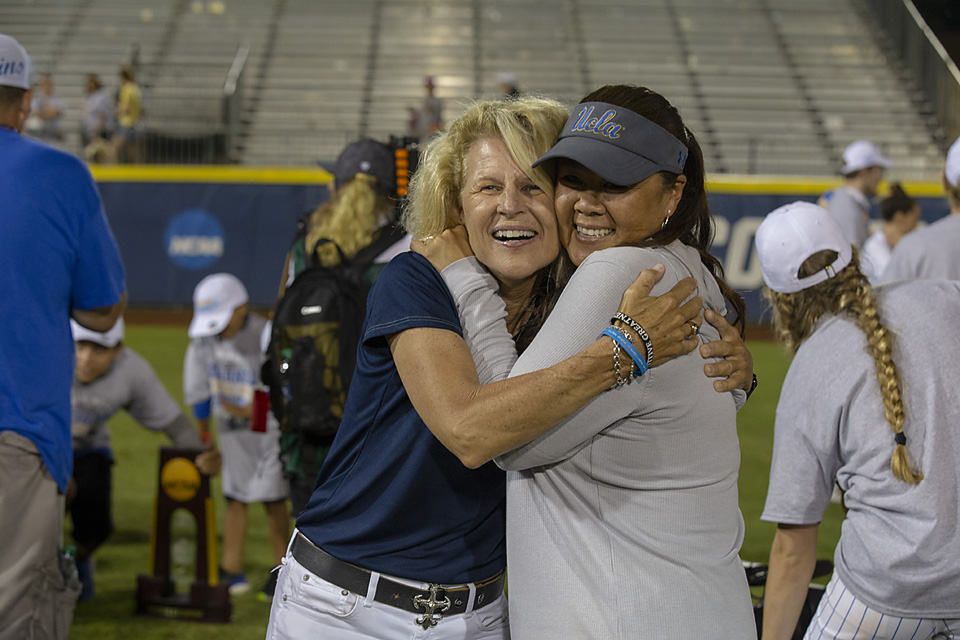 600: The number of victories UCLA head coach, Kelly Inouye-Perez, has won. She reached that milestone during game two of the championship series – claiming the national title, which is her second as a coach.
189: The number of minutes a three hour and nine minute weather delay lasted on Survival Saturday.
95.8: The percentage of games during her career when Florida's Amanda Lorenz safely reached base. She finished her career having safely reached base in 254 out of 265 games played.
75: Washington's Sis Bates recorded her 75th hit of the season at the bottom of the first inning versus Oklahoma State. Bates has recorded back-to-back 75-hit seasons; since 2000, only two other Huskies players have achieved the feat (Taylor Van Zee and Ashley Charters).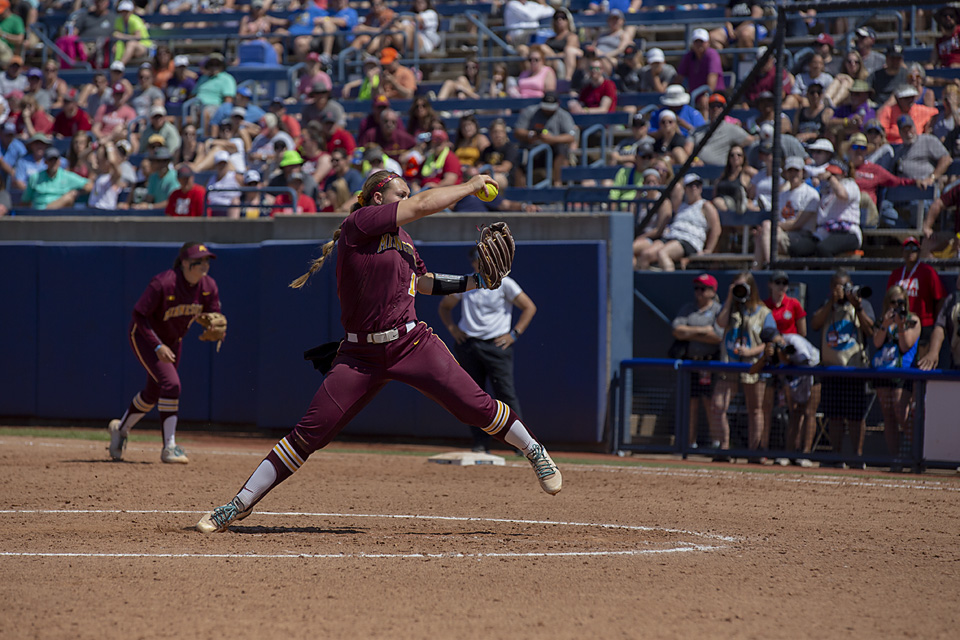 41.2: Minnesota's Amber Fiser saw her impressive streak of 41.2 consecutive innings pitch come to a close in game one versus UCLA. The junior first team All-American helped carry her team to the WCWS during that stretch.
22: Florida's Kelly Barnhill finished her career only losing 22 games in 155 appearances. She leaves the Gators' program with a 104-22 record.
18: Taran Alvelo shutout Oklahoma State during game nine, eliminating the Cowgirls from the WCWS field recording her 18th shutout of the season. She finishes her career third all-time in shutout victories at Washington.
17: The length of time a delay lasted when a light pole went out during Bedlam; 17 minutes.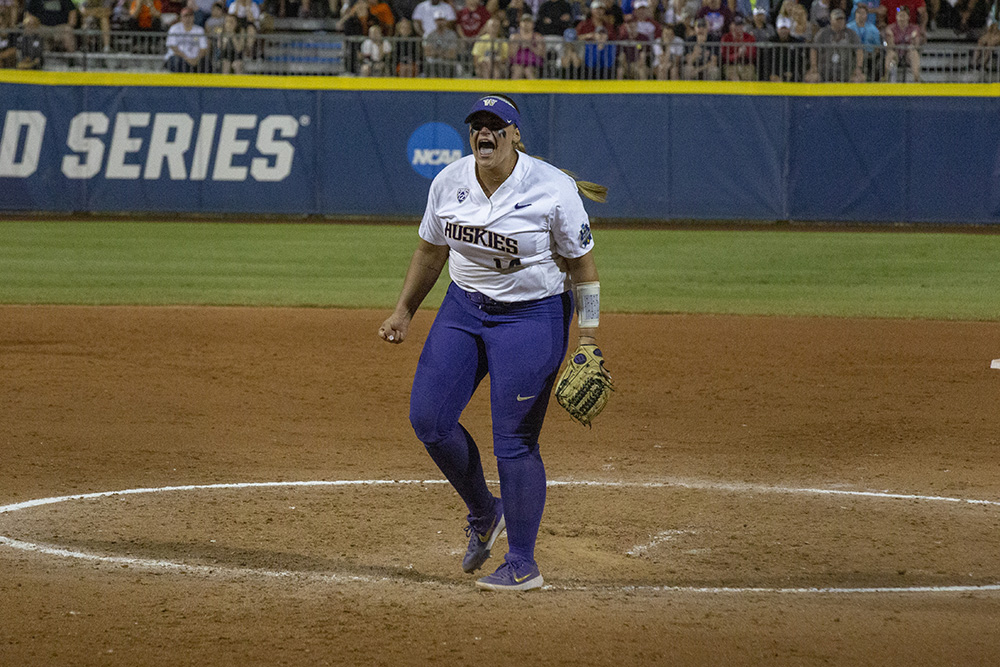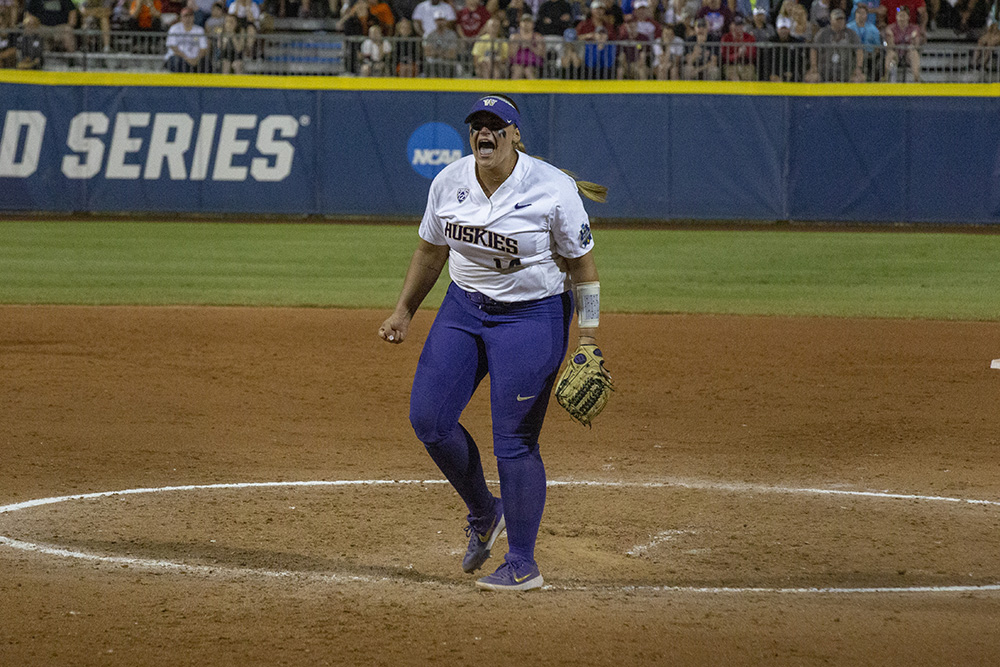 16: Washington's Taran Alvelo surpassed Danielle Lawrie for the Washington WCWS single-game strikeout record fanning 16 Oklahoma State hitters. Lawrie's mark was 12, two times – June 1, 2009 against Florida and June 5, 2010 against Arizona.
15: Teams who scored first during the WCWS went a perfect 15-0.

Alabama blasted 15 runs in game eight versus Florida. This mark stands for the most runs the Tide have scored against the Gators since 1998 when they scored 11.

13: The 13 runs scored by UCLA in game one of the championship series marks the second-largest margin of victory in a WCWS game and the largest in a championship series game. It also tied the largest margin of victory in UCLA WCWS history (2010 vs. Florida).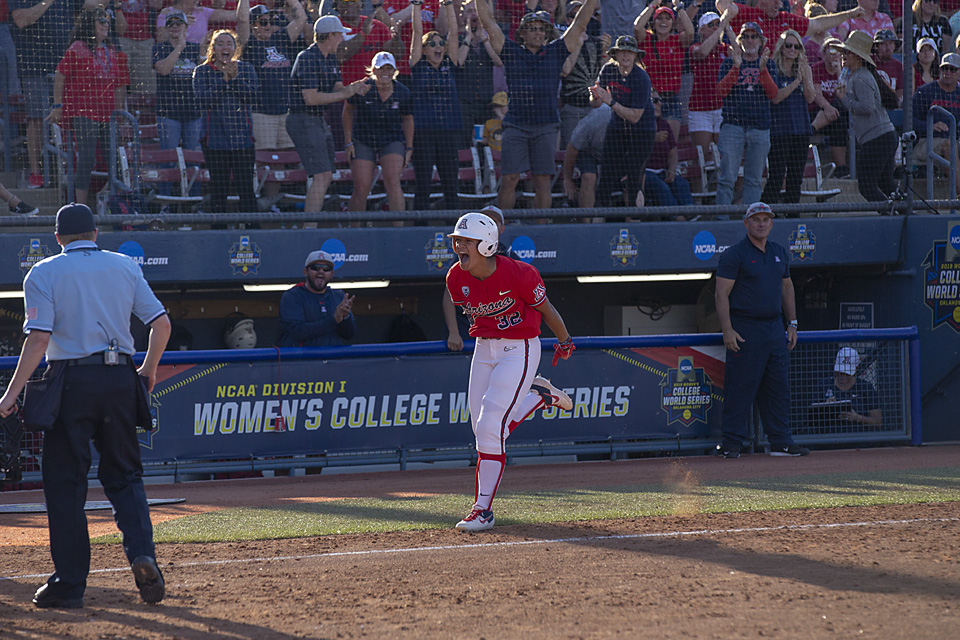 12: Alabama's 12-run margin of victory ties for the third-largest margin in WCWS history. The last time a team won by 12 runs was in 1998 when Arizona defeated Fresno State 12-0.

Oklahoma's Nicole Mendes hit her 12th career triple in game four versus Alabama. Just a junior, Mendes sits in a tie for the third-most triples in program history.

Arizona's Alyssa Palomino-Cardoza moved into solo possession of 12th in Arizona history with her 53rd career home run versus UCLA in game five.
12 is also the number of student-athletes named to the 2019 NCAA WCWS All-Tournament Team:
1. Montana Fouts, P, Alabama
2. Bailey Hemphill, UT, Alabama
3. Samantha Show, P/UT, Oklahoma St.
4. Sami Reynolds, OF, Washington
5. Taran Alvelo, P, Washington
6. Jocelyn Alo, RF, Oklahoma
7. Nicole Mendes, CF, Oklahoma
8. Sydney Romero, 3B, Oklahoma
9. Rachel Garcia, P, UCLA
10. Aaliyah Jordan, RF, UCLA
11. Bubba Nickles, CF, UCLA
12. Kinsley Washington, 2B, UCLA
Most Outstanding Player: Rachel Garcia, P, UCLA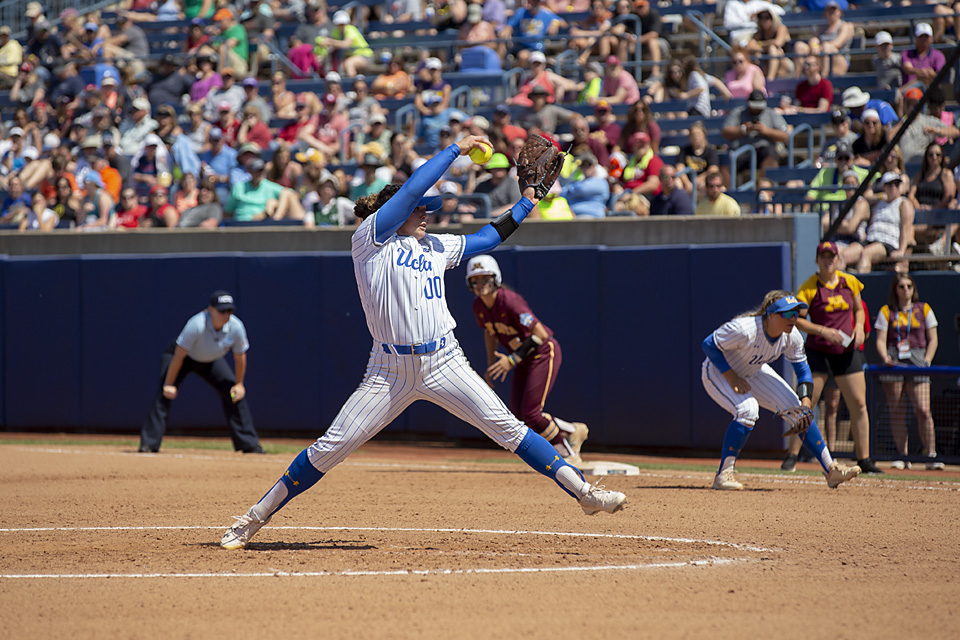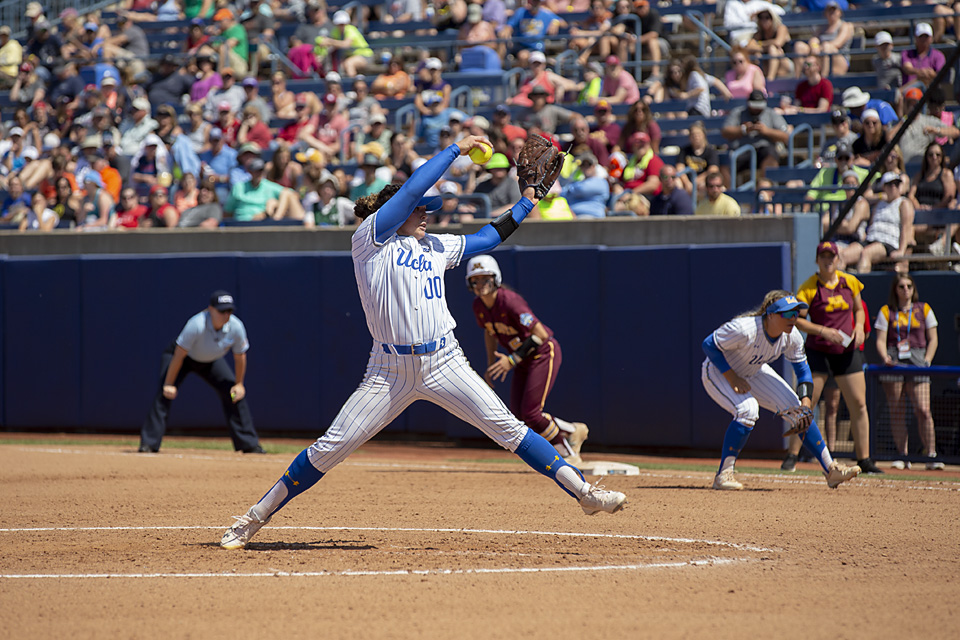 4: UCLA's Rachel Garcia joined an incredible, and short, list of student-athletes who have won both National Player of the Year honors and a national title in the same season. She joins Danielle Lawrie (2009), Keilani Ricketts (2013), and Lauren Haeger (2015).

Four also represents the number of home runs UCLA hit in game one of the championship series. That mark tied the single-team WCWS record for home runs in a game. The Bruins also tied that mark again in game two of the championship series hitting four more home runs.
3: During game five versus Arizona, UCLA pinch hitter Malia Quarles (her first WCWS at-abt) put the Bruins out in front 2-1 with a solo homer to centerfield during the top of the sixth inning. The sophomore swung on a full count for her fourth home run of the year. But more impressively is the "round-tripper" was Quarles' third pinch hit home run of 2019.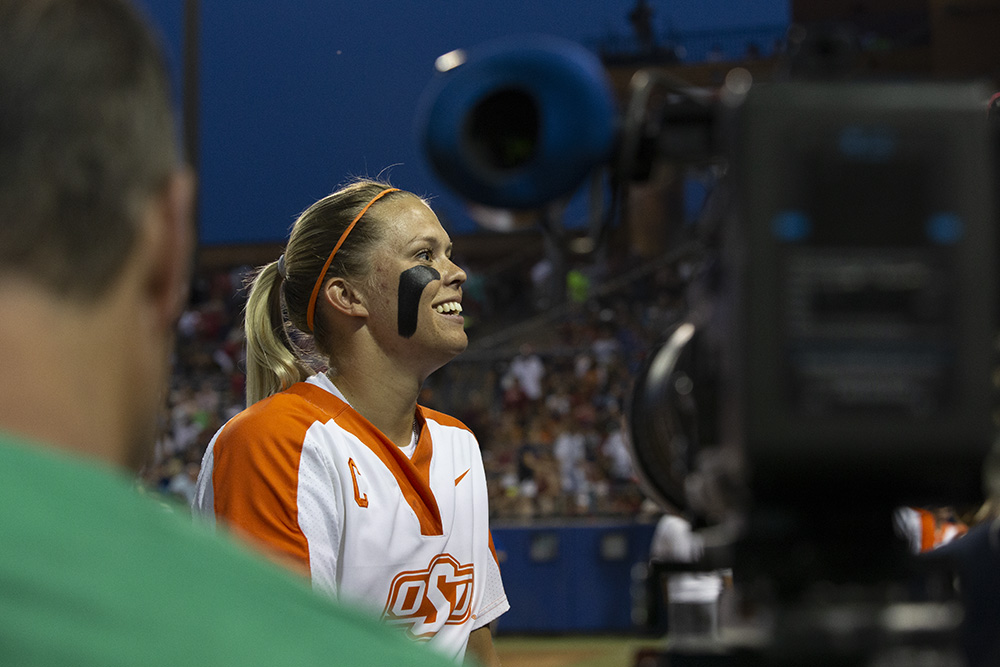 2: Oklahoma State's Samantha Show became the second pitcher in WCWS history to hit two homers after UCLA's Megan Langenfeld accomplished the feat in 2010.

Washington's Plain became just the second Husky ever to record 10 or more strikeouts in three postseason games during game seven versus Minnesota. She joins Danielle Lawrie, who accomplished the feat in 2007, 2009 and 2010.
1: The Minnesota Golden Gophers made their first-ever WCWS appearance.

One unforgettable week.

And one new national champion: UCLA!