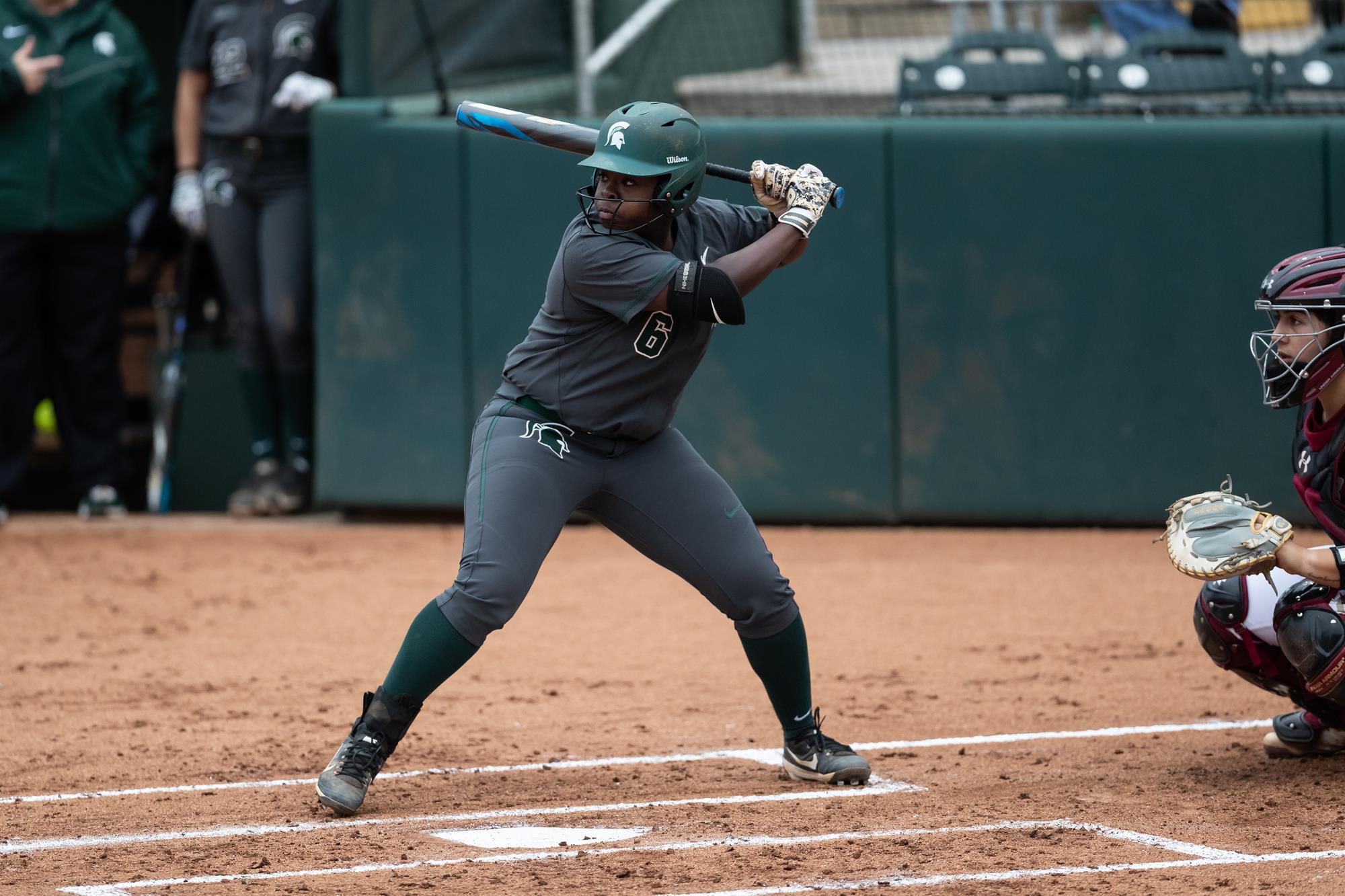 Photo Credit: MSU Athletic Communications
We've started looking ahead to the 2020 NCAA DI softball season with a breakdown of the top recruiting classes in the country, an early look at the Mary Nutter, and who to watch at the St. Pete/Clearwater Invite.
Transfers have become one of the biggest story lines within the DI game and with over 300 off season moves, let's look at who will feel the biggest impact conference by conference. We dove into the ACC last week and now turn our focus to the Big Ten.
Keep reading with special discount code SEASON2020 for 20% off your subscription!
INDIANA
In one of the latest transfers during the summer, the Hoosiers lost team leader and stand out, Maddie Westmoreland. In 2019 is lead the program in batting average (.315) with seven doubles, one triple, eight home runs, and 24 RBI. She slugged for .569 and notched 15 walks, good for a .400 on-base percentage. This could be a huge blow to Indiana's lineup in 2020 but time will tell. Westmoreland joins Texas Tech for the upcoming season.

Indiana did pick up both Hannah Davis and Briona Rance from Kentucky. Both saw limited action in their time with the Wildcats though Coach Shonda Stanton recruiting Davis heavily when she coached at Marshall.
IOWA
Iowa had an interesting off-season for sure following their first season under new head coach, Renee Gillispie. Sydney Owens, Cameron Cecil, Miranda Schulte, and Devin Cantu all entered the transfer portal over the summer. Yet, every athlete minus Cantu remains on the 2020 roster. The Hawkeyes add Kaitlyn Rocco (Northern Kentucky), Emma Olejniczaak (UNI), and Riley Sheehy (USC Upstate).

In her freshman campaign, Rocco hit .233 in 54 games. Rocco logged five doubles, two triples, one home run, and 13 RBI with an on base percentage of .282.

A junior, Olejniczak may add some depth in the circle. In 2019 she made 23 appearances in the circle throwing 72 innings with 54 strike outs.

During her freshman season, Sheehy saw action in 45 games mainly as a pinch runner. She did make the most of her offensive opportunities logging three hits, a double, two walks, seven stolen bases, and 20 runs scored.

Iowa is a program in "rebuild" so it's hard to say how these new pieces will impact but it is definitely worth keeping an eye on.
MICHIGAN STATE
Unfortunately for Michigan State, they had maybe the most unsurprising transfer of the off-season, now sophomore, Charla Echols. The Spartans also said goodbye to sophomore Summer Callahan who was mainly a pinch runner for the team and is now rostered at Bowling Green.

Echols was one of the most highly sought after recruits in her graduating class and joined Michigan State to spend her freshman season playing with sister, Ebonee Echols, who was a senior in 2019. In her freshman season C. Echols lead Michigan State with a .359 batting average while notching 15 doubles, 28 RBI, and seven home runs. For her efforts she was named to the Big Ten All-Freshman Team. She joined the Florida Gators this off season and will finish her next three years of competition in Gainesville.
MINNESOTA
The Golden Gophers did some shifting this summer with the loss of then sophomore pitcher, Hannah Bailey, and the addition of Brooke Vander Heide (BYU) and Autumn Pease (Idaho State).

Bailey did not see much on-field action with the Gophers during her first two seasons and found a home at Boise State. Vander Heide holds a .273 career batting average through three seasons at BYU. In 300 at-bats she's logged five doubles and four triples 27 RBI and an on-base percentage of .329. Pease, a pitcher, completed her freshman campaign at Idaho State earning Co-Freshman of the Year honors in the Big Sky Conference. She posted a 10-5 record with a 2.36 ERA and 115 strikeouts.

Minnesota two additions will be interesting to follow. Vander Heide may be able to add depth to a outfield that lost mainstay and multi-year All-Big Ten selection, Maddie Houlhian, to graduation. The Gophers also had injury issues in the outfield and there was a lot of shifting last season. Pease will also be worth keeping an eye on as the Gophers look for depth behind All-American, Amber Fiser.
NEBRASKA
Despite all the turmoil and investigations this summer, Nebraska did not lose any student-athletes to transfer. They did, however, add Camryn Ybarra from Oregon State. The then sophomore was a Pac-12 All-Academic honorabl mention and saw time in 35 games with 31 starts. She hit .235 in 98 at-bats with 10 RBI, nine doubles, and two home runs last season.
OHIO STATE
The Buckeyes also "survived" the summer without losing any student-athletes to the transfer portal while picking up a huge addition to their roster: James Madison's Payton Buresch.

Buresch, a junior pitcher, has earned CAA Rookie of the Year, VaSID Rookie of the Year, and NFCA All-Northeast Region First Team honors among others in addition to being named a Top 25 Finalist for NFCA Freshman of the Year award in 2018. With two seasons of eligibility left, she is a huge addition to Ohio State's staff and their push to claim a Big Ten title.
RUTGERS
Rutgers was hit the hardest by the transfer bug losing Nicole Bowman, Penelope Russ, Erin Collins, and Maydson Cole.

Bowman hit .272 over 51 games for the Scarlett Knights with seven doubles, two triples, five home runs, 18 RBI, and a .342 on-base percentage. Russ hit .333 in 33 at-bats, Collins hit .183 with 17 RBI, and Cole recorded a .136 average with 11 RBI of her own. So while those aren't necessarily dazzling slash lines losing them could hurt the lineup in multiple ways. Mainly, Rutgers four student-athletes who have gone through the first year with new head coach, Kristen Butler, and understand the new way of doing things. Normally you would expect to see improvement in year two but instead Rutgers now has to find ways to fill those vacant holes.
WISCONSIN
Wisconsin adds Morgan Kummer, a now sophomore from George Washington. In her freshman campaign, Kummer as named to the A-10 All Rookie team after hitting an impressive .345 through 113 at-bats. She saw action in 55 games with five doubles and 17 RBI. She could add some nice depth to an offensive that finished seventh in the Big Ten and showed potential last season, hitting .277 with 65 home runs and 302 team RBI.