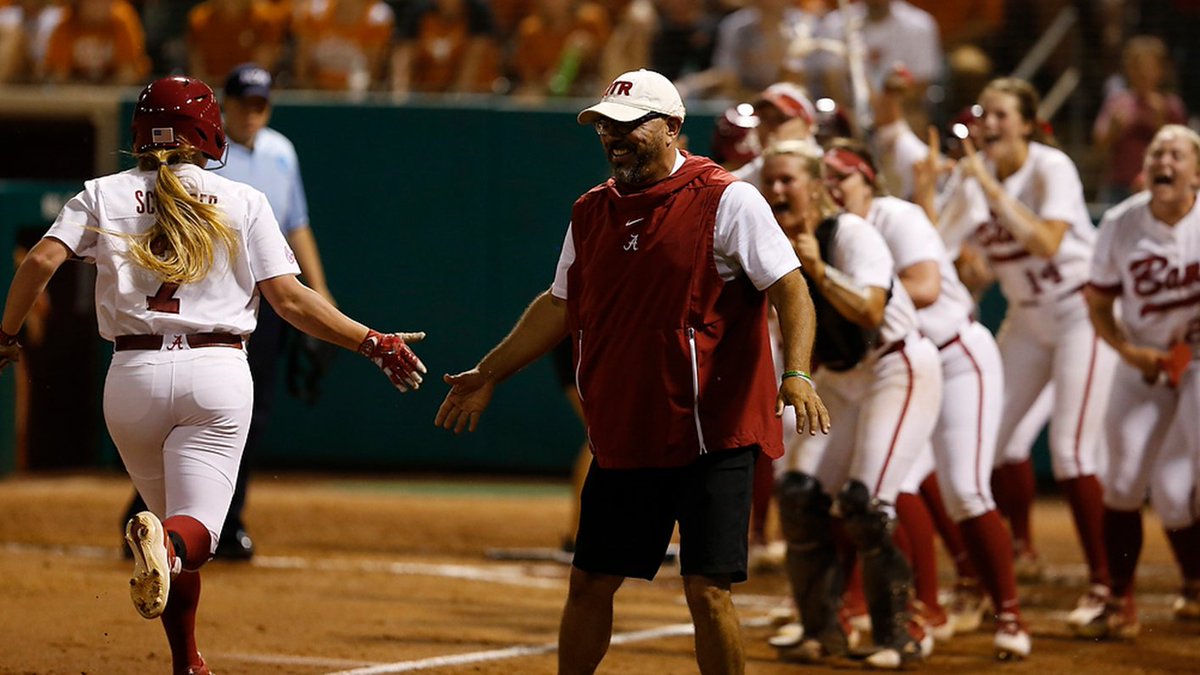 Viewership continues to be record breaking for postseason collegiate softball as Alabama's game three win over Texas last Saturday was the most watched Super Regional telecast of all-time garnering over one million viewers according to ShowBuzzDaily.com.
The Tide's 8-5 win over Texas, which aired on ESPN, was watched by 1,005,000 million viewers which is the most watched Super Regional game and the most matched non-World Series matchup of all-time. It was part of a huge Saturday slate in TV viewership for softball: the most watched super regional day ever.
Game two of Tennessee versus Florida, airing on Saturday via ESPN, pulled 891,000 viewers which was the ninth highest rated TV prime-time program overall on Saturday night. The Vols extra innings win over the Gators Saturday night is the most watched non-World Series softball telecast that aired during prime-time hours surpassing the 2015 SEC Championship game between Auburn and Tennessee; watched by 887,000 viewers.
Previously most watched Super Regional game prior to Alabama-Texas and Florida-Tennessee was between LSU and Arizona on May 24, 2015; it was game two of the Super Regional matchup and pulled 885,000 viewers.
Other numbers from Super Regionals include Saturday's game three between Oklahoma State and Florida State was the third most watched Super Regional game of the week with 816,000 viewers while game two of Oklahoma-Northwestern had 783,000 viewers. These four games were in top 22 highest rated TV cable programs of the day according to ShowBuzzDaily.com and easily beat ESPN's prime-time Boxing program in TV viewership (556,000 viewers) while crushed Major League Baseball telecast on MLB Network that day which had 329,000 viewers.
Game three of Texas-Alabama was the third most watched cable sports program of the weekend only behind game six of the NBA Conference Finals between the Milwaukee Bucks and Toronto Raptors on TNT Saturday night (6.4 million) and ESPN's Sunday Night Baseball between the Atlanta Braves and St Louis Cardinals (1.3 million viewers). Interestingly, Jessica Mendoza was part of Sunday Night Baseball telecast and Texas-Alabama broadcasts.
Texas-Alabama is the most watched three game Super Regional series in college softball history averaging over 786,000 viewers for the three games. Below is a complete breakdown of the Super Regional TV numbers. Keep in mind, Texas-Alabama and Oklahoma State-FSU entire series aired on ESPN.

* Means those games aired on ESPN2. James Madison-UCLA and Game 1 of Ole Miss-Arizona are not available as those games aired on ESPNU.
Super Regionals Game 1 Game 2 Game 3 AVG
Texas at Alabama 662,000 648,000 1.05 million 786,666
Tennessee at Florida *428,000 891,000 593,000 637,333
Oklahoma State at FSU 657,000 439,000 816,000 637,000
Northwestern at Oklahoma *356,000 783,000 No Game 3 569,500
LSU at Minnesota *435,000 * 365,000 No Game 3 400,000
Kentucky at Washington *344,000 * 339,000 No Game 3
Ole Miss at Arizona N/A * 341,000 No Game 3
So far, this postseason is on track to be the most ever watched college softball postseason. We will see if the WCWS can continue the momentum.
——————————————————