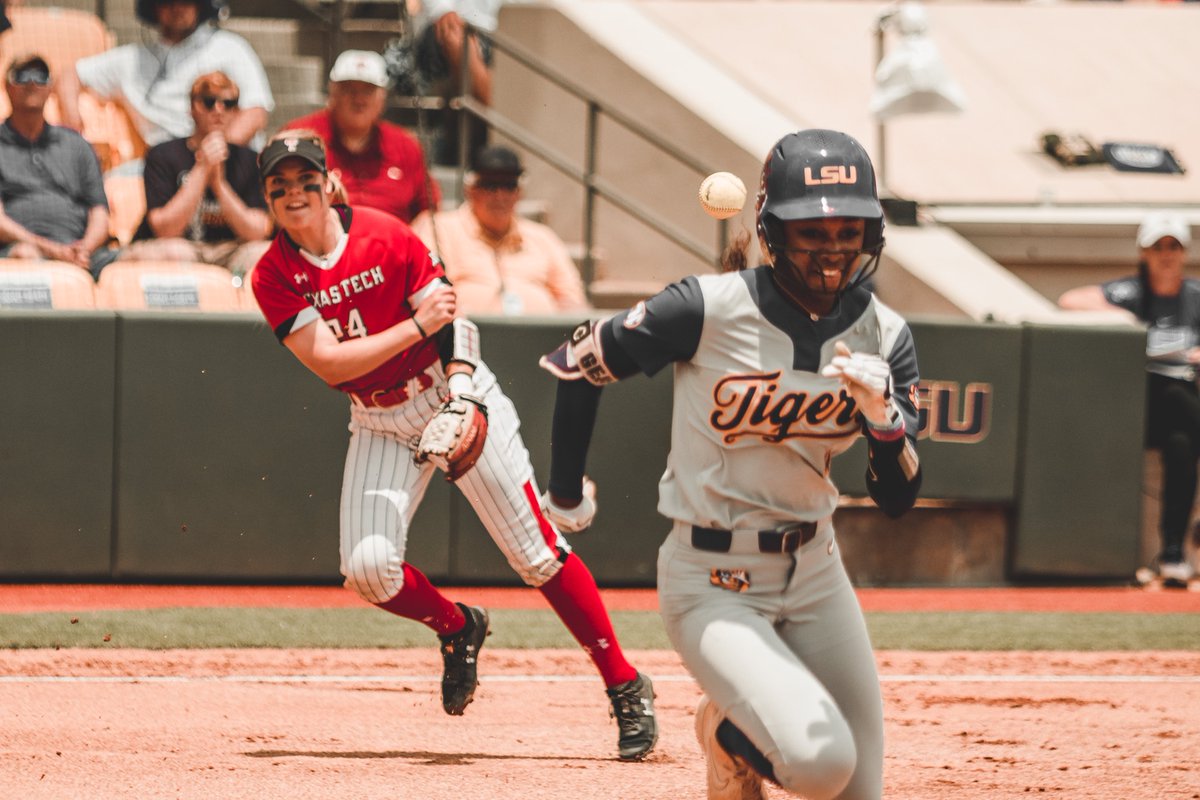 Photo Credit: Texas Tech Twitter
How big has the College Softball NCAA Tournament become? On Sunday, ESPN decided to keep the LSU-Texas Tech regional game from Baton Rouge in place and bump ESPN's Baseball Tonight show to ESPNews. Baseball Tonight on Sunday night is a huge show as it serves as the pregame show to ESPN's Sunday Night Baseball game weekly during the Major League Baseball season.
It's another example that softball is a strong TV draw as ESPN felt confident that LSU-Texas Tech would deliver viewers. Which it did. The Red Raiders versus Tigers game six that aired on ESPN garnered 666,000 viewers which was the second most watched regional game of the weekend behind the Oklahoma-Wisconsin game that aired on ESPN prior to LSU-Texas Tech which drew 697,000 viewers.
To put those numbers in perspective, the top six watched softball regional games more than doubled every Women's Basketball NCAA Tournament game from the first and second rounds as well as the Sweet Sixteen round except for UConn's Sweet Sixten win over UCLA; that contested pulled 682,000 viewers on March 29.
The ratings increased in softball started a couple weekends with the ACC and SEC Championship games as Florida's win over Alabama in prime-time was watched by 549,000 viewers: the most watched SEC title game since Auburn-LSU in 2016 (587,000 viewers). The game more than doubled last year's SEC Championship game in the same time slot and on the same network. Florida's win over South Carolina only garnered 238,000 viewers. The 2015 SEC Championship game between Auburn and Tennessee is still most watched title game with 887,000 viewers and was the first time the game aired in prime time on ESPN. In contrast, last year's SEC Baseball Championship game between Ole Miss and LSU drew 317,000 viewers on ESPN2,
Florida State's win over North Carolina in ACC Championship Game was watched by 480,000 viewers which is up 41% from 2018's FSU title win over Pittsburgh according to ESPN. The Noles win over Notre Dame in 2016 had 486,000 viewers and is the most watched ACC championship game.
The Super Regionals begin on Thursday with Oklahoma State at Florida State and Texas at Alabama on ESPN during prime time and will air during prime time again on Friday night as a result of the NBA's Western Conference Finals ending with the Golden State Warriors sweeping the Portland Trailblazers in four games to open the time slots on ESPN Friday night.