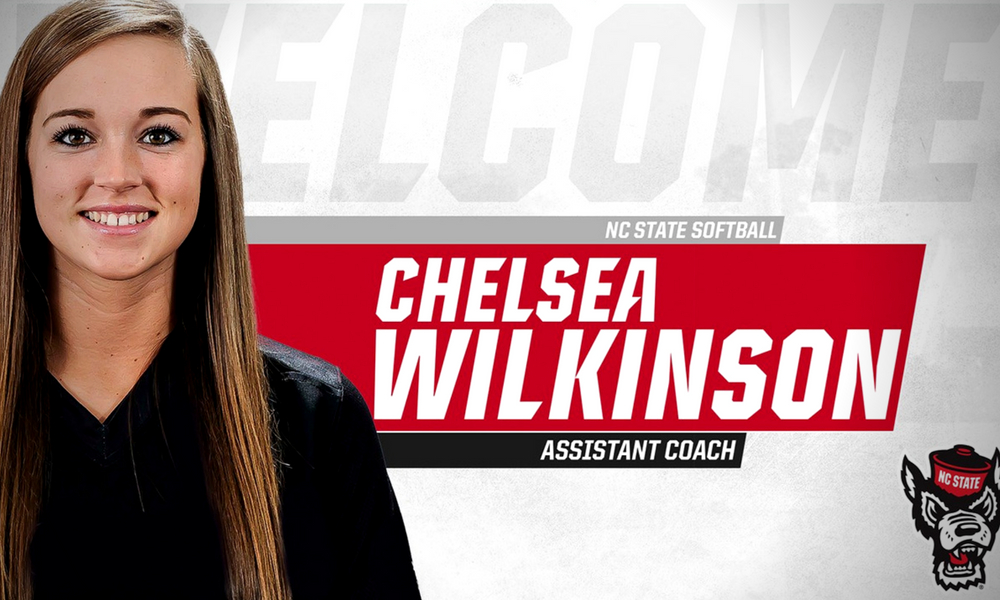 Many former players who recently finished their college careers continue to get into coaching, plus a couple of major coaches in the state of Iowa are jumping into DI Coaching.
Rick Dillinger Hired As Iowa Assistant Coach 
https://twitter.com/iowasoftball/status/1025082149265960961
Iowa's Head Coach Renee Luers- Gillispie has added longtime Iowa High School legendary Head Coach Rick Dillinger to the staff. Dillinger spent 42 years as a High School Head Coach, winning three state championships, 13 conference titles, nine sectional championships, 11 district championships, and appearing in 12 Iowa State Softball Tournaments as a head coach at Adel-DeSoto-Minburn, North Polk Community, and Danville Community School. Dillinger coached Gillispie at Danville Community School from 1976-79. Dillinger joins Trena Prater who followed Gillispie from UCF.
Chelsea Wilkinson Hired at North Carolina State as Assistant Coach
https://twitter.com/PackSoftball/status/1022924643684966400
North Carolina State's Head coach Jennifer Patrick-Swift has filled out the Wolfpack coaching staff with the addition of Chelsea Wilkinson as an assistant coach.
Wilkinson played at Georgia from 2013-16, starring in the circle for the Bulldogs. During her career, Wilkinson had  97 victories which are No. 2 all-time in the Bulldogs' historical annals.
Wilkinson earned All-SEC honors in each of her four seasons and was named an All-American as a sophomore. She was named the SEC Tournament MVP in 2014.
Following her collegiate career, Wilkinson spent the 2018 season as a graduate assistant on the staff at South Carolina, joining the Gamecocks for their campaign that saw the squad earn a regional hosting berth and reach the Super Regionals.
Holly Aprile Adds Griffin Joiner and Ashley Lane to Louisville coaching staff
Head Coach Holly Aprile adds Joiner and Lane to coaching staff! #GoCards

Click the link below for the full story!https://t.co/f2SoB6hglO pic.twitter.com/oddbZcZqQ2

— Louisville Softball (@UofLSoftball) August 3, 2018
New Louisville Head Coach Holly Aprile did not waste much time in putting together her coaching staff. She is bringing Griffin Joiner with her from Pittsburgh Griffin Joiner while also hiring Ashley Lane who spent the last three seasons at Middle Tennessee.
Samantha Ricketts Promoted to Associate Coach at Mississippi State 
https://twitter.com/HailStateSB/status/1023995257799827458
Samantha Ricketts has been promoted to Associate Head Coach. Ricketts has been in Starkville for four seasons and helped lead the Bulldogs to the NCAA regional final against Arizona in 2018. Under her guidance, the offense posted a team batting average of .292 and hit 55 home runs.
Emily Crane Returns to Missouri as  a Volunteer Coach
https://twitter.com/MizzouSoftball/status/1024713825734610946
Emily Crane will return to Columbia as a volunteer assistant. Crane has spent three years in the National Pro Fastpitch league as a player and will return to Missouri for the first coaching position of her career. Named an All-American in her senior season, Crane finished her career among the top ten in six different statistical career categories at Missouri.
Tatum Edwards Named Assistant Coach at Omaha 
https://twitter.com/OmahaSB/status/1024723033536249864
Omaha's Head Coach Amanda Rivera-Eberhart's first hire is former Nebraska standout Tatum Edwards who will serve as one of her new assistant coaches. Edwards spent the 2018 season as the volunteer assistant at Purdue, serving on the Boilermakers coaching staff with Rivera-Eberhart, and spent two years as a graduate assistant coach at Nebraska. Edwards spent three years in the National Pro Fastpitch league and earned a pair of All-American awards during her collegiate career at Nebraska. Tatum's sister Taylor Edwards returns to Nebraska as a volunteer coach.
Gwen Svekis Begins Coaching Career as Volunteer at Indiana 
https://twitter.com/IndianaSB/status/1024028618857635840
Reigning National Catcher of the Year Gwen Svekis will begin her coaching career in the Big Ten, as she has joined Indiana as a volunteer assistant coach. In addition to being named Catcher of the Year, Svekis was a first-team All-American in 2018 and batted .324 with 17 home runs and 60 RBI's as she helped lead Oregon to a PAC-12 conference championship and the Women's College World Series. Svekis is the second Duck player to get a volunteer coaching job in the Big Ten joining Jenna Lilly who on July 12 was named Volunteer coach at Nebraska.
Breanna Wonderly Joins Morehead State as an Assistant Coach
Breanna Wonderly joins @MSUEaglesSB staff as Assistant Coach … and it is also her birthday today. Happy Birthday and welcome. #OneTownOneTeam@MSU_CoachJones

Read more: https://t.co/LJn4yj9YoQ pic.twitter.com/k0Tvacg079

— Morehead State Athletics (@MSUEagles) August 1, 2018
New head coach Samantha DeMartine Jones has hired Breanna Wonderly as the program's new pitching coach. It is the first coaching position of Wonderly's career following a one-year stint as a graduate manager at Louisville. An alum of Heartland Community College and Illinois, Wonderly was a two-time all-region selection during her time at Illinois and spent a single season with the Chicago Bandits in the National Pro Fastpitch league.
California Names Angelica Seldon New Pitching Coach 
https://twitter.com/Pac12Network/status/1021579480547188736
Former UCLA great Angelica Selden is the new pitching coach at Cal. The position is the first collegiate job of Selden's career outside of a short stint as an undergraduate assistant at UCLA, though she has coached privately and at the club level for several years. A former three-time All-American, Selden was the PAC-10's Freshman of the Year in 2005 and ended her playing career as the Bruins' career leader in strikeouts. Seldon takes over for Chuck D'Arcy and will look to build upon a 2018 season that saw the Bears post a team ERA of 2.41.
Kaela Jackson Returns to South Carolina 
We got who we wanted. @KaelaJackson30 is coming home.

READ: https://t.co/t1yKaZEyIs #Gamecocks

— Gamecock Softball (@GamecockSoftbll) July 25, 2018
Kaela Jackson is coming back to South Carolina as the program's new hitting coach. Jackson previously was a volunteer coach and graduate manager at South Carolina and played for the Gamecocks and was the team captain in 2012.
Jackson spent the last three seasons at Michigan State as an assistant coach, working with the Spartans offense. She helped lead the Spartans to a 26-26 record in 2018, a year after leading the team's offense to a top-ten ranking in three national statistical categories. In the 2017 season, the State hitters ranked sixth nationally in slugging percentage; eighth in doubles per game; and ninth in home runs per game.
Jackson replaces Matt Lisle who left to become a volunteer baseball coach at Missouri.
Adrienne Clark Leaves UConn for Purdue 
Help us in extending a Purdue welcome to our new assistant coach .@AdrienneClark7. #BoilerUp

➡️➡️➡️https://t.co/JyiwSIFSUE pic.twitter.com/iUnIVw2LPE

— Purdue Softball (@PurdueSoftball) August 3, 2018
Adrienne Clark was named the new assistant coach at Purdue on Friday after spending four seasons as an assistant coach at UConn.
Before UConn, Clark served as an assistant coach for three seasons at her alma mater Hofstra. During her second stint with the Pride, Clark was instrumental in leading Hofstra to a 42-15 overall record and the program's first-ever NCAA Regional championship in 2012.
Clark also spent three seasons (2009-11) on the staff at Columbia University. Before her time at Columbia, Clark began her coaching career at Delaware, where she served as an assistant coach for three years.
Clark was a standout player for the Pride, as Clark led the team to four straight CAA regular-season and postseason championships and three NCAA Regional appearances.
Wright State Hires Kennedy Haynes as an Assistant Coach
Help us welcome Kennedy Haynes (@kenny_bop9) to the Raider family as our new Assistant Coach! #RaiderUp pic.twitter.com/dGfMQlSBNh

— Wright St. Softball (@WSU_SB) August 2, 2018
Kennedy Haynes reunites with Wright State Head Coach Laura Matthews. Haynes comes over after spending the 2018 season as the interim Head Coach at DIII Wittenberg. Haynes was an assistant for Matthews at Wittenberg before Matthews left to become the new Head Coach at Wright State.  Haynes led Wittenberg to a conference regular-season title and 24 victories in 2018.
Western Kentucky adds Jessica Twaddle as Volunteer Coach 
Coach Twaddle joins us from Murray State where she played and most recently coached!

Learn more about the newest addition to our team ⬇️https://t.co/ghungnBtOZ

— WKU Softball (@WKUSoftball) July 31, 2018
Former Murray State player Jessica Twaddle finds her first full-time position at Western Kentucky. Twaddle spent the 2018 season as a volunteer assistant at Murray State and will now join WKU with her primary responsibility being the Hilltopper infielders. During her playing career at Murray State, Twaddle ended her career atop three statistical categories in the Racer record books in batting average (.374); RBI (143); and hits (234)
Joe Yegge Leaves Kirkwood CC to Join DePaul As Associate Coach
https://twitter.com/DePaulAthletics/status/1022898660177264640
New DePaul head coach Tracie Adix-Zins has begun to fill out her coaching staff, adding Joe Yegge as the Blue Demons' new associate head coach.
Yegge spent eleven seasons as the head coach at Kirkwood Community College in Cedar Rapids, Iowa, recording more than 535 victories during his tenure with the Eagles. Under Yegge, the Eagles program reached the Junior College Division II World Series five times.
In 2018, Yegge led the Eagles to a 49-13 overall record as the squad reached the NJCAA Division II national championships in Clinton, Mississippi.
Before his tenure at Kirkwood, Yegge was an assistant coach at Indiana State for five years, serving as the program's hitting coach. His coaching resumes also include a seven-year tenure at North Iowa Area Community College that included five years as head coach following two years as an assistant.
Taylore Fuller Named Assistant Coach at Nova Southeastern
https://twitter.com/NSU_Softball/status/1022177437113901056
Former Florida Gator Taylore Fuller will be an assistant coach at DII Nova Southeastern. Fuller was part of the Gators two National Championships in 2014 and 2015. Fuller spent two summers in the National Pro Fastpitch League (NPF) for the Scrapyard Dawgs and Chicago Bandits, respectively, Fuller spent one season at UMBC as an assistant coach.
Bobby Buchanon Hired at Texas Arlington to Be Assistant Coach
SB: @UTASoftball coach Peejay Brun (@coachbrun) announces the addition of Bobby Buchanan as the program's newest Assistant Coach!

Read more about Buchanan and why the Mavericks are so excited about him joining the program at -> https://t.co/MWh6NZWl9j pic.twitter.com/GEKVn26x33

— UTA Athletics (@UTAMAVS) July 23, 2018
UTA Head Coach Peejay Brun has added Bobby Buchanan to the coaching staff as Buchanan reunites with Brun who he worked with at Texas State from 2011-2014 as an assistant coach and manager.
Buchanan was the Head Coach at Louisiana College recently,  leading them to a fourth-place finish in the American Southwest Conference. Buchanan coached this summer in the ASBA helping start-up the pro league as well as being the Head Coach of the MohBeel team that had the best regular season record in the inaugural season.