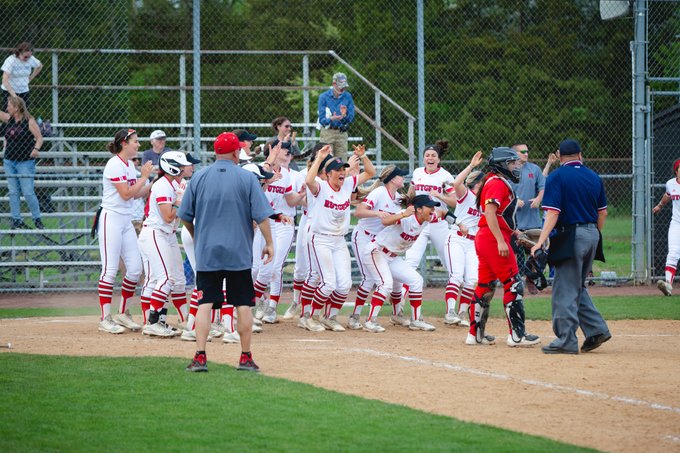 The conference race widen even further following this weekend of play. Northwestern and Michigan survived some scares; Minnesota took care of business in Lincoln versus the Huskers; Ohio State's bats exploded versus Michigan State; and Rutgers and Iowa duked it out. Let's look back on the week that was, ahead to the week that is unfolding, story lines, postseason, and more!
Find our previous breakdowns below:
Week One
Week Two
Week Three
Week Four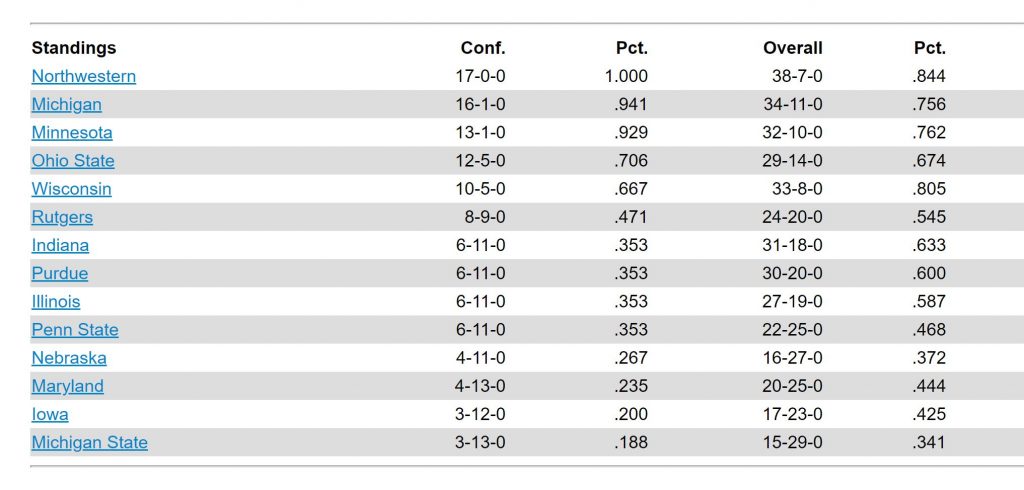 LOOKING BACK
Then No. 23 Michigan at Illinois
In what could be considered Michigan's final big conference test, the Wolverines traveled to Champaign, IL. to face off against the Illini for the first time during the regular season since 2014. It wasn't easy, but Michigan came away with the sweep (2-1, 9-8, 16-5) to remain in control of second place in the conference standings.

Michigan relied heavily on Meghan Beaubien who collected three wins and threw 15 innings. But a lot of credit goes to Illinois who's offensive recorded 12 earned runs this weekend including six off Beaubien. Unfortunately for the Illini, they just couldn't seal the deal in the circle or especially on defense – errors haunted Illinois and helped Michigan sweep the weekend.

Purdue at Then No. 24 Northwestern
A much improved Purdue squad rolled into Evanston, IL. for a weekend series matchup against first place, Northwestern. The Wildcats were very much in the driver's seat during game one and two but had to come from behind in game three. They managed to mount a four run fourth inning before tacking on two more insurance runs in the fifth to wrap up the victory. It got pretty intense! Check out the video below!

Northwestern ace, Danielle Williams secured two more wins, pitching 12 innings and striking out 20 Boilermakers in that span. Kaley Winegarner and Kenna Wilkey stepped up big for Northwestern in game two combining to secure the win (Wikley being pitcher of record) and only allowing one earned run. Rachel Lewis, Morgan Nelson, Jordyn Rudd, and Maeve Nelson anchored the offense.
Illinois at Now No. 19 Northwestern
Last night Northwestern and Illinois squared off in their Big Ten midweek matchup. As was expected Northwestern claimed game one but things got tight during round two.

After pitching the game one five inning shutout, Northwestern started Danielle Williams in the circle for the second game and Illinois was able to chase her in the fifth after putting up two runs of their own. It wouldn't be enough as Morgan Newport was able to record the six inning save only surrendering one hit while striking out three Illini batters.

The hero in game two for Northwestern was Jordyn Rudd who blasted the go-ahead grand slam that proved enough scoring for Northwestern to survive the doubleheader.
Rutgers …in general
Last weekend Rutgers and Iowa squared off in a fun series that the Scarlet Knights won, two games to one and yesterday they swept their midweek doubleheader versus Maryland – including a walk-off win in the eighth inning of game two.

Rutgers is currently 24-20 with a 8-9 conference record which is good for sixth place. In 2018, the Scarlet Knights were 19-31 overall with a 4-16 conference record. A lot of "kuddos" go out to Rutgers' student-athletes and new head coach, Kristen Butler and staff.

With two weeks remaining in conference play Rutgers is slated to play a struggling Indiana squad and Michigan State. Both series should be close toss ups and will be fun to see how they play out with it being very possible for Rutgers to eclipse double digit conference wins.
LOOKING FORWARD
Now No. 9 Minnesota at Wisconsin
Last week's big midweek matchup between Minnesota and Wisconsin was postponed due to weather but is ready to be settled this afternoon! If you're able to watch, you should. The border battle and rivalry between Minnesota and Wisconsin across all sports is arguably one of the best in the country.

All bets are off when these two take the field and crazy things have happened throughout the years.

For a prediction, this should be a split but again, with rivalry games none of the "what should happen" or "on paper" metrics matter. In past years, Wisconsin's pitching has been problematic (especially into game two of a doubleheader) but this season one could argue they have more depth in the circle than Minnesota. Now, ace to ace, advantage Minnesota. Amber Fiser is one of the best in the country and has been steady and strong throughout the conference season. My question is, does Minnesota try to throw her all 14 innings today? We'll see, they can't really afford to lose in regards to pursuing the regular season title but it's really hard to pitch 14 straight innings and not eventually get chased. So, we'll just have to see! Should be fun!

Offensively, both teams are pretty equally matched. Minnesota is hitting .291 to Wisconsin's .299. Both squads have 3-4 really strong offense leaders and from there it can get a bit shaky. Home run numbers are very similar with Wisconsin hitting 53 and Minnesota 48. Doubles, Minnesota 66 and Wisconsin 62. Walks, Wisconsin 169 and Minnesota 165. Strikeouts, Minnesota 213 and Wisconsin 214.

The biggest difference in numbers is RBIs and stolen bases which Wisconsin holds an advantage in both (RBIs: 243 vs. 210, SB: 54 vs. 36) and even that isn't too massive.

On paper, this is one of the most balanced matchups between Minnesota and Wisconsin that we've seen in recent years. Again, tune in if you can! Should be an awesome doubleheader.
Use coupon code: bigtenbreakdown for a one year subscription to receive a 30% discount code and keep reading!


Now No. 19 Northwestern, No. 23 Michigan, No. 9 Minnesota
Northwestern travels to Michigan State while Michigan hosts Penn State and Iowa travels to Minnesota. These are all series that each team should sweep. They need to show up prepared, not let up, and take care of business. Iowa versus Minnesota is a rivalry game but in general, advantage Minnesota. Not only because they are playing at home but Minnesota has a long history of recruiting Iowa kids who really rise to the occasion of a Gopher/Hawkeye matchup. OH! And Fiser is an Iowa native too.

While on paper these matchups should all be sweeps there is actually lot at stake for every team involved. For Northwestern, Michigan, and Minnesota it means holding their place (or not losing standing) in the conference race. For Michigan State, Penn State, and Iowa their ability to qualify for Big Ten Tournament play. Keep that in mind while watching this weekend unfold!

Illinois at Ohio State
Another big series this weekend is Illinois at Ohio State. The Buckeyes currently hang onto the fourth place position by the smallest of margins and remember, the top four seeds get the all important first round Big Ten tournament bye.

This series has the making to be a knock-down-drag-out offensive brawl. You bring two of the top offensive in the conference (all games) with first ranking Illinois (.318) and third ranking Ohio State (.299) together, sparks could fly!

The biggest advantage in this series goes to Ohio State as they have stronger pitching and more depth. If Illinois can keep up offensively they can out slug just about anyone.

Keys to success: Ohio State – keep the Illini bats at bay. Illinois – keep up offensively.
STORYLINES:
GASSING
We posed this question before but keep an eye out for pitchers gassing, not only in the Big Ten but across the country. The regular season is coming to an end which means a number of things: bodies are tired/sore/injured; more and more film is available; tons of scouting reports have been passed around; and more. Pitchers are starting to get touched more often and give up more ground. We saw with Illinois pushing six earned runs against Meghan Beaubien; Illinois pushing a few against Danielle Williams; etc. It's just what starts to happen at this point in the season and this is where the mentally tough really shine. Personally, I think it makes is very exciting!

TIME FOR CONCERN
For the past few weeks talks about Indiana officially being on the "bubble" for the NCAA Tournament have swirled. They are currently tied for seventh in the Big Ten with a 6-11 record which actually now puts them in the mix to not even qualify for the Big Ten tournament if they can't win out most of their remaining schedule. The Hoosier's current NCAA RPI also sits at 44.

Indiana's remaining schedule includes games at Rutgers (RPI 83) and Penn State (146) so even if they sweep all six games their RPI will still drop, at least a bit.

In my opinion, the only way for Indiana to qualify for the NCAA Tournament is to win out and make it to at least the semi-final round of the Big Ten tournament, if not the championship. And even then they may need some help.
BIG TEN WEEKLY AWARDS:
PLAYER OF THE WEEK
Lilli Piper, Ohio State
PITCHER OF THE WEEK
Amber Fiser, Minnesota
FRESHMAN OF THE WEEK
Lexie Blair, Michigan
FPN PROJECTIONS:

Just for fun, here are our prediction for how the Big Ten season awards would shake out if it all ended today! Note: these are based of Big Ten conference play stats as they are from week to week.
PITCHER OF THE YEAR
Amber Fiser, Minnesota
PLAYER OF THE YEAR
Lilli Piper, Ohio State
FRESHMAN OF THE YEAR
Danielle Williams, Northwestern