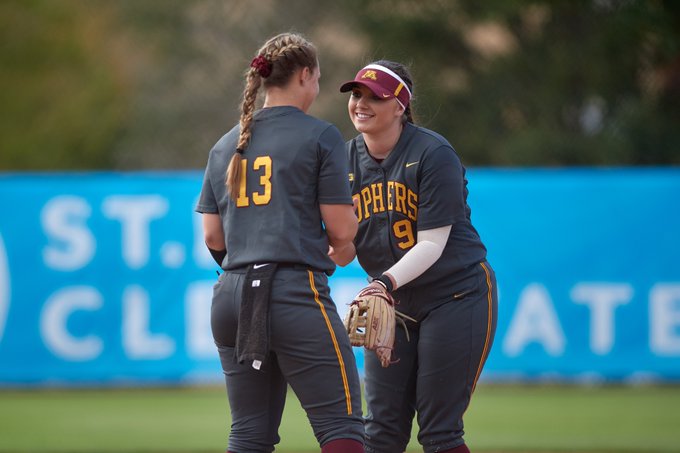 The 2019 Big Ten regular season has come to a close and your champion is yet again the Michigan Wolverines following Northwestern's series loss in Minnesota. During the week that has followed conversation and debates have run high about tournament seeding, regular season scheduling, conference issues, and more. Let's jump right into it all!
Final 2019 Regular Season Standings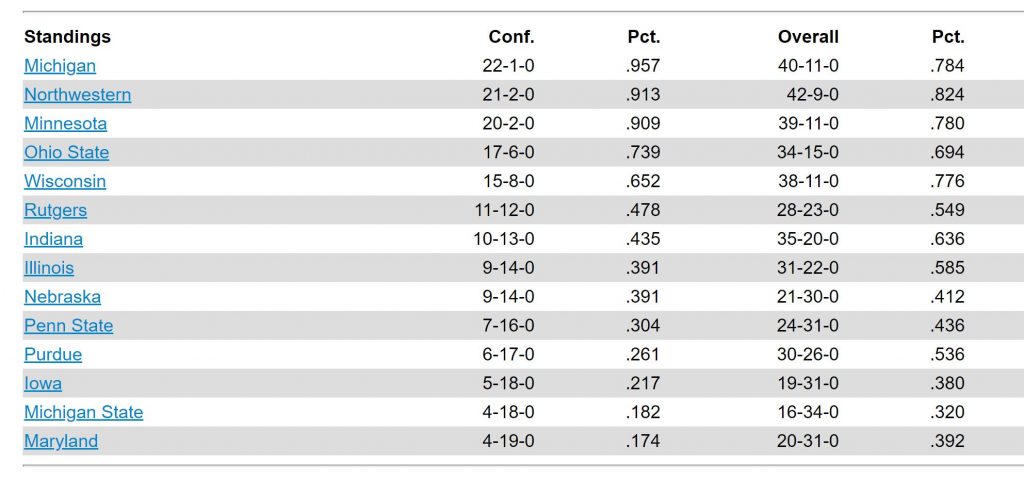 2019 Big Ten Tournament Bracket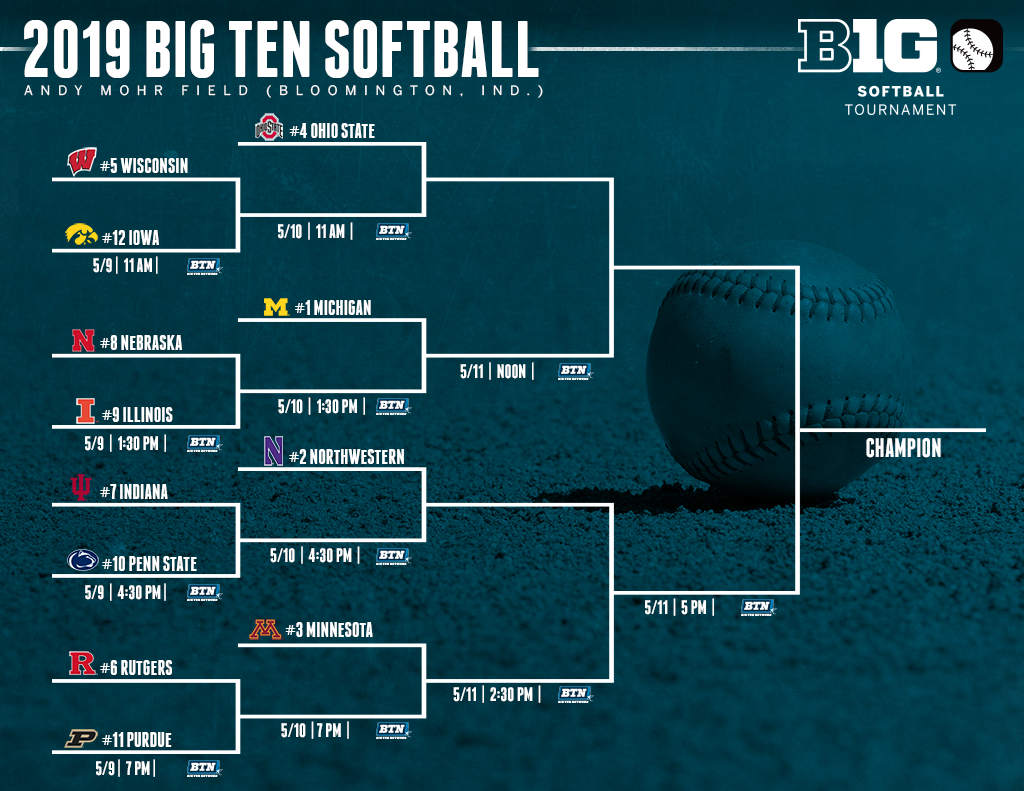 The Chatter and Debate
1. Why is Northwestern the No. 2 seed when they lost to Minnesota head-to-head?
Conference winning percentage. We talked about this last week in our conference preview when discussing championship scenarios. Since Minnesota had a conference game cancelled, their winning percentage was thrown off. This means that even though they beat Northwestern twice they still had a lower WP and record. 21-2 versus 20-2.

"But Northwestern lost head-to-head!" I hear you, I get it, but it doesn't change the fact Northwestern still played their entire schedule and Minnesota did not. Was it Minnesota's fault that an April snowstorm hit the Twin Cities? No, and that stinks, but is that Northwestern's fault either? No, it is not. It's just an unfortunate situation all the way around. At least it did not ultimately decide the championship title.

2. "But Michigan didn't have to play Northwestern or Minnesota".
No, no, they didn't. Unfortunately, there are too many teams in the Big Ten with the length of the season for every team to even remotely play everyone. There is no real solution for this, especially given the current disparity between the top and bottom teams in the conference. Even if the Big Ten could have every team play each other, that would have the potential to be highly problematic when postseason came around for some programs (RPI, strength of schedule, t25-t50 wins, etc). Also remember, this is not uncommon. There are many conferences across the country that have the same obstacle. What is unfortunate for the Big Ten right now is that it is not split up into a "true" East and West division, everyone sits in the same standings. Take for example, the ACC, they have the Coastal and Atlantic divisions where they crown a champion of those groupings and then an overall champion. The Big Ten needs to move to officially breaking the conference into the Eastern and Western divisions like they do for football; crown an East and West champion and then an overall from there. It still wouldn't be perfect, but it'd arguably be better.

Something that I think is important for fans of the Big Ten to absorb is while yes, this season Michigan did not face the two other top conference teams as has been the case for a few seasons now, they still played all their conference games and went 22-1. They played the games put in front of them, survived some tough ones, and won. I hear you and understand the frustrations when top conference teams don't get a shot at each other especially when there's a title on the line (I was with the Minnesota program for 7.5 seasons, I understand as well as anyone). But, it isn't fair to the student-athletes of Michigan to take away from what they accomplished, even if it is frustrating given the current difference in teams from the "East" and "West". If you're angry or frustrated, that needs to be allocated towards the set up of the conference, not the student-athletes and individual programs.

3. Crossover Games
Currently a Big Ten team's "crossover games" are on a rotation. For example, Minnesota and Michigan have not played in the regular season since 2015. There is a lot of talk, uproar, and debate about those crossover games and how they are scheduled.

This has been a point of conversation in Big Ten and with the Big Ten coaches on how to structure these differently. If there is ever a plan put into motion where "like talent" teams play each other in crossovers do remember, it's not going to solve every problem and make "everything better or truly fair". In that same vein you can bring up the issues with the midweek doubleheaders that are played in the conference. Those aren't necessarily always "fair" especially as they are purely based on geographic location. The point is, nothing is every fully perfect or fully "fair". While changes to the crossovers could be a big improvement, keep in mind it could also have an interesting impact on the standings from top to bottom that some folks may not ultimately like. Only time will tell.

4. "Well Michigan and Hutch just don't want to play (enter team here)."
No. No, no no …no. No, no. Nope. Come on, seriously?

I hear, read, and see this all the time and it's pretty ridiculous. Michigan is especially impacted by not playing more of the conferences top programs and never more than when it comes to postseason play. From hosting bids to better seeding, their conference competition hasn't helped much as of late especially as the "higher average RPI grouping" in the last few years has been the "east" side. So, that narrative needs to stop. There is not some big conspiracy.

Looking Ahead to the Tournament
1. Not your normal No. 9 seed
Something that wasn't talked about as much during this Big Ten season was Illinois' gauntlet of a conference schedule: they played the hardest one this season, hands down. We talked about crossover games above, well, the Illini got both Ohio State and Michigan in addition to playing their midweek doubleheader on the road at Northwestern. That's brutal.

For their efforts, they are the No. 9 seed in the Big Ten Tournament and face-off with Nebraska in the first round. Should they win, their next matchup is with Michigan. It's like, "Congratulations on your No. 1 seed, Michigan! No.9 is Illinois!" It could be a really fun story line to follow especially if Illinois can find strong performances in the circle.

2. Keep your eyes on Wisconsin versus Ohio State
No. 5 Wisconsin plays No.12 Iowa in the first round of the Tournament, while I think that contest could stay close for awhile, I don't see Iowa being able to seal the deal. If that happens and Wisconsin advances, keep your eye on the next matchup between them and Ohio State. These are two teams who matchup very well and equally with each other and who did not play one another in the regular season. They both have some depth in the circle which could keep things interesting should these teams look to change it up in an attempt to keep the other's stronger offense at bay.

3. Maybe it's a good thing?
While fans were upset that Minnesota did not secure the No. 2 seed it could actually be a bit of a good thing. Northwestern's first game as the two seed could be against host school, Indiana. That potential home field advantage Indiana has as the host is not a horrible thing to dodge if possible.

Also, if No. 6 Rutgers beats No. 11 Purdue to advance Minnesota is in better shape as Rutgers has never seen Fiser and that could be beneficial. Not many teams have been able to figure out Minnesota's ace, let alone chase her, in their first meeting.

4. Weekend Rematch
If seedings hold, No. 2 Northwestern and No. 3 Minnesota are set to face-off on Saturday in a rematch of last weekend's final series. Over the course of the weekend, Minnesota set a new attendance record for their home field, Jane Sage Cowles Stadium, and the environment was intense. Northwestern is a younger team this season and, at times, it felt like the environment got too big for them. This should ultimately be a great experience for this NU squad not only for this Tournament but into postseason and in seasons to come. That being said, I wouldn't expect this rematch to be a blow out, I feel like you'd see a closer matchup more like the first game of last weekend's series. These team's have had a week away from one another, Northwestern has been able to regroup, and most importantly this would be played on more neutral ground – not in front of over 3,000 people.

5. Chip on the Shoulder
No. 1 Michigan has faltered in the past two seasons at the Big Ten Tournament losing to rival, Michigan State. Is this the year Michigan "gets back on track" and returns to the championship? Odds are good especially seeing as freshman pitcher, Alex Storako, has come nicely into her own over the last month of play. Even if Storako doesn't throw much, the impact on ace Meghan Beaubien cannot be downplayed. Knowing someone is behind her can help her "play free" and a "free" Beaubien is lethal for opponents.

6. Kuddos are in Order
The Rutgers Scarlet Knights make their return to the Big Ten Tournament for the first time since 2016, for second time since joining the Big Ten, and with their highest seeding (No. 6). Kristin Butler and her staff have done a great job this season and the Rutgers program deserve a round of "kuddos".
——————————————————