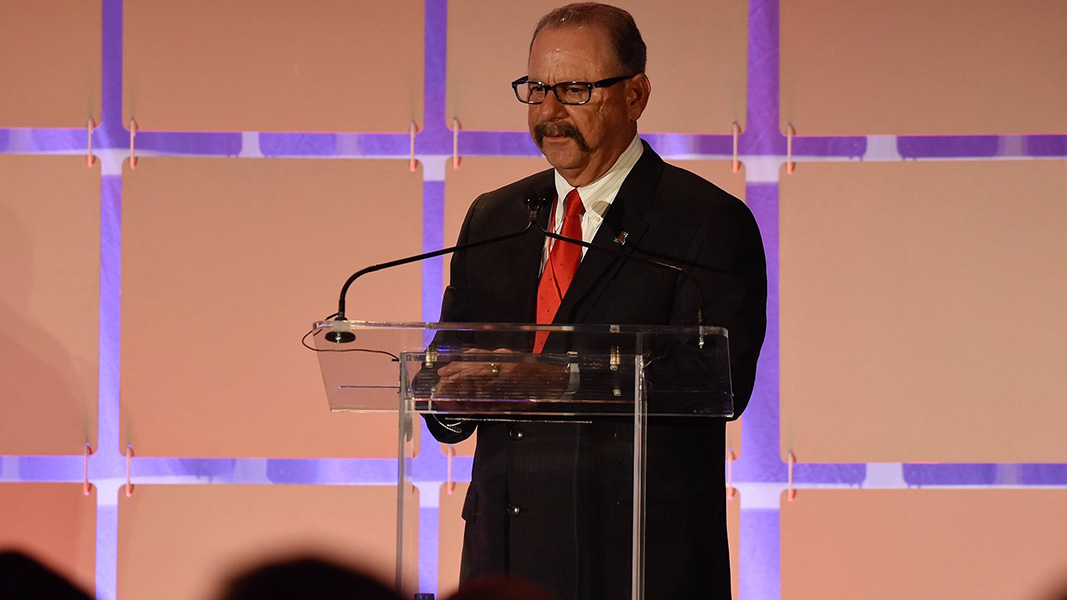 Mike Candrea Inducted into Arizona Sports Hall of Fame 
Mike Candrea Inducted into Arizona Sports Hall of Fame

📰: https://t.co/ROOfS1FQri pic.twitter.com/fZFmnGabSU

— Arizona Softball (@ArizonaSoftball) November 2, 2018
Arizona head softball coach, Mike Candrea, was inducted into the Arizona Sports Hall of Fame last Thursday night during the 2018 ASHF Induction Ceremony in Scottsdale, Arizona.
Candrea was inducted along side the late Arizona State University and Arizona Cardinals star Pat Tillman; Olympic gold medal swimmer, Gary Hall Jr.; former Arizona Diamondbacks star, Mark Grace; Xavier College Preparatory golf coach, Sister Lynn Winsor; and former Chaparral High School softball coach, Jeff Oscarson. The six were honored with a video before those present to accept their award each made a speech in front of the hundreds in attendance. Guests included many former Arizona softball players as well as University of Arizona president Dr. Robert Robbins and athletics director Dave Heeke.
Candrea enters his 34th season at Arizona in 2019. Friday's hall of fame induction was the fifth for Candrea, who is also a member of the NFCA Hall of Fame (1996), Pima County Hall of Fame (1996), Central Arizona College Hall of Fame (2009) and the National Softball Hall of Fame (2017).
Maddy Grimm Joins  Pittsburgh Coaching Staff as Volunteer coach
We are very excited to welcome Maddy Grimm to the Pitt softball family!

📰: https://t.co/iwFuqj3ldS#H2P pic.twitter.com/ARZQyUukTV

— Pitt Softball (@Pitt_SB) November 2, 2018
Grimm currently spends her summers playing for Moh-BEEL! USA of the American Softball Association (ASBA), and joins the Pitt staff following a one-year stint at Ashland University as an assistant coach. You can listen to Grimm's appearance on the July 16th edition of In The Circle here. She discussed her playing career at Kent State and more.
Tori Tyson Named New Head Coach at Howard
Howard University Athletics Announces Victoria Tyson as Softball Head Coach https://t.co/PRsXjPGEmo

— Howard Athletics (@HUBisonSports) November 2, 2018
Tyson spent the 2018 season as an assistant coach at Maryland, working with the Terrapins' pitching staff. Tyson was also an assistant coach in the NPF with the Chicago Bandits.
Prior to joining the Terrapins' staff, Tyson spent two seasons as the pitching coach at Cal State Fullerton; where she was a part of back-to-back Big West Conference championships in 2016 and 2017. Under her tutelage in 2017, Titans pitcher Kelsey Kessler posted a 1.02 ERA in more than seventy-five innings of work en route to all-conference and all-region honors. Tyson also oversaw the Big West Freshman and Pitcher of the Year during the 2016 season.
Kelly Montalvo Joins Bethune Cookman Coaching staff
Kelley Montalvo Added to @BCUSoftball Coaching Staff#WelcomeToBCU | #OneDestruction

Story Link: https://t.co/Z2Y6DmUK5Y pic.twitter.com/rKH4jTdQMV

— 🐯BCU Softball (@BCUsoftball) November 3, 2018
Montalvo joins Bethune Cookman after one season at D2 school, Barry. Montalvo also spent eight years with the Akron Racers of the National Pro Fastpitch League (NPFL). She signed with the Racers as a free agent and had her contract extended three times, making her the longest tenured Racer. An All-NPF selection in 2014, 2105 and 2016, she compiled 120 runs, 89 RBIs and 17 home runs in her career. She was the NPF Defensive Player of the Year in 2012.
Sammy Marshall Named New Head Coach at Judson
Softball: Judson Hires Chicago Bandits Star Sammy Marshall as Head Softball Coach
– https://t.co/rICICQRs4J pic.twitter.com/G3fsCGmSrC

— Judson Athletics (@JUAthletics) October 30, 2018
Sammy Marshall takes over at Judson as new Head Coach for Venus Taylor who left to become the new Head Coach at Charleston Southern.
So excited for this incredible opportunity and next chapter in my coaching career! Happy to be an Eagle! 🦅 https://t.co/Vuui7beDYg

— Sammy Marshall (@sammymarshall10) October 30, 2018
Christine Roser Promoted to Associate Head Coach at Queens
Christine Roser Promoted to Associate Head Softball Coach https://t.co/w7jB3tAODv

— Queens Athletics (@QueensAthletics) November 2, 2018
Since joining the Royals, Roser has assisted Queens in making three consecutive South Atlantic Conference Championship appearances and one NCAA Southeast Regional appearance. In 2018, the Royals recorded the most wins in program history (35) and earned their first-ever national ranking.
"I am truly honored to have the support and confidence from Stacey and our athletic department." Roser told FastpitchNews on promotion. " I love it at Queens and am very excited about the future of this program. It's easy to love what you are doing and where you are when you are surrounded by great people!"
You can check out Roser's appearance on April 2nd's editon of "In The Circle" where she talked about journey from playing career at Rollins to how she ended up at Queens.