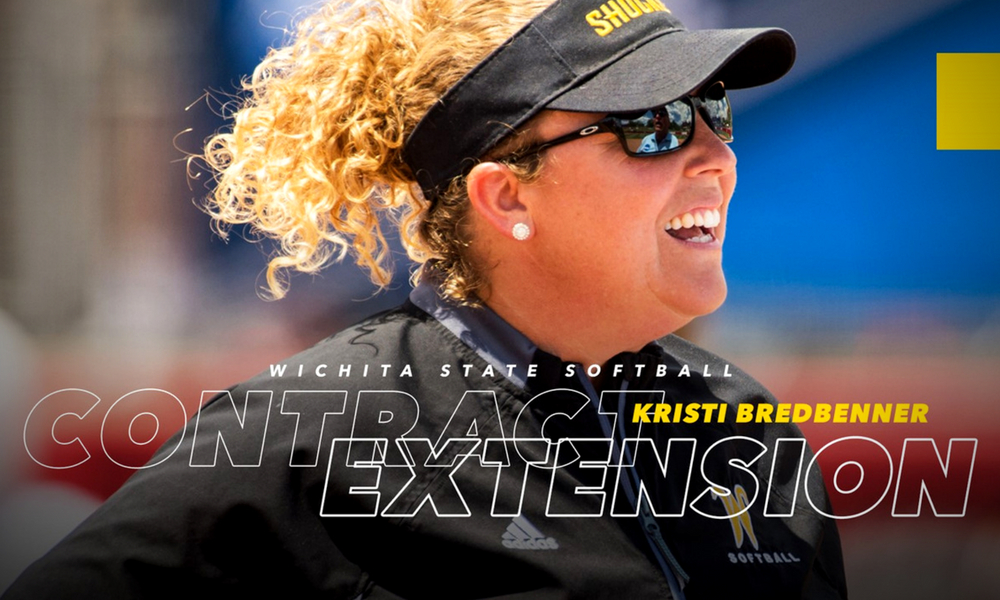 Even though we are at the end of August and going into September, and head coaching news keeps coming. Here is the latest.
Kristi Bredbenner Signs Extension With Wichita State
https://twitter.com/GoShockersSB/status/1032991098187264001
Bredbenner agrees to a 5-year extension with the Shockers. Bredbenner led the Shockers to the NCAA Tournament in 2018 making it to the regional final in Fayetteville.  She led the Shockers to a third-place finish in the AAC regular season. It was the program's first year in the conference after moving from the Missouri Valley Conference. Bredbenner has been at Wichita State for seven seasons was a name that was floated for openings at Missouri earlier this off-season and other jobs, but now Bredbenner is locked up at Wichita State through 2023.
Kenzie Roark Named Head Coach at Ohio 
ICYMI: Yesterday we named Kenzie Roark our new head coach! Take a minute a read up on her here ➡️https://t.co/pVTIImGPJO #BleedGreen pic.twitter.com/cqDYPcwfyL

— Ohio Softball (@OhioBobcatSB) August 25, 2018
Roark comes to Ohio after four years at USC Upstate as the Spartans' pitching coach, where she helped coach the team to three NCAA Tournament appearances (2015, '16 and '17). USC Upstate won the Atlantic Sun Conference regular season championship in 2015 and 2017. They won the ASUN Tournament Championship in 2015, '16 and '17. Before USC Upstate, Roark was the pitching coach at East Tennessee State (2012-2014). She pitched at Virginia Tech (08-12) being the number two pitcher behind Angela Tincher in 2008 when Hokies made it to Women's College World Series.
Katie Jansson Named Head Coach at Iona
NEWS: Katie Jansson Named @IonaSoftball Head Coach. #ICSB #MAACSoftball #GaelNationhttps://t.co/zZprvKEhTh

— Iona Athletics (@ICGaels) August 20, 2018
2018, Jansson served as head coach at Monroe College, located across town in New Rochelle. She was responsible for all aspects of running a competitive NJCAA Division I softball program including scheduling, travel coordination, practice planning, academic monitoring, recruiting, preparing scouting reports, facility and equipment management and strength and conditioning.
Jansson led the Mustangs to a 21-19 overall record and 2018 NJCAA Region X tournament berth, the first appearance in program history at the NJCAA DI level. Jansson played at Iona from 2010-2014.
Kassie Stanfill Named Head Coach at Austin Peay
https://twitter.com/AustinPeaySB/status/1030833659241279489
Stanfill spent the past two seasons at her alma mater Louisville on the staff of legendary head coach Sandy Pearsall, who retired in June after starting the program in 2000. She replaces Rodney Delong, who resigned after the 2018 season to take the head coaching job at North Texas. Stanfill played at Louisville from 2006-2009 and had been rumored and linked to assistant coaching jobs at Texas Tech and Kennesaw State before landing at Austin Peay.
Chris Kuhlmeyer Named Head Coach at UMBC
BREAKING: @CoachKuhlmeyer
Named @UMBCsoftball Head Coach #RetrieverNationhttps://t.co/grqer5N21a pic.twitter.com/FxmM48LCfV

— UMBC Athletics (@UMBCAthletics) August 16, 2018
As first reported on "In The Circle" Kuhlmeyer gets the Head Coaching job at UMBC.  Kuhlmeyer spent the past two seasons as an assistant coach and recruiting coordinator at Miami (Ohio). Before Miami (Ohio), Kuhlmeyer spent seven seasons as the head coach at Belmont.
Mike Ruechel To Be Head Coach at Buffalo in 2019
BREAKING: Mike Ruechel Named Interim Head Coach For @UBBullssoftball #UBhornsUP https://t.co/9iCysZIC6S pic.twitter.com/L2nafxKRBh

— Buffalo Softball (@UBBullssoftball) August 6, 2018
Ruechel will act as the Interim head coach for the 2019 season. He takes over for Mike Roberts who left after one season to become an associate coach at Louisiana.
Bailey Wigness  Named Head Coach at USCB
Bailey Wigness Named New Head Softball Coach https://t.co/pCcLuRvuon

— USCB Sand Sharks (@USCBAthletics) August 16, 2018
Wigness spent the past three seasons as an assistant coach at Boise State University. She joined the Broncos coaching staff in August of 2015 and helped lead the team to new program heights, including records for most wins in a season (40), most conference wins in a season (18), the first conference title in school history, and the first-ever appearance in the NCAA Tournament.
Before coaching at Boise State, Wigness spent a year with Arizona Christian University, where she handled the hitting and outfield coaching duties. Wigness was part of a coaching staff that achieved a program-best 31 wins in a season, a 20-win turnaround from the previous year, which marked the biggest turnaround in the NAIA in 2015. Now Wigness takes over the South Carolina Beaufort program.
| School | Previous Coach | New Coach |
| --- | --- | --- |
| Alabama A&M | Nakeya Hall | Cassandra Brown |
| Arkansas-Pine Bluff | Kevin Montgomery | |
| Austin Peay | Rodney DeLong | Kassie Stanfill |
| Boise State | Cindy Ball | Maggie Livreri |
| Brown | Katie Flynn | Kate Refsnyder |
| Bryant | Shayne Lotito | Nick French |
| Buffalo | Mike Roberts | Mike Ruechel (interim) |
| Campbell | Todd Bradley | Sharonda McDonald |
| Central Florida | Renee Luers-Gillispie | Cindy Ball |
| Charleston Southern | Shane Winkler | Russell Cooper (I) |
| Cleveland State | Becky Norris | Amy Kyler |
| Dartmouth | Shannon Doepking | |
| Delaware | John Seneca | Jen Steele |
| DePaul | Eugene Lenti | Tracie Adix-Zins |
| Fordham | Bridget Orchard | Melissa Inouye |
| Furman | Wally King (Interim) | Wally King |
| George Washington | James DeFeo | Shane Winkler |
| Grambling | Wilbert Early | Nakeya Hall |
| Hofstra | Larissa Anderson | Jay Miller |
| Howard | Lauren McCoy | |
| Iona | Melissa Inouye | Katie Jansson |
| Iowa | Marla Looper | Renee Luers-Gillispie |
| Jackson State | Darnell Walker | Kevin Montgomery |
| Kansas | Megan Smith | Jennifer McFalls |
| Kennesaw State | Pete D'Amour | Tripp MacKay |
| Lamar | Holly Bruder | Amy Hooks |
| Louisville | Sandy Pearsall | Holly Aprile |
| Louisiana-Monroe | Corey Lyon | Molly Fichtner |
| Marshall | Jen Steele | Megan Smith |
| Missouri | Gina Fogue (Interim) | Larissa Anderson |
| Morehead State | David Williams | Samantha Jones |
| NC State | Shawn Rychcik | Jennifer Patrick-Swift |
| North Texas | Tracey Kee | Rodney DeLong |
| Northern Colorado | Shana Easley | Nicole Trimboli (Interim) |
| Ohio | Jodi Hermanek Horton | Kenzie Roark |
| Omaha | DJ Sanchez | Amanda Rivera-Eberhart |
| Oregon | Mike White | Melyssa Lombardi |
| Pittsburgh | Holly Aprile | Jodi Hermanek |
| Presbyterian | Britne Stubbs | David Williams |
| Providence | Kerri Jacklets | Jill Karwoski |
| Quinnipiac | Jill Karwoski | Hillary Barrow |
| Rutgers | Jay Nelson | Kristen Butler |
| Saint Francis | Jennifer Patrick-Swift | Jessica O'Donnell |
| Saint Johns | Amy Kvilhaug | |
| Saint Mary's | Jessica Rodgers | Sonja Garnett |
| Sam Houstom State | Bob Brock | Garrett Valis |
| SIUE | Sandy Montgomery | Jessica Jones |
| Southern Utah | Tom Gray | Kortny Hall |
| Syracuse | Mike Bosch | Miranda Kramer (Interim) |
| Texas | Connie Clark | Mike White |
| Toledo | Kristen Butler | Joe Abraham |
| UAB | Amanda Ellis (Interim) | Jimmy Kolaitis |
| UMBC | Heather Gelbard | Chris Kuhlmeyer |
| Villanova | Maria Dibernardi | Bridget Orchard |
| Virginia Tech | Scot Thomas | Pete D'Amour |
| Western Illinois | Beth Golitko (Interim) | Beth Golitko |
| Winthrop | Mark Cooke | Windy Thees |