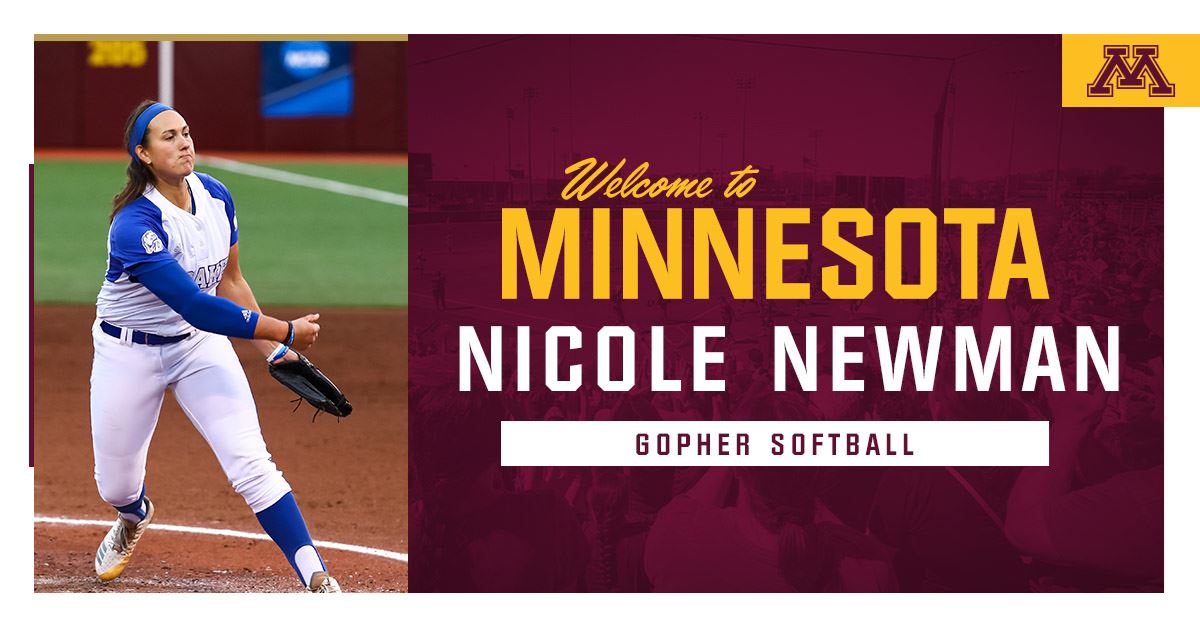 Photo and release by Minnesota Athletic Communication
Head coach Jamie Trachsel announced the addition of graduate manager Nicole Newman … going into the 2019-20 season. 
Nicole Newman beings her coaching career as a graduate manage for the University of Minnesota softball program after an illustrious career with the Drake University Bulldogs.
The Madison, Wis. native ended her softball career as the most decorated and successful pitcher in Drake history. She was the first ever First Team All-American in team history and was just the second MVC player to be selected the MVC Pitcher of the Year three times along with being tabbed to the All-MVC First Team four times.
"We are very excited to have Nicole join our softball staff. There is something special about staying at home in the Midwest," head coach Jamie Trachsel said. "She experienced a high level of success, respect and recognition as a pitcher and player at Drake University and will now begin her coaching career at Minnesota. We look forward to being part of her journey as she transitions her skills and all the attributes that made her a difference maker as an athlete, to her commitment and development as a young professional pursuing coaching. Nicole is a high character person and having her on our staff will help make our players and program better. We are fortunate to welcome Nicole and her family into our Minnesota Softball family."
Newman is the Drake and the MVC all-time career strikeouts leader with 1,223 and is also Drake's all-time wins leader with 93, a total that ranks second all-time in the MVC.
Last season, Newman led the entire NCAA in strikeouts (423), strikeouts per seven innings (13.4), strikeouts-to-walk ratio (9.40) and hits allowed per seven innings (2.68). She set the NCAA single season record with five perfect games. Newman's final career game came at Jane Sage Cowles field in the Minneapolis Regional in a battle with Georgia.