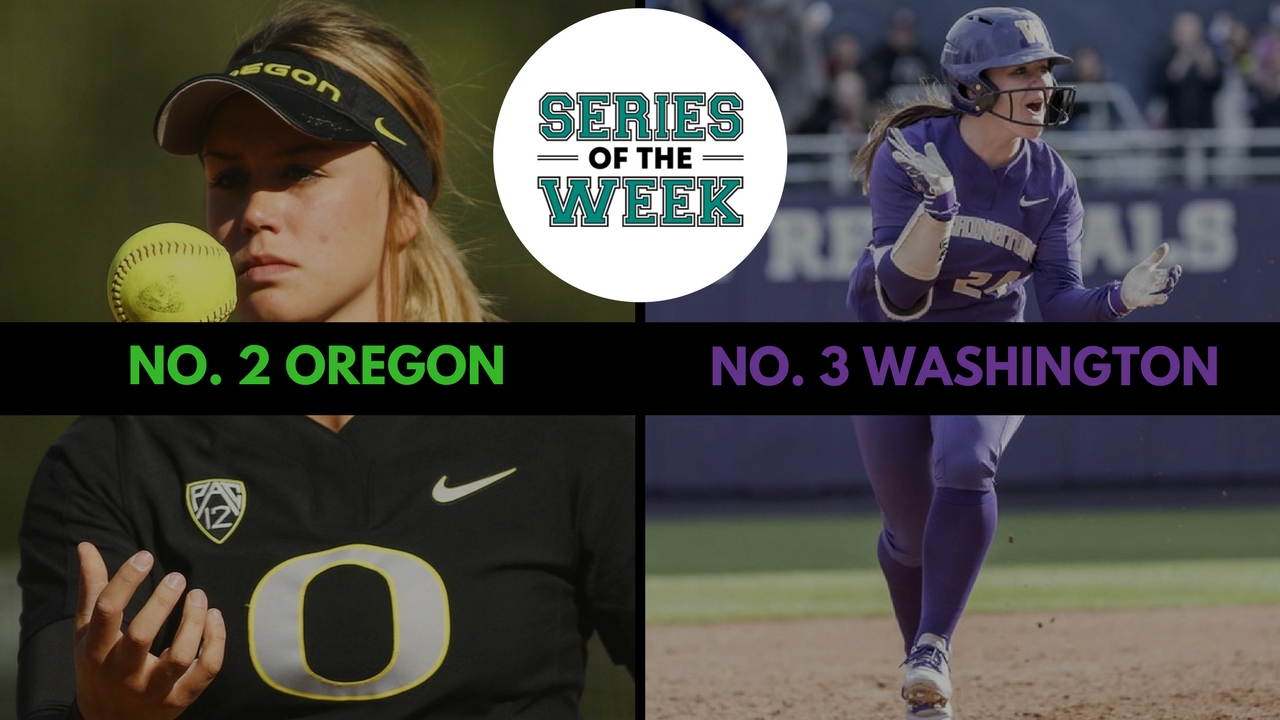 The series of this upcoming week is Pac-12 match-up No. 2 Oregon (37-8) hosted by No. 3 Washington (41-5). Oregon is moving up from their previous three-spot and has a four-game win streak they are looking to extend this weekend. Being knocked from their former No. 1 ranking and breaking their win streak, Washington is looking to redeem themselves in their last regular season home series. Both with 12 wins in the conference, Washington falls behind with five losses vs. Oregon's three. The three-game series will commence at Husky Softball Stadium on Friday, April 27 starting 8:00 pm ET. The first game to be watched on Washington Live Stream. Saturday and Sunday, games will begin at 4:00 pm ET and can be viewed on ESPN 2.
At the Plate
The Ducks come into this weekend with a team .325 batting average overall and a .298 in conference play. Alexis Mack continues to lead Oregon with a .382 batting average with 47 hits in her 123 at-bats. Mack has helped earn 32 runs and also leads the team with her 16-19 stolen base record. Jenna Lilley is second on the team batting .376 producing 38 runs, 31 RBI, and a .556 slugging percentage. Mary Iakopo (.353 overall) leads the team in conference hitting batting .419 with a .767 slugging percentage, 11 RBI, and a team-high 18 hits. Iakopo also leads the team with her 18 conference hits.
Washington starts the series batting an identical .325 and slightly lower .253 conference average. Sis Bates continues to lead Washington with a .413 batting average, 59 hits, and a .506 on-base percentage. Bates ties for first with 15 hits in the conference and is second on the team batting .319 behind Kelly Burdick.  Burdick proves her power in the conference with a .366 batting average, .389 overall, and leads the team stealing 18 out of 19 bases successfully. Kirstyn Thomas is also hitting an impressive .381 with a .701 slugging percentage and has started all 17 of the Huskies Pac-12 games.
Edge: Oregon
In the Circle
Oregon's pitching staff has managed to keep a 1.07 overall ERA throughout the season so far, 1.77 in the conference. Megan Kleist (15-5 overall, 7-2 conference) has held her ERA down to a .77 overall and .89 conference in her team-high 127.2 innings pitched (55.1 conference). Kleist has received 64 Pac-12 strikeouts from her total 160 of the year. Miranda Elish (16-1 overall, 5-1 conference) has pitched an overall 113.1 innings and has a .99 ERA but struggles in conference with 2.26. Elish has successfully tallied 173 strikeouts overall and 67 in conference play.
The Huskies keep an impressive .97 ERA overall and just below the Ducks at 1.12 in Pac-12. Taran Alvelo (21-3 overall, 8-3 conference) leads the team in both the season with a .86 ERA and conference with .90. 70 of her overall 154.1 innings pitched have been in conference throughout the season. Gabbie Plain (13-2 overall, 4-2 conference) is the only other of the Washington pitching staff who has put in time on the mound in conference play, 42.2 innings to be exact. Plain keeps her season ERA at .90 and maintains her conference ERA at 1.48.
Edge: Washington
Opinion
After losing to Washington in the WCWS last year, Oregon looks to take a series from them this weekend. Oregon has been on an impressive win streak ranking them No. 1 in the Pac-12 and the NCAA. The Ducks come off a sweep of Stanford and has hit nine home runs in just 17 conference match-ups. Washington is undefeated at home (15-0) and is one of the few teams that match up almost exactly to Oregon in all aspects of the game. Washington plans to celebrate their fans and seniors as they rank top three in the nation in fielding percentage, runs per game, and ERA. Hoping to match their energy of the weekend festivities, Washington is looking to regain their winning momentum. This weekend's series will be a true head-to-head battle on both offense and defense.
Pick: Oregon 2, Washington 1