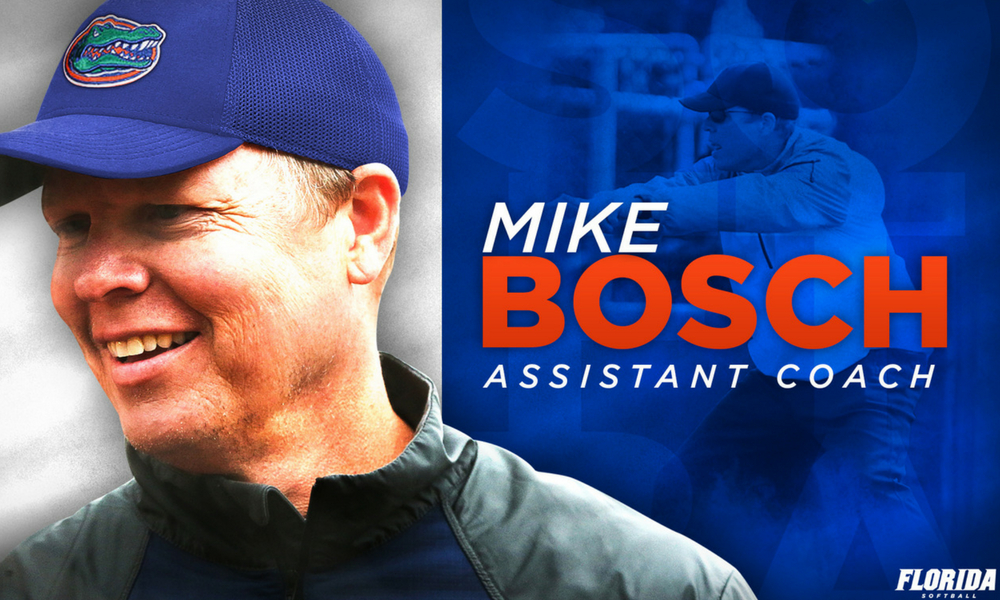 There have been some interesting twists recently in the coaching world. We saw a Head Coach leave his position for an Assistant position as well as some Head Coaches changing addresses.
Mike Bosch Leaves Syracuse to Become Gators Assistant Coach
Gator Nation, let's give a big welcome to our newest assistant coach Mike Bosch‼️ #GoGators https://t.co/jBTVQtnCGc

— Gators Softball (@GatorsSB) July 27, 2018
After three seasons as Head Coach of the Orange, Mike Bosch was hired Friday by Tim Walton to be an assistant coach of the Gators. Bosch will handle the pitchers, replacing Jennifer Rocha, who left to become the pitching coach at her alma matter Oklahoma. Bosch spent four years overall at Syracuse.
https://twitter.com/boschml/status/1022862344844701696
Miranda Kramer Named Interim Head Coach at Syracuse 
Miranda Kramer named @CuseSB interim head coach.

More: https://t.co/d8zzwcrtG4 pic.twitter.com/NlHh2Sj02L

— Syracuse Athletics (@Cuse) July 27, 2018
The Orange announced on Friday that Miranda Kramer would be the interim Head Coach while they go through a National search. Kramer has been the assistant coach at Syracuse for three seasons. Kramer is under consideration for the Head Coaching job sources tell FastpitchNews.
Megan Smith Leaves Kansas To Become Marshall Head Coach
.@HerdSB has named its fourth head coach in program history. Welcome @coachmegsmith! https://t.co/oWE3gJaNAh

— Marshall Softball (@HerdSB) July 25, 2018
After nine years as Head Coach of the Kansas Jayhawks program, Megan Smith is changing addresses as Smith was named the new Head Coach at Marshall. Smith led the Jayhawks to six consecutive 30-win seasons and back-to-back appearances in the NCAA Tournament in 2014 and 2015. The 2015 campaign yielded the first 40-win season for the program in 23 years.
Sources tell Fastpitch News that Smith was to enter 2019 in the last season of her contract and Kansas has recently made changes in the administration including the hiring of a new Athletic Director.  That plus being closer to home, as Smith from North Carolina, added to Smith making a move.
Beth Golitko Remains Head Coach at Western Illinois
https://twitter.com/WIUSoftball/status/1022965916236218374
After serving as the interim head coach through the 2018 season, Western Illinois' Beth Golitko has been promoted to the Leathernecks' full-time Head Coaching position.
Golitko was an assistant on Holly Van Vlymen's staff when Van Vlymen left the position to become a full-time athletic administrator. Golitko was elevated to interim head coach last fall and held the position through the 2018 season.
The Leathernecks posted a 17-31 overall record, but went 9-6 in the Summit League, finishing third in the conference standings. The squad saw seven players nominated for the all-conference team and earned their first win over a Power Five opponent in three years with a 2-1 victory over Iowa in April.
Golitko has spent nearly her entire coaching career in Macomb following a four-year playing career with the Leathernecks.
Toledo Names Joe Abraham New Head Coach 
https://twitter.com/ToledoSoftball/status/1022206723275333633
Toledo named Joe Abraham new Head Coach this past week. Abraham comes to Toledo after seven seasons as the Head Coach at DII Hillsdale College. Before Hillsdale, Abraham was the Head Coach at DIII Whitworth from 2008-2011. Abraham replaces Kristen Butler who left on June 8th  to become the new Head Coach at Rutgers. Abraham shared some of his thoughts to a Toledo TV station.
Took a walk down memory lane w/ the newest HC for @ToledoSoftball, Joe Abraham. When I tore my ACL in high school & gave up on the D1 dream (then found broadcasting woo!) he invited me to Hillsdale for an official visit. Four years later Coach is in Toledo. More tonight @ 10:30! pic.twitter.com/fGqeQeMTE4

— Dannie Rogers (@dannierogers___) July 27, 2018
There have already been more Head Coaching changes this off-season then there was all of last year. There has been to this point 48 Head Coaching moves this season in D1. There was 40 all of last year. Here is an updated chart on all Head Coaching moves this off-season.
| School | Previous Coach | New Coach |
| --- | --- | --- |
| Alabama A&M | Nakeya Hall | |
| Arkansas-Pine Bluff | Kevin Montgomery | |
| Austin Peay | Rodney DeLong | |
| Boise State | Cindy Ball | Maggie Livreri |
| Brown | Katie Flynn | |
| Bryant | Shayne Lotito | Nick French |
| Campbell | Todd Bradley | Sharonda McDonald |
| Central Florida | Renee Luers-Gillispie | Cindy Ball |
| Cleveland State | Becky Norris | |
| Delaware | John Seneca | |
| DePaul | Eugene Lenti | Tracie Adix-Zins |
| Fordham | Bridget Orchard | Melissa Inouye |
| Furman | Wally King (Interim) | Wally King |
| George Washington | James DeFeo | |
| Grambling | Wilbert Early | Nakeya Hall |
| Hofstra | Larissa Anderson | Jay Miller |
| Iona | Melissa Inouye | |
| Iowa | Marla Looper | Renee Luers-Gillispie |
| Jackson State | Darnell Walker | Kevin Montgomery |
| Kansas | Megan Smith | |
| Kennesaw State | Pete D'Amour | Tripp MacKay |
| Lamar | Holly Bruder | Amy Hooks |
| Louisville | Sandy Pearsall | Holly Aprile |
| Marshall | Jen Steele | Megan Smith |
| Missouri | Gina Fogue (Interim) | Larissa Anderson |
| Morehead State | David Williams | Samantha Jones |
| NC State | Shawn Rychcik | Jennifer Patrick-Swift |
| North Texas | Tracey Kee | Rodney DeLong |
| Omaha | DJ Sanchez | Amanda Rivera-Eberhart |
| Oregon | Mike White | Melyssa Lombardi |
| Pittsburgh | Holly Aprile | |
| Presbyterian | Britne Stubbs | David Williams |
| Providence | Kerri Jacklets | Jill Karwoski |
| Quinnipiac | Jill Karwoski | |
| Rutgers | Jay Nelson | Kristen Butler |
| Saint Francis | Jennifer Patrick-Swift | Jessica O'Donnell |
| Saint Mary's | Jessica Rodgers | Sonja Garnett |
| Sam Houstom State | Bob Brock | Garrett Valis |
| Southern Utah | Tom Gray | Kortny Hall |
| Syracuse | Mike Bosch | Miranda Kramer (Interim) |
| Texas | Connie Clark | Mike White |
| Toledo | Kristen Butler | Joe Abraham |
| UAB | Amanda Ellis (Interim) | Jimmy Kolaitis |
| UMBC | Heather Gelbard | |
| Villanova | Maria Dibernardi | Bridget Orchard |
| Virginia Tech | Scot Thomas | Pete D'Amour |
| Western Illinois | Beth Golitko (Interim) | Beth Golitko |
| Winthrop | Mark Cooke | Windy Thees |