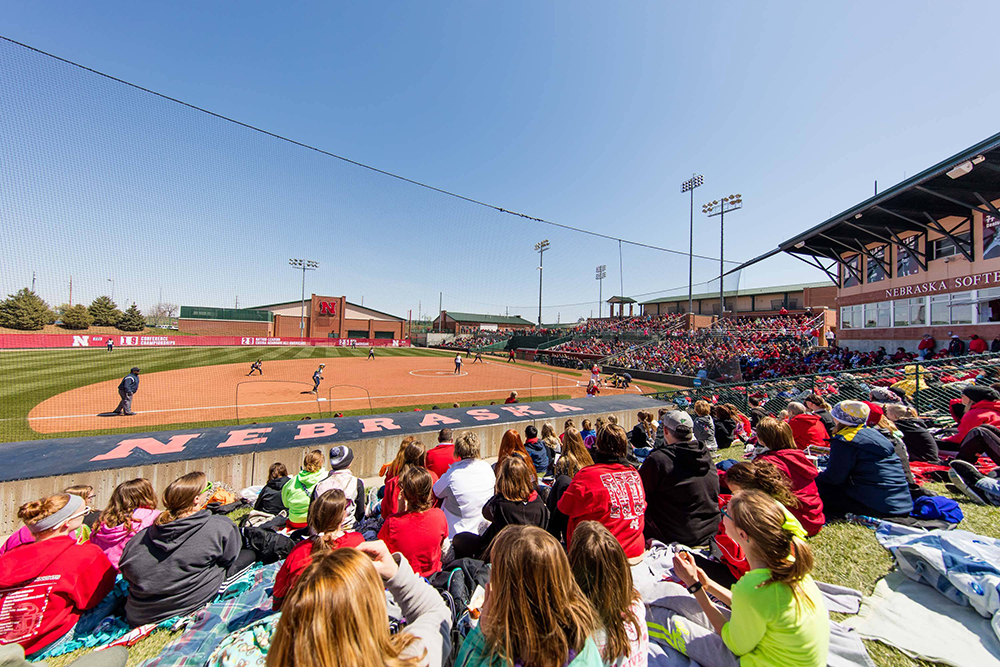 Following last week's reinstatement of 27 year head coach, Rhonda Revelle, an undisclosed number of Nebraska's softball student-athletes have sought the counsel of the College Athlete Advocacy Initiative group. The CAAI is a new, non-profit organization that provides legal and advisory help to college athletes. Former NCAA investigator, Tim Nevius, founded the CAAI.

The Huskers are scheduled to begin fall practice this Sunday with student-athletes considering a boycott of all softball related activities.

Both Nebraska and the CAAI have released the following statements.
NEBRASKA ATHLETIC DEPARTMENT STATEMENT
"First and foremost the well-being of our student-athletes will always be the top priority at the University of Nebraska," Moos said in the statement. "As previously stated, the concerns brought forward by members of our softball program were taken very seriously. "We initiated a comprehensive review, and Coach Revelle and her staff understand the seriousness of the student-athlete concerns. As a result of the issues that were raised we have worked with Coach Revelle to address and alleviate those concerns moving forward."
"The University cannot comment further on a personnel matter."
OFFICIAL STATEMENT FROM COLLEGE ATHLETE ADVOCACY INITIATIVE
NEW YORK — August 30, 2019 — The College Athlete Advocacy Initiative (CAAI) announces its support today for the University of Nebraska-Lincoln softball athletes, who broke their University-imposed silence on Friday to share stories of mistreatment and harassment. Current and former players detailed numerous instances of concerning behavior by Rhonda Revelle, head softball coach, and others in the program, including allegations of persistent verbal and psychological abuse, intimidation, fat-shaming, excessive practice time, and disregard of injuries.
Following the 2019 season, the team united to express their concerns in surveys they intentionally made anonymous for fear of retaliation. Thereafter, the young women shared their concerns in a meeting with Bill Moos, Director of Athletics, and later, detailed their complaints in hours-long interviews with outside attorneys during an investigation.
Athletes revealed psychological and verbal abuse that included bullying, intimidation, derogatory name-calling, intrusions into athletes' personal lives, and harassing text messages from the coach at all hours of the day. The players were forced to rank each other regarding their perceived commitment to the team and bombarded with questions about their personal lives and romantic relationships. Several parents expressed concerned with the behavior and have contacted the University to complain. "This is a complete failure to support the girls," said the father of a current athlete, "and there has been an utter lack of transparency by the administration. It's just unacceptable."
Multiple athletes complained of being forced to play through injuries that later required medical treatment, including from outside the University. Others explained how they were ridiculed for being injured, were discouraged from seeking medical treatment for injuries, and hesitated to address health issues as a result. Another said that she dreaded simply getting a hole in her socks for fear of facing scorn and ridicule when asking for a new pair. "They make us feel pathetic. The whole culture is sickening and it comes from the top." At least one athlete expressed suicidal thoughts in a meeting with athletics administrators, who were made aware that several of the young women were experiencing mental health issues.
Athletes stated that the team regularly exceeded NCAA-imposed practice limits, a topic of concern across college sports in recent years, which has led to revised rules on athlete time demands. The young women indicated that practice calendars were routinely disregarded and they were pressured to falsely attest to forms verifying compliance with time limits. Athletes revealed that complaints about the excessive time demands or objections to signing off on practice hours had been met with punishment in the past.
According to the young women, they were highly discouraged from seeking legal counsel during the investigation and administrators told them that the University represented them. Team members were also prevented from talking about the matter. According to a current softball athlete, "they told us there would be consequences if we talked to anyone about it. We were scared to speak."
Despite their fears, the team united to speak out against the mistreatment and failure of the University to adequately respond to the concerns. "People aren't listening to us," expressed a current softball athlete. "We're not just concerned, we're scared. How do they not see something is wrong?"
The University reinstated Revelle this past Sunday. During a meeting with Moos that evening, the young women requested a copy of the report prepared by the outside attorneys. That request was denied. While the players were being informed of the reinstatement, a press release was issued, including a prepared statement from Revelle that did not include an apology or address any of the allegations of mistreatment.
In response to requests from the women at the meeting, Moos agreed to make a public statement supporting the athletes, but the release had already gone out as he addressed the team. Media coverage during Revelle's administrative leave included a number of positive stories about the coach, while also making negative implications about the young women on the team, who were not permitted to speak. Moos' release on Sunday ended with a statement that there will be "no media availability" for the softball athletes.
The athletes were dismayed by the episode and immediately discussed boycotting fall practice, which starts Sunday, September 1. The University's handling of the matter led the young women to contact the College Athlete Advocacy Initiative, which empowers college athletes to stand up for their rights. "Unfortunately, athlete abuse and mistreatment are far too common in college sports, including psychological abuse and intimidation," said Tim Nevius, CAAI Executive Director. "We get calls from parents and athletes about it on a regular basis."
"The fact is, it's hard to stand up to a powerful University," said Nevius, "but more and more college athletes are realizing their power and I'm proud of these young women for speaking out." According to one team member, "This is bigger than Nebraska, this is bigger than softball. This is about doing what's right and we won't give up until we are heard."