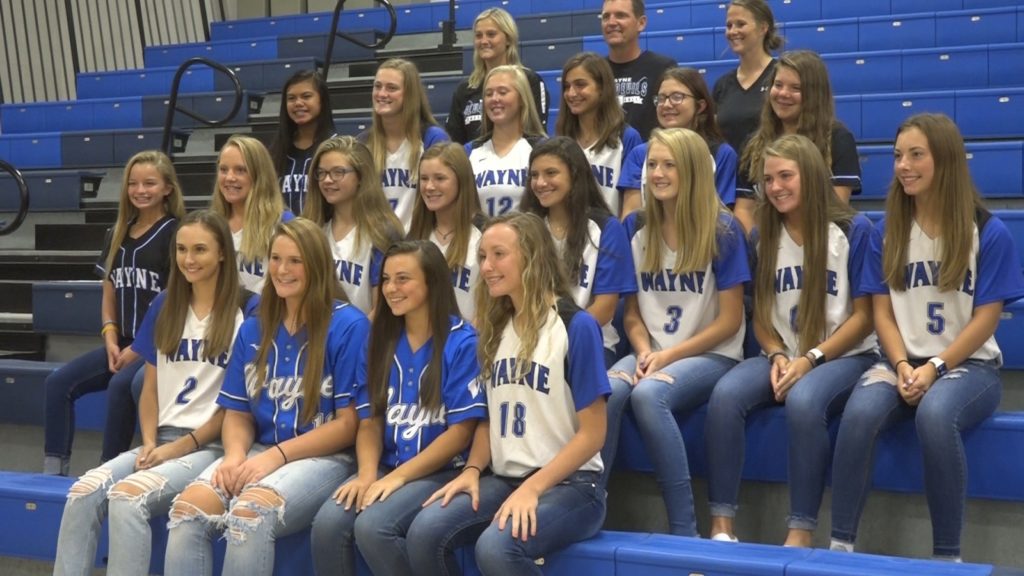 Image Credit: Wayne Daily News
Fall high school state tournaments are underway and there are some fantastic teams and athletes ready to take the field! We are breaking down the various tournaments and fields.

Find our look at Class A, here and Class C, here.
You can also find the official Nebraska bracket, here.
With play underway, there have already been some upsets and excitement that's unfolded. Let's take look at the victorious teams.
No. 8 SEWARD
Seward just pulled off the upset of No. 1 Skutt Catholic, 7-1, who now must battle back through the losers bracket. While Seward may not have the same number of astronomical batting averages they are consistent through the lineup and get a ton of production from top to bottom, lead by:

Sydney Parra (.390 average, 23 RBI, 11 doubles, and four home runs); Jordin Battaglia (.384 with 10 RBIs, four doubles, and two triples and home runs); Haley Mershall (.370 average with 29 RBI, 13 doubles, three triples, and two home runs); Grace Hamling (.333 average with 19 RBI, eight doubles, and four home runs).

Parra also leads the way in the circle with a 3.32 ERA in 158 innings of work, 129 strikeouts, and a 16-12 record.
For a limited time, use code STATETOURNAMENT for 30% off your subscription!
No. 2 BEATRICE
As a team, Beatrice hits .422, with speed on the base paths (63), and the ability to field the ball consistently (.973). They are 30-4 and defeated No. 7 Norris, 4-0, earlier today. They are lead by:

Addison Barnard who has an eye popping .684 batting average with 46 RBI, 12 doubles, four triples, and 15 home runs. Other impact hitters include Oliva Aden (.495 average, 36 RBI, 10 doubles, nine home runs); Tavia Hausman (.432 average with 37 RBI and 13 home runs); Rylee Pangborn (.422 with 13 RBI); and many others. There is a ton of pop to this offense.

In the circle, there are two main arms with a third who can help if needed but Barnard and Pangborn lead the way. Barnard has thrown 95.1 innings of work and recorded 143 strikeouts en route to a 15-4 record. Pangborn has worked 55.2 innings with 24 "Ks" and 11 victories.
No. 3 CRETE
With a 130 extra base hits, Crete can swing it! Defeating Gross Catholic this morning, 10-2, that power was on display. Impressive offensive stat lines include:

Izzy Eltze (.527 average with 50 RBI, seven doubles and triples, and 12 home runs); Leah Jurgens (.460 with 48 RBI, 15 doubles, seven home runs); Morgan Maly (.458 with 54 RBI, 11 doubles, 16 home runs); Cassidy Skillett (.359 average with 30 RBI, seven doubles, two home runs); Karlee Henning (.307 with 20 RBI, two triples, and four doubles and home runs); Lexi Mach (.294 with 33 RBI and 10 home runs); and others! There is just so much impressive pop to this team.

Meanwhile, Mach is the team's ace and only pitcher of record. She has carried the entire load this year with a 29-4 record and 119 strikeouts.
No. 4 WAYNE
31-3 Wayne, has had yet another successful season as they've become accustomed to. They defeated No. 5 Hastings this morning, 4-0. Wayne is a team that uses all facets of the game to push out victories.

Offensively they rely heavily on the entire lineups ability to come through and produce as their stat lines are all fairly disbursed. They are lead by Kendall Dorey (.495 with 28 RBI, 15 doubles, seven home runs); Tori Kniesche (.400 with 26 RBI and eight home runs); Hope O'Reilly (.341 with 13 RBI and five doubles); Brooklyn Kruce (.325 with 20 RBI).

They play strong defensive with a team fielding percentage of .963 and are led in the circle by Kniesche who has thrown 151.1 innings with an eye-popping 394 strikeouts. She holds a 0.37 ERA and 24-2 record on the season.

Kniesche, a South Dakota State commit, has been virtually untouchable so as long as her team can play defense behind her and push out some runs, Wayne has a great shot at the title.