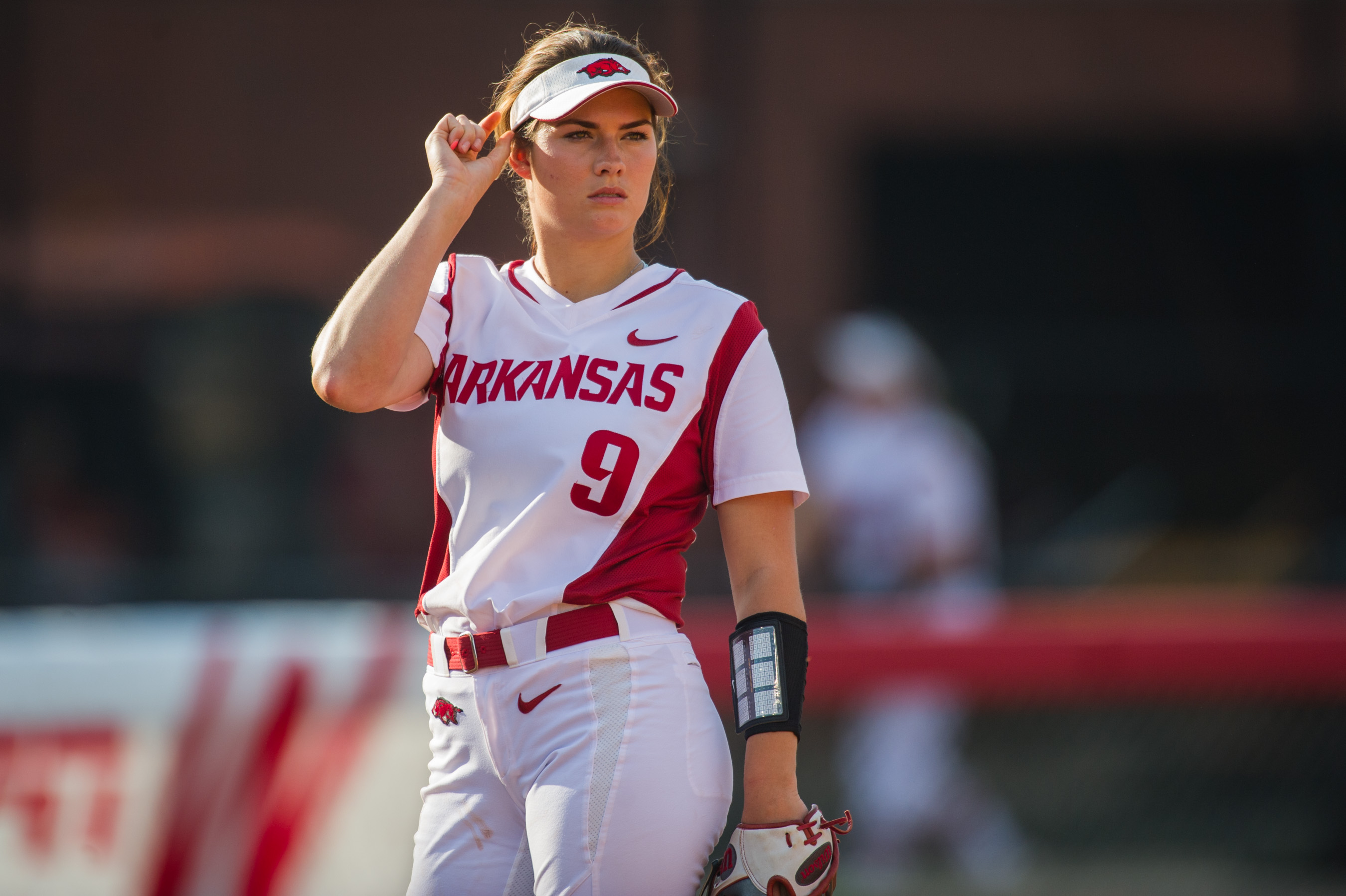 by Mark Allister
In the mid-1990s two brothers and former baseball players, Rick and Jeff Odekirk, had a dream to build and operate an unusual family recreational facility. Wanting to accommodate youth baseball, fastpitch softball, and adult slowpitch softball, the Odekirks built scaled-down replicas of famous ballparks such as Chicago's Wrigley Field, Boston's Fenway Park, and New York's Yankee Stadium. The brothers' dream became a reality in January of 1998 when they opened the first Big League Dreams Sports Park in Cathedral City, California, near Palm Springs. This complex of fields is home to the two-week Mary Nutter Collegiate Classic, the nation's largest and most prestigious preseason college softball tournament.
On this first weekend of action, Feb. 17-19, sixteen teams played, with games concurrently on three or more fields throughout the day. An attraction of attending this tournament is that between innings you get to look out and view the rugged beauty of the San Jacinto Mountains looming ten thousand feet to the west, or the Santa Rosa Mountains in the south. You have to use your imagination a bit to see the ballfields as replicas of Wrigley or Fenway, since the replica consists mostly of a painted outfield wall mimicking the view that fans would have from behind home plate. Few talented girls dream, as boys do, about playing in the major leagues at the iconic stadiums, but because softball media outlets cover the Mary Nutter tournament and FloSoftball streams most of the games, many girls do dream of playing at the Mary Nutter Classic, at one of these scaled-down replicas.
The Cal Bears continued here their hot start to 2018, easily sweeping five games to extend their record to 10-0. Cal has four players hitting above .400: Kobie Pettis, Lindsay Rood, Sabrina Nunez, and Mikayla Coelho. If their best player, Jazmyn Jackson, assumes her usually reliable hitting, the Bears have a formidable offense. They've added to their pitching, as last year's ace, Zoe Conley, has been joined by Fresno State transfer Kamalani Dung — both pitchers are 5-0 with ERAs under 1.0 so far this season.
Arkansas came to the Mary Nutter Classic having had all their games the previous weekend washed out by rain, so they were opening against teams that had already played. Arkansas had a breakthrough year in 2017, winning thirty-one games, reaching the SEC tournament, and then getting a berth in the NCAA tournament. This is Courtney Deifel's third year as head coach at Arkansas, and she's seeing a steady progression. "In our first year here," Deifel says, "the players sometimes didn't think they could do it. But they came out of that year hungry, ready to work hard and wanting to take the next step. Last year, they saw they can compete with the best. We're no longer the program that SEC teams think they have a breather with. That's our new standard. I'm excited for this year, to see the players compete and to come into their own."
Arkansas returns nearly all of its roster, though Nicole Schroeder and her 17 HRs graduated. But power was no issue this weekend as they hit seven dingers. The talent level seems to be rising, as they started four freshmen in their opening game, including Hannah McEwen in the outfield and the designated player, Linnie Malkin, who homered twice; the all-freshman battery of winning pitcher Mary Haff and catcher Kayla Green showed that they have what it takes to step up to the college level. Haff and sophomore Autumn Storms made up a strong pitching duo in the desert, as Arkansas swept its five games.
The glamour team of the tourney was UCLA, a top-ranked team throughout 2017 who played in the Women's College World Series, and they won their four games. UCLA's key 2017 graduate was Second Team All-American shortstop Delaney Spaulding, but they were also looking in 2018 to bolster their pitching staff, which lacked some depth past Rachel Garcia. UCLA always recruits great classes, and despite a deep and talented returning roster, UCLA gave significant playing time in this tourney to five freshmen — shortstop Brianna Perez, hitting .500 so far this season; left fielder Aaliyah Jordan, at .560; Kinsley Washington, playing first base and hitting nearly .400; occasional starter in right field, Julie Rodriguez; and pitcher Holly Azevedo, who has won her first four games and seems a solid #2 starter behind Garcia. UCLA looks like a team that will be playing late into May.
Mark Allister teaches literature at St. Olaf College in Northfield, Minnesota. He is writing a book about the 2018 season, Turn and Look: Women's Softball Is Crushing It