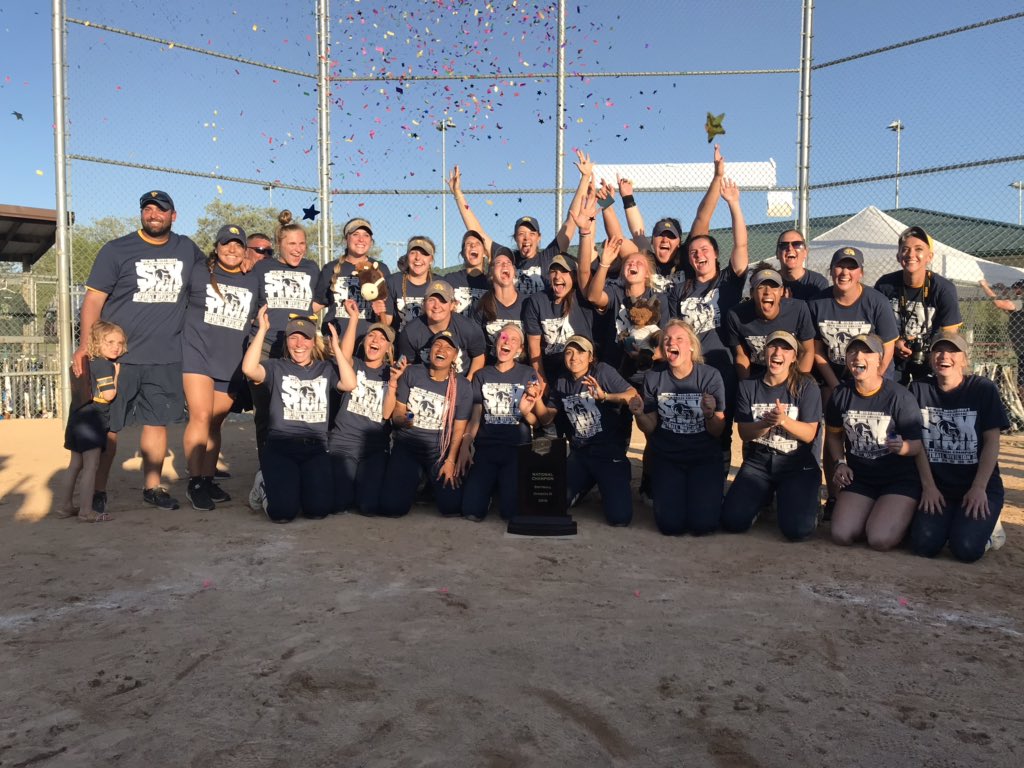 http://njcaa.org/sports/sball/2018-19/div3/national_championship/championship_recap
Rock Valley (IL) captured its sixth consecutive NJCAA DIII Softball Championship, setting a new record for most consecutive national titles across all three NJCAA divisions. Needing three wins on Saturday, the Golden Eagles' championship experience was on full display as Rock Valley topped Brookdale (NJ) before defeating Herkimer (NY) twice for the national championship.
Th Golden Eagles capped the season with a 57-13 record, the program's third consecutive 50-win season.
A loss to Herkimer on Friday was immediately removed from the Golden Eagles' mindset entering the final day of tournament action in Rochester, MN. Rock Valley outlasted Brookdale (NJ) 4-2 before a dominant 21-4 victory over Herkimer to force a decisive championship matchup with the Generals for the second consecutive year.
Rock Valley produced four runs in the fourth inning of the final game to pull away from Herkimer. Sophomore
Rock Valley and Herkimer squared off in the national title game for the sixth time in the last seven seasons, with the Golden Eagles winning the last five matchups over the Generals.
Herkimer, who concluded the season at 48-8, was led by a series of All-Tournament selections who starred throughout the postseason.
Aubrey Ketcham was named the Defensive Player of the Tournament for the Generals. Jennah Hogan, Natasha Holt, Vani Patel, and Brooke Snyder all earned All-Tournament recognition.
A stellar two-year career at Rock Valley came to a close for hurler Breanna Crown, but not before completing her tenure as a Golden Eagle as the tournament's Most Valuable Player. A 2018 NJCAA DIII All-American as a freshman, Crown tossed a complete game in the championship clincher.
In three appearances in the tournament, Crown earned a pair of wins with a 1.71 earned run average to go along with 11 strikeouts. Along with MVP honros, Crown was also named the Pitcher of the Tournament.
Rock Valley head coach Darin Monroe was named Coach of the Tournament after guiding the Golden Eagles to their sixth national championship since 2011.
—————————————————-