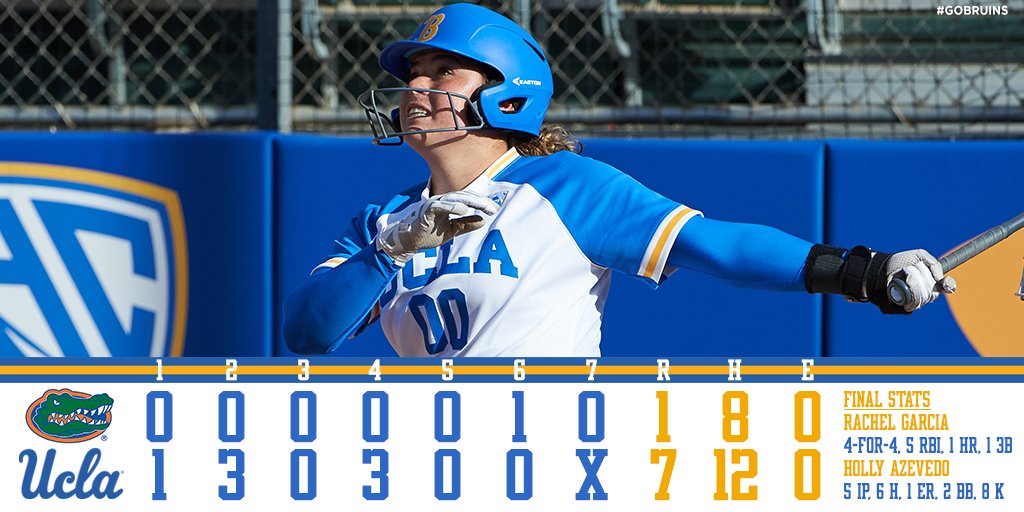 On Wednesday February 27th the No. 2 UCLA squared off with No. 3 Florida in a "battle of the unbeatens". The Bruins went on to defeat the Gators, 7-1, in a contest that raised interesting questions, highlighted the talent and depth of this Bruins' squad, and set a fun stage for a rematch later in the weekend and potentially during post season play. Here are my biggest takeaways and thoughts on last night's contest.
1. Who led the way?
– Holly Azevedo (UCLA) pitch a gem of a game in her toughest test so far this season. Through five innings she surrendered six hits, only one run, two walks, and notched eight strike outs. As soon as the Gators scored their first run the Bruins lifted Azevedo for Megan Faraimo who came in and shut the door to secure the win. Azevedo probably could have finished out the contest but why risk letting the Gators sneak back into the game?

– For UCLA, Rachel Garcia was outstanding going 4-4 with five RBIs. Briana Perez went 3-4 with one RBI while scoring three runs herself.

– For Florida, Kendyl Lindaman was steady going 3-4 while Hannah Adams recorded a 2-1 night with one walk and recorded the Gators' lone RBI on the night.

2. UCLA is as good as advertised
Many people have said they believe this could be the year where the Bruins bring the national title back to UCLA. We all knew they were good and we're only seeing validations of that. This UCLA squad was loose; having fun; disciplined at the plate; successful in the circle without needing Rachel Garcia's help; and knocked Florida's Kelly Barnhill around in ways we ever rarely see, chasing her before the third inning. Believe the "hype", the Bruins are good.

3. Florida needs more production with runners in scoring position
The Gators had eight hits in the contest compared to UCLA's 12, so Florida did have opportunities they were just unable to string anything together.

Last season the Gators left 456 runners on base over 67 games. So far this season they have stranded 157 which puts them on pace to leave 553.63 base runners on in 2019. Now, yes, offensively powerful teams will normally have higher LOB numbers than teams who don't score as much. But comparatively, UCLA has left 88 runners on so far this season. And if you want to look at 2019 hits to LOB: Florida 169/157, UCLA 152/88.

Florida will need to continue to improve their ability to bring runners in and string together hits to make a run at the SEC title and deep run into the post season. But, it's still early and there is a lot of positives happening within their lineup.

4. Everyone's favorite discussion – illegal pitches
A debate that has been discussed to nauseam, we saw illegal pitches called yet again last night, one of which in an interesting situation. Florida and Barhill went to intentionally walk a UCLA batter with runners on second and third. In the first pitch of the INT walk, Barnhill threw a wild pitch which got away, led to the Bruin runner coming home, and initially being thrown out at the plate ending the inning and Bruin scoring threat. But one of field umpires called Barnhill for an illegal pitch, assigned a ball to the batter, put the Bruin base runners back on second and third, and the inning continued. After completing the INT, Garcia stepped into the box and secured a two-run RBI single giving the Bruins the 4-0 advantage and putting the game further out of reach for the Gators in a moment that I feel helped secure the victory.

The question becomes and still is: when are officials going to call the illegal pitch every single time or when will NCAA Softball just do away with the rule? According to the commentators, that was the second illegal pitch called of the game and it was called during a pretty huge moment of impact for the game. As it's well known, Barnhill is often illegal and Florida's second arm of last night's contest, Danni Farley, also often appeared to have a small break with the ground in her delivery but wasn't called.

The execution around calling illegal pitches in regards to the break with the ground or small "leap" is so inconsistent from game to game, ump to ump, and even internationally to collegiate ball. Are we to a point of needing to just do away with that stipulation? How much of an "advantage" does it really give a pitcher? Is here actually more of an advantage occurring now to the pitchers who are never really "legal" while others are and aren't allowed that small break with the group or slight leap? And are the guidelines and inconsistency of when and how often this is called giving officials too much power to directly impact the outcome of a contest?