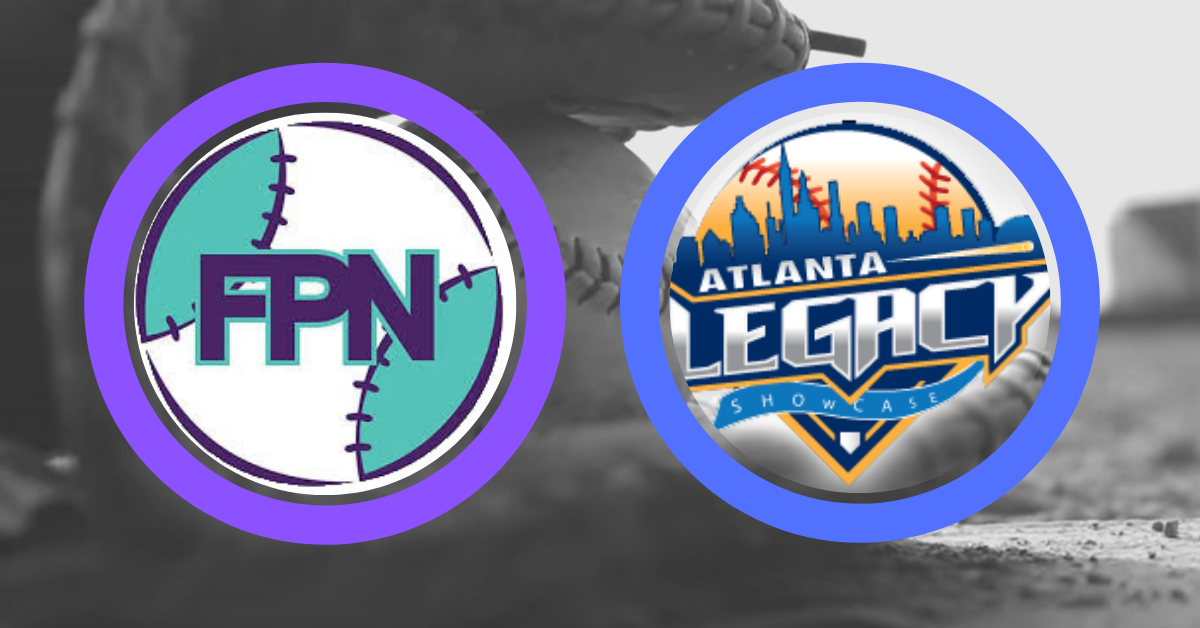 Over the past week Fastpitch News was excited to be on site for the Atlanta Legacy event! This fantastic event showcased some of the country's best teams, hosted dozens of collegiate coaches, and set a standard for events everywhere.

Every ball park was unique and beautiful, every member of the staff was first-class, and the event was all round a "cannot miss". Big thank you to everyone involved for having us!

Below are some of the teams and matchups that caught our eye at Lost Mountain and Al Bishop (16U).
EC Bullets-Scarborough versus Impact Gold Holeman 16U
I was excited to see Impact Gold Holeman play after their 18U team's successful week at the Colorado Fireworks tournament, especially against a competitive Bullets squad with a number of talented athletes.

From the start the Bullets came out ready to play. They were aggressive on the base paths and clearly are a squad who is ready to challenge their opponent until proven they will be stopped.

Defensively, the first player to catch my eye was the Bullets' tall, lanky pitcher. She commanded the circle and the entire tone of the game. She had a number of nice tools and was able to keep the Impact hitters contained at the plate. I later come to find her name is Alana Barnard, a talented 2022 graduate who verbally committed to Georgia Southern during the spring of 2018. I am excited to keep tabs on her as she continues to mature and develop even further.

To close the game, Alyssa Bedenbaugh (2021) entered and shut the door nicely. Bedenbaugh had good velocity that the Impact just wasn't able to catch up to in their final at-bat.

Offensively, the Bullets looked strong from top to bottom. They worked the count well both in pitch selection and ability to foul off offerings they didn't want.

For the Impact, I really liked their catcher, #22. I either have the number incorrect or she was not listed on the team profile but she had some great pop and was very agile and athletic. I also loved how she showed no fear in pulling the trigger with runners on base, her quick transition, and consistent field leadership.

In the circle, Presley Williams (2021) had some nice tools. A lefty with a lot of spin, an effective off speed, and some good up movement. I'd like to see her throw again sometime as I think she – and the whole squad – are capable of a more sound, complete game. In general the Impact didn't look as sharp as I think they can be, there were struggles on defense however a number of bright spots that showed some real skill and talent; especially from their middle infielders.
Atlanta Vipers Billings/Trowell versus Tennessee Mojo '04
This was a match up I was pretty excited to attend as both programs are known for being strong with talented athletes. For the Vipers, Liyah Holmes (2022) started in the circle.

Holmes had a rough start to the game but eventually settled in. Rather it was an "off" game or there is still some room for development there were a handful of impressive things about Holmes' ability in the circle. First, she throws with some good velocity and movement to her pitch; especially the rise ball. Where improvement is needed – from what I was able to watch – is in the consistency and control of said pitches. When the rise ball was controlled, it was lethal but it could also get away from her quickly.

I also appreciated Holmes' patience, calm, and level head in the circle especially through her tough start. Between being squeeze behind the plate, the control issues, and the sheer offensive talent of the Mojo she hung in there and just kept working.

For the Mojo, first and foremost I noticed their head coach, Daniel Arnold. What I appreciated most was his consistent focus on keeping his team accountable, especially to the little details and "controllables". He ensured his team was focused on the game while in the dugout, he held his athletes accountable when they didn't run something out, etc. And he did it the right way. The only reason I heard it is because I was by the fence near their dugout so it wasn't a big "show", it wasn't to embarrass a player, it wasn't to draw attention to himself. It was purely to ensure his athletes were performing at the highest level possible in all things and that is something I really appreciate.

As a team, the Mojo can really swing it. Over the course of the event I know they were a bit inconsistent offensively but when they were on, man were they on. Versus the Vipers they attacked early both in the game but also in their at-bats which is when they were most successful. They struggled a bit with Holmes' strike out pitch, the rise ball, when they fell deeper into the count. Luckily for them (at least while I was there) they executed strong pitch selection and jumped on pitches early; claiming a very early lead and what looked to be a run away victory.

Arnold's team also has some talent in the circle and some defensive studs in the field. In the circle, Cadey McDaniel (2022) held it down. There was a looseness and calm, quiet confidence to her that was hard to miss. She worked fast and did her job well. Not only was she effective she also fielded her position fantastically with a good overhand throw. Which, as we know, can sometimes be a weakness for pitchers but not McDaniel, she was solid. I'd keep an eye on this 2022, there is a lot of talent there and coming off a strong freshman campaign at Lexington High School (17-1, 1.40 ERA) there should be much more in store. Lexie Friend (2021) also caught my eye defensively; she was smooth, collected, and skilled.

A lot of credit also goes to the Vipers' squad as a whole as this contest could have gotten out of hand very quickly. However, once they got out of the first inning and came to the plate they were very patient. There was no pressing or panic, they stuck with their approach, kept their calm, and started chipping away at the lead. Emma Grace Walker (2021) caught my eye early. She is a slapper with elite speed and placed one of the most beautiful chop slaps I've seen in a while. I wasn't able to stay until the end of the game but the Vipers ended up coming back to tie as the final result; I'm disappointed I wasn't able to see this through, it was a fun one! I had intended to catch up with both squads again later in the tournament but with severe weather in the area and the event being cut short I was unable to. I hope to see these athletes again soon!
Fury Platinum Hughes/Hutchins versus VA Unity – Sowa
Bright and early Thursday morning saw a fun match up between the Fury and Unity; a contest that drew a lot of attention from the college coaches in attendance.

This match up had it all: great pitching, big offense, and studly defensive. Both teams are stacked including multiple Lousiana commits, LSU, CNU, and more.

The Unity jumped out to the early two-run lead when Desiree Scott (2021) blasted an absolute bomb. In the circle, Kayla Stephenson (2020) went four innings, sprinkling four hits, and striking out four. Stephenson was very spinny and not afraid to work inside. What I was most impressed with was, despite hitting a couple batters through those four innings of work, she kept challenging in, unafraid to do so.

The outfield play for the Unity was also something worth noting, including an fantastic day in center field for Emily Sowa (2020) who covered tons of ground, even robbing a home run early on.

The Fury mounted a big comeback, putting up a four spot in the fourth inning that eventually gave them the victory. Randi Drinnon (2021) and Ella Edgmon (2021, Chattanooga) collected multiple hits during the game and help lift the Fury to the late victory. Rachel Gibson (2021) carried the load in the circle and showcased her talent well despite giving up the early home run; she went four inning, surrendered three hits, while striking out eight. Gibson's movement, velocity, and nasty drop impressed me the most. She has a lot of potential and it is clear why she's turning heads. I wouldn't expect her to be uncommitted for much longer.

All and all, this may have been one of the most entertaining matchups I had the pleasure of watching all week! Keep an eye on both squads now and going forward!
Ohio Hawks Joseforsky versus Carolina Elite/SC Elite Fusetti
This was one of the fastest games I was able to watch at ATL Legacy, in a good way! Both of these teams came out swinging, were aggressive, and worked quickly; which made for an exciting affair!

The Ohio Hawks are coached by Julie Joseforsky who I've had the pleasure of meeting and talking to through various venues over the past few years. She is an intense, passionate, and knowledgeable coach that really knows her stuff and it shows in the play of her Hawks. They perform at a high level and when they fail are able to make the necessary adjustments to produce the results they want; often with Coach Joseforsky there to hold them accountable. It's beautiful really.

I was not able to stay for the entire game but the Hawks, down early, stayed resilient and battled back, falling just short 3-2.
That being said Carolina Elite jumped on the Hawks early. I was impressed with Coach Fusetti's squad from top to bottom; they had some serious athletes who just "looked" the part. Both in build and presence it was easy to tell Carolina Elite was there to play.

Maya Douglas (2021) and Karlyn Pickens (2022) both draw my attention early with their strong offensive ability and general presence in the box. Turns out both are touted and talented recruits turning many heads as they go. I also enjoyed watching Carolina Elite's pitcher – unfortunately I cannot find a name for her but I believe it was #2. She was effective and possessed a number of good tools but was maybe the most impressive was her high softball IQ as exhibited on a bunt play. By the time she got to the ball she had no shot at the runner so she pump faked to first, drawing the runner of third, and kicking off the run down. It was an extremely smart play that showed a lot of maturity in her game. I know it's one of those things high level athletes should "just know" an "just do" but I haven't seen defensive execution from the circle like that in awhile.
Athletics/Mercado Ornelas versus Atlanta Vipers 03 – Trowell
This is another matchup I was champing at the bit to watch unfold. Make no mistake, these are two power house teams and the crowd of college coaches that attended this game can reinforce that.

As good as the Vipers are, and don't get confused this is a talented team, the Athletics dominated during the time I was in attendance. The contest ended up being a 2-0 affair in favor of the Athletics but head coach Stafan Anderson's team ran the table.

First and foremost for the Athletics, Serena Slavey (2020) made a statement to open the game and without a doubt set the tone. This lead-off hitter is talented, blazing fast, and the definition of a "tone setter" that any program would want at the top of their lineup. She was impressive, battling deep into counts, and giving the Vipers all they could handle. Next in the lineup was Jeralynn Well (2020) an athlete who takes monster hacks and has one of the calmest and yet most confident presences in the box of anyone I've seen lately. She has some serious offensive talent.

One thing that really impressed was the Athletics' offense was their ability – from top to bottom – to work deep into counts; challenge the opponent and pitcher every single pitch; and drive the ball hard. There is no "weak" spot in this lineup, any opposing team is in for a 1-9 battle when facing Athletics/Mercado Ornelas and there is just no let up; no "easy out" exists on that roster.

Another thing I noticed with the Athletics was how much time they utilized offensively; yet another thing that puts pressure on opponents. When a team is able to "eat away" so much of the clock while pushing runs across it makes it extremely hard for opponents to comfortably get into their rhythm or play "their game" with the time remaining. So not only can the Athletics overwhelm you with their talent they can also smother you with the pressure that comes from running low on time during a matchup with a time limit.

The Athletics also had the pitching and defense to back up their crazy offense. Most notably was the play of their middle infield, their catcher, and their outfield. Behind the plate, Kalyn Hill (2021) impressed me with her command of the field and her powerful arm that will challenge any runner put in front of her. Serena Slavey (2020, mentioned above) also made a monster play out of no-where-left-field to rob the Vipers of a home run and keep the momentum in favor of the Athletics. Seriously, the play was incredible, ESPN Top 10 worthy.

They were just stifling and killed any kind of momentum the Vipers began to generate.

Notable Vipers include Sarah Squillace (2021), a baller in the middle field and made one of the most pure athletic, amazing plays I saw all week. Kailey Rusk (2020, Kennesaw State) was good in the circle while. Lyndi Rae Davis (2021, Georgia) look to change the momentum with one swing, an absolutely "daddy hack" that was hit as high as it was long, and sure to be a home run before Slavey made that amazing play to rob the "dinger". Jaycee Goodwin (2021) caught my eye behind the plate; she is a "catcher's catcher". Her energy was high, she was the field general, she was always talking to keep her team and pitcher in the moment and moving forward no matter the situation and outside of those "intangibles" she was also "legit" in her abilities. I really enjoyed watching her play, it was hard to not have your eyes drawn to her while on the field.

Ultimately the Vipers were haunted by defensive miscues which I feel have to be uncharacteristic given the level of talent and ability on that field. Maybe the matchup "got too big"? Maybe it was just an off game? Whatever it was I would pay to see an "Ornelas versus Trowell" matchup again, anytime.
—————————————–