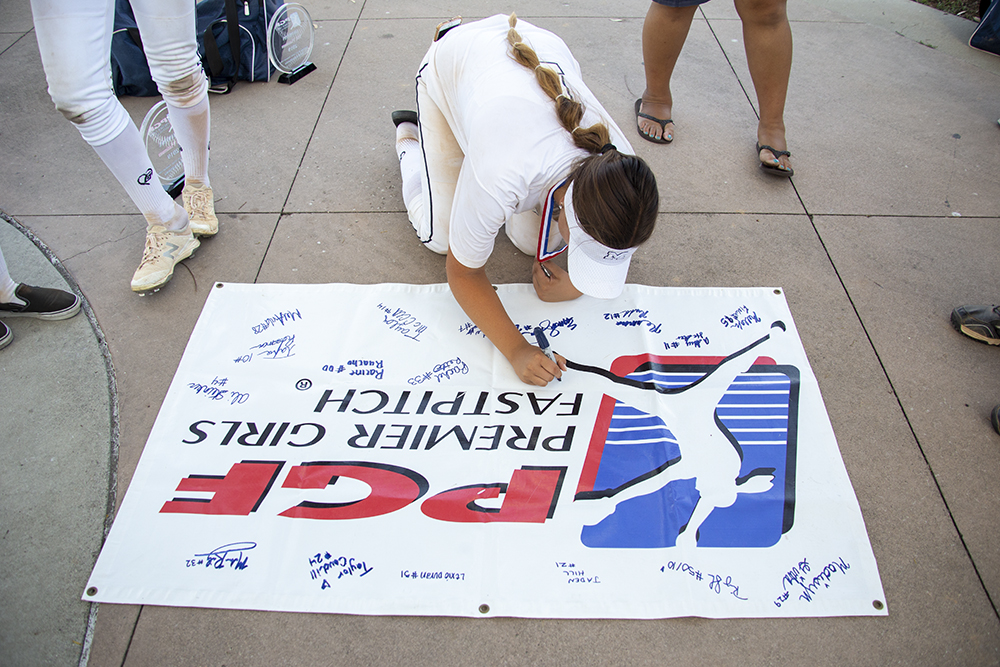 –
16U: Monarchs Gold, 3 / Orland Park A's, 1
Surrendering only eight runs over their eight games in the Platinum bracket, the Monarchs were anchored by Taylor Caudill in the circle who was brilliant in the championship game yet again. She struck out 10 Orland Park A's and sprinkled two-hits en route to a two-hit championship victory. An uncommitted 2020, Caudill is going to be a huge get for which ever program is able to receive her commitment.

Not only was she good on the defensive side of the ball, she also notched the Monarchs' first RBI in the first inning, bring around Jillian Nguyen (Western Michigan) to score. Alison Steinker and Maddi Sherrill also collected RBIs for the Monarchs.

For the A's, Abigail Bukantis handled the pitching duties and threw a strong game going six innings and surrendering five hits. Errors hurt both teams as they each recorded two a piece however the Monarchs were better able to overcome them en route to their victory.

Katie Stewart collected the lone RBI for the A's in the fourth inning, bring home Rylie Hartman.
18U: Iowa Premier Gold, 5 / Select Fastpitch, 2
In what puzzled many, Iowa Premier Gold found themselves in the PGF Platinum bracket this year but all that did was light a fire underneath them and carried this team to the Platinum title.

To put it simply, Iowa Premier dominated including head turning victories over the Monarchs (10-2) and Cal Blues (12-0).

However, not to be underestimated, head coach Eric Jones' Select team is a loaded group of extremely talented athletes with many moving on to compete at the next level. This game could have easily been underrated at first glance but it shouldn't have been; these teams compete.

Maren Judisch (Baylor) dominated in the circle for Premier as the Select hitters struggled to settle in, make adjustments, and get much going offensively until the late innings of the game – at which point it was too late. Judisch fanned six batters and picked up the complete game victory.
Unfortunately for the Select, some of the officiating brutally impacted their ability to build momentum in this game (both at the plate and in the field). In this specific case it would be remiss to not mention the challenges they faced on that front; which is unfortunate as the Select is a stronger team then what was shown in this championship contest. To say nothing of the outcome, it's just a shame when outside factors play that heavily a role in a game; it's more fun when the athletes get to shine, influence free.

During the trophy presentation, Iowa Premier head coach Greg Dickel, thanked coach Jones for another tough contest to add to these programs' long history of great matchups. Again, these are two incredible programs that are always exciting to watch.

Standouts for Premier include Ella McVey (Michigan) who was 2-for-4 with a run an a RBI; Alyssa Gappa, 1-for-3, with a ran and RBI; Jaelyn Vickery (Illinios) who also scored and recorded an RBI; Ashley Peters (Purdue) collected and RBI of her own; and rounding it out Olivia Peterson (Minnesota) punched a sacrifice fly to contribute to her team's offensive effort.

When the team huddled, you could overhear Coach Dickel say with a lot of pride when talking about what his team has accomplished, "You showed 'em. You proved them wrong!"