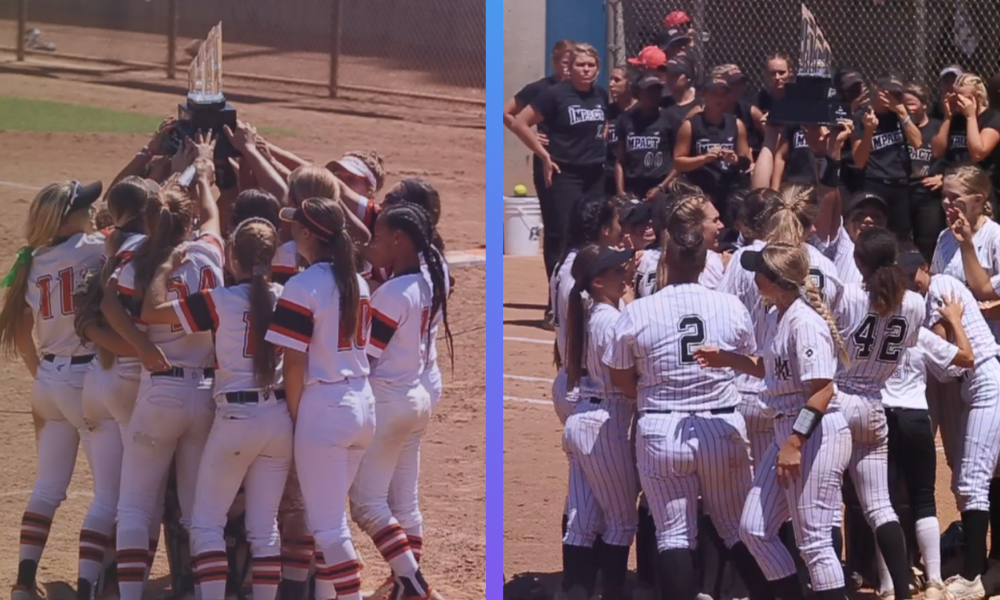 –
16U: Beverly Bandits, 5 / Texas Bombers, 4
In the first championship final of the day, two titans of the game met in an exciting, well-balanced contest.

Taylor Minnick (Tennessee) got things going for the Bandits in the second inning notching an in-the-park home run aided by a lapse in execution by the Bombers; giving the Bandits the early 1-0 lead.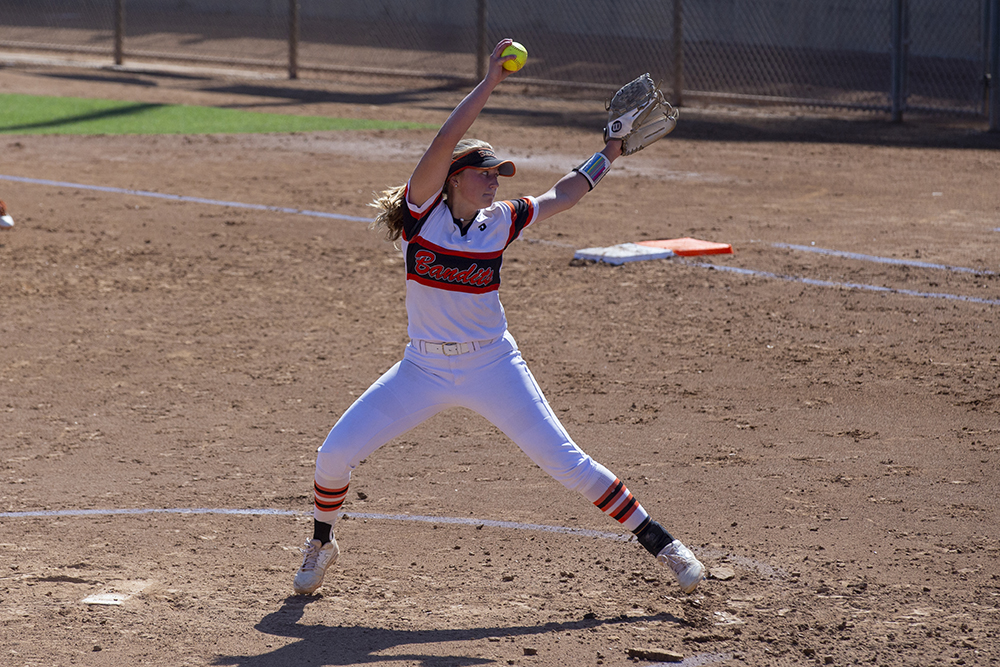 Regan Krause (Illinois) dominated the 2019 PGF field throwing 33 scoreless innings but saw that run come to an end when Aaliyah Ortiz (McNesse State) collected a RBI single to center scoring teammate, Avery Hodge (Oklahoma), and evening the score at 1-1.
Head coach, Bill Conroy's Bandits responded straight away putting up three more runs of the top of the fourth. Anna Hallowaym (Notre Dame) knocked a double to center and later scored with the help of two passed balls. Lillian Vallimont (Northwestern) and Haley Panfill (Charleston Southern) both battled their way on base by drawing walks and came around to score. Vallimont reached third and home courtesy of a passed ball and wild pitch while an error scored Panfill with Gabby Altobelli (Wisconsin) picking up the RBI.

With their three run lead in hand, the Bandits took control and looked to be well on their way to their third PGF title. But the Bombers weren't done yet.

"That's a very good hitting team and I [saw] them come back against our other Bandit team," said Coach Conroy. "[The Bandits] had a three run lead and [the Bombers] came back to beat [them], so I knew they could hit, I knew it wasn't over."

In the sixth, head coach Bill Jones', squad evened the score again at 4-4. Tegan Whitley (McNeese State) and Kramer Eshete (Louisiana) got things going with a single and double respectively. Pinch hitter Maggie Herdejurgen (Oklahoma State), who was injured a few games earlier, stepped in and delivered a two-run single for the Bombers, she was then lifted for Emma Humplik (Texas A&M) who reentered the game. Ashlee Larue later capped off the scoring with a line drive to center that scored Humplik from third.

With the huge momentum swing, it now looked like the Bombers were the ones in the drivers seat and in a great position to walk things off in the bottom of the seventh. But the Bandits stayed calm and responded back instantly, quickly scoring in the top of the seventh. Taylor Minnick came up big yet again smacking a double to left center with one out setting up a Gabby Altobelli single to right field that scored Minnick; handing the lead back to the Bandits.

Into the bottom of the seventh inning, the "never say die" Bombers didn't go quietly loading the bases with two outs for Hodge. She battled but eventually grounded out to second base, ending the game.

"We can't make any mistakes too early," coach Jones said to SoCal Sidelines in an interview. "You can't do that against a great team. We had a good offensive strategy on her. We just made one more mistake than they did. That pitcher is unbelievable, she did a great job. Thanks be to God, these girls have had strong faith all year long."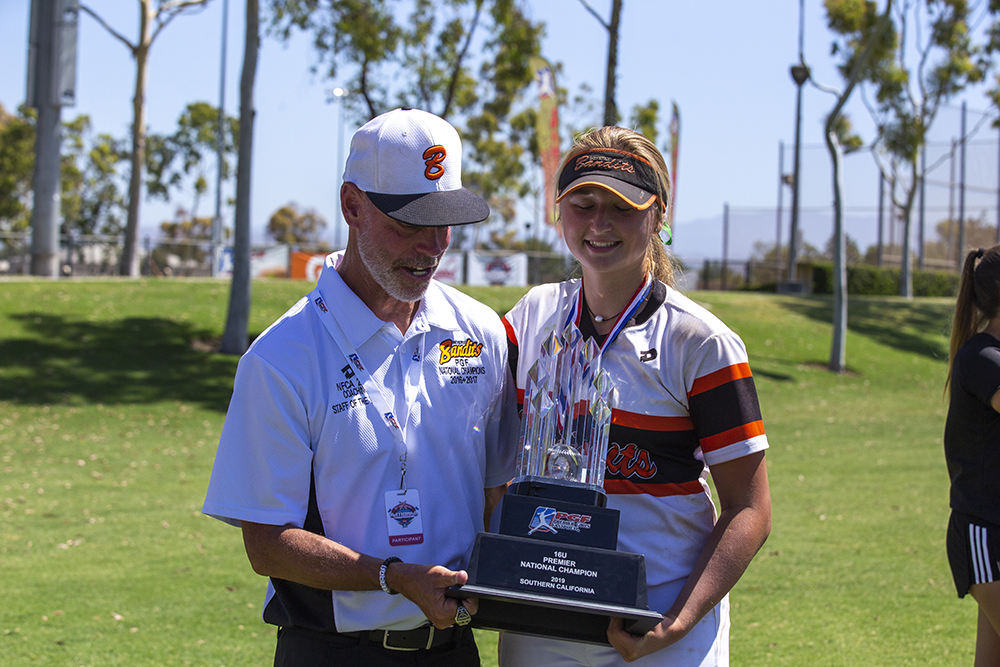 And to think, this championship may not have happened if Krause had gotten her original wish when she joined the Bandits.

"At first I wanted to stay up at 18s and play with Coach Tyrell," said Krause. "But [Coach Conroy] convinced me to stay down because he told us we were going to win a national championship and, so, here we are!"

"As a coaching staff we probably overused her a little bit," Coach Conroy shared. "Her velocity was down a bit but she's such a competitor. We have a great number two pitcher, Danielle Drogemuller, and she was ready to go but I made a promise when I brought [Krause] over to the team … that we'd win a national championship and she'd be the winning pitcher so I felt like I had to keep my word and thank God that I did."
Through the Bandits run to the title, Conroy's team impressed in all facets of the game. Krause dominated in the circle, the offense was productive from top to bottom, and they were easily one of the strongest defensive teams in the field.

When Krause was asked about the defense behind her she beamed saying, "they are amazing. The best in the country!"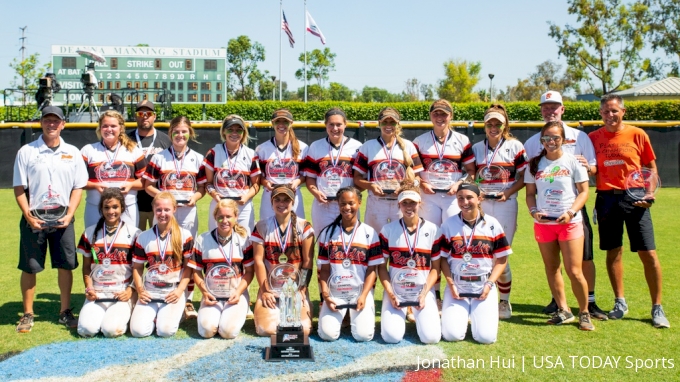 –
18U: Georgia Impact, 0 / Athletics-Mercado, 1
In an intense pitchers' duel for the PGF history books, the cliché a "game of inches" has never rung truer in a showdown that will not soon be forgotten.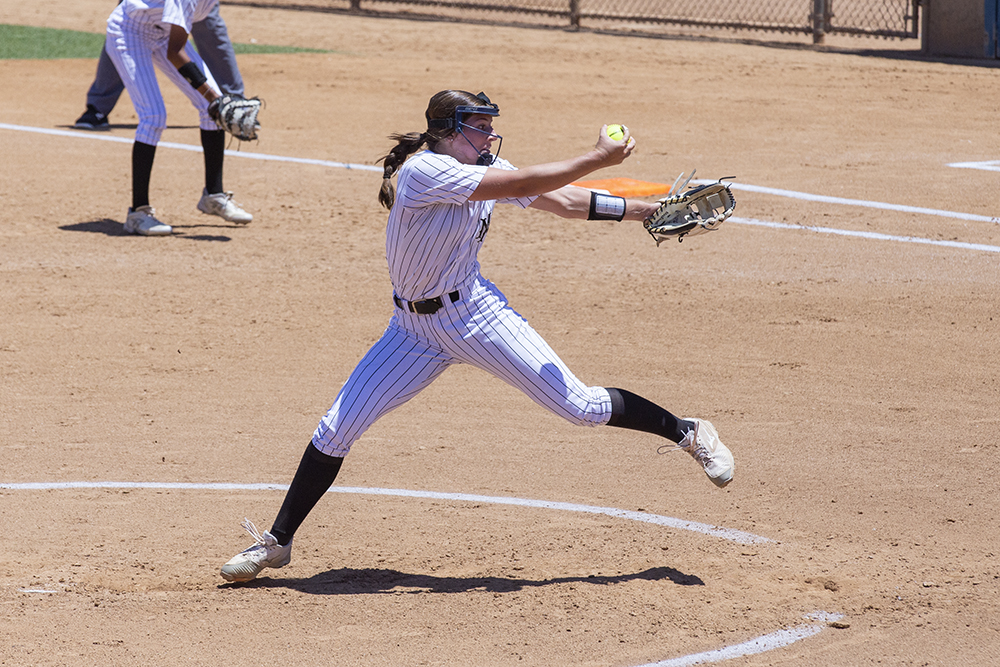 Allison Royalty, an Arizona State commit, spun a masterful game holding a powerful Impact offense to one hit while striking out 14. She used a multi-plane rise, devastating off speed, and a whole lot of movement (screw, curve) to keep the Impact hitters off balance and out of their rhythm.

Georgia's Salter was also brilliant in the circle as she worked to will the reigning 2018 PGF Premier Champions to another title. The Alabama commit held Mercado's potent offense to just three hits and collected a handful of strike outs of her own.

The tension mounted and was thick as the game progressed with the looming question of when the offensive tie would be broken.

Then it happened.

In the bottom of the sixth, Quincee Lilio (Oklahoma) reached first after sending a single into center field with one out, Presleigh Pilon (LSU) sacrificed Lilio to second which give way to the Ole Miss-bound hero, Paige Smith. Swinging on the first pitch she saw, Smith pulled a ball sharply down the third base line. The crowd was quiet as off the bat it clearly looked to be a foul ball but then the dull "thud" of ball impacting base filled the stadium and as fast as the ball shot into the air and landed in the outfield, the crowd erupted. Lilio flew around third base, sliding in to score the game's only run.

The one run was all Royalty would need and in the top of the seventh she made quick work of the Impact's lineup, lifting her team to the championship title.

"A great team is really what does it," Royalty said in her post game interview with ESPN. "Without their defense [behind me] I would not be able to attack the zone like I do. They gave me the confidence to go out there and attack with every pitch."

For the Athletics, this core group of athletes have been together since 10U and hold an impressive track record of success at PGF winning the entire event at 12U, 14U, and now 18U while taking home second place at 10U and 16U.

"It means the world to me," said head coach David Mercado. "And not only for me, but for them. They've been in this, every age for this group. For them to do it and go out like this, it is truly deserving for this group. I could not be more proud."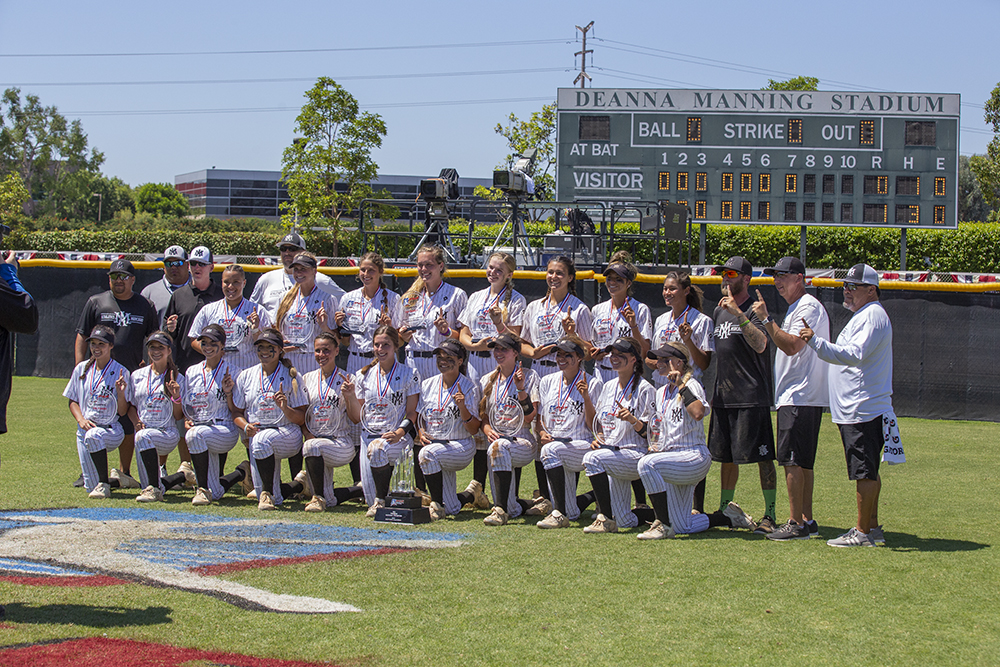 –