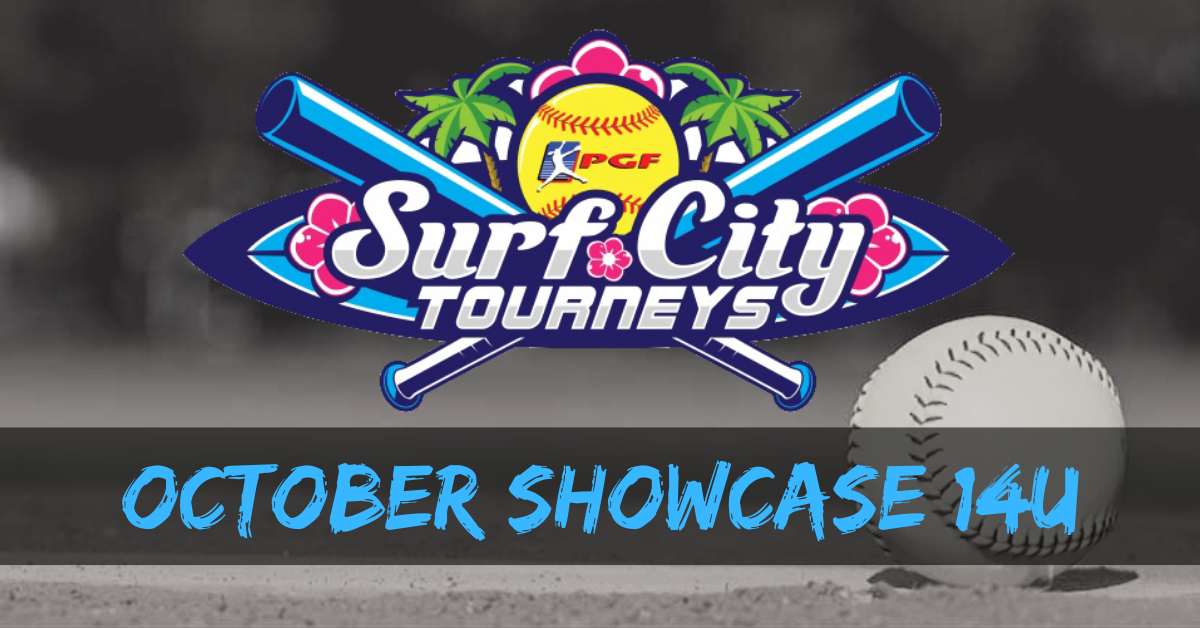 One of the biggest fall showcase events is set to get underway in California as teams and college coaches converge on the 2019 PGF Surf City October Showcase! This weekend marks the start of the DI fall recruiting calendar so there is sure to be great competition to unfold. Let's look at some of the pools to keep a close eye. There's a great mix of established "14Us" and may groupings ready to introduce us to new talent and teams to watch for in the coming year.
Headlining this pool has is Athletics Mercado Tidd who is coming off a strong weekend at the PGF Shootout sweeping their pool play schedule and picking up bracket wins over the Grapettes and Athletics Mercado 2023 before falling to Universal. Keep your eyes out for Skye Johnson (C/3B, 2024), Kaylynn Jones (2024, MIF), Danica Acosta (2024, MIF), Paige Bambarger (INF UTL, 2024), and Xiane Romero (2024, MIF). Mercado Tidd is loaded and ready to go this fall.

They are joined in the pool by Bat Company Thiry, Breakers Labs 14U Blue AJ, Cal Nuggets Woods, Corona Angels Carter, and Lil Rebels Jeff.

The Cal Nuggets and Mercado Tidd faced off last weekend in a 4-1 contest in favor of Mercado. It will be great to see this rematch so soon.
Pool B is loaded and will be worthwhile to keep a close eye on as many of these teams could become – or will continue to be – big players in the nation's top events come later this fall and next summer.

Cal Cruisers Lowry, Explosion Flores Young, Firecrackers Weil, NW Bullets Campos/Dawson, Sorcerer-Schroll, and Suncats Jimenez 2023 make up this grouping with many finding their way onto our 2019 FPN Super 60 rankings.
Moving onto Pool C we have the AZ Ramblers Brun, Athletics Mercado Cook 2023, Firecrackers Brashear/McDonald, LTG Lions Henderson Lively, Lil Rebels RC/Marshall, and So Cal Choppers 14U.

A few of these teams we don't know much about yet and are excited to follow them closely this weekend to learn more. Keep an eye on LTG's Rylei Trujillo. The 2023 pitcher/utility is talented and has pulled a lot of attention from coaches across the country.
Another powerhouse pool, "D" is comprised of Arizona Storm Putz, Athletics Mercado 2023, CA Breeze 2023, Cal Panthers Premier, EC Bullets Delamater, and Grapettes Gann/Kapp.

This is an experienced grouping, many of whom partook in 2019 PGF Nationals play so expect to see some very competitive contests …and potentially an early look at future PGF National matchups.
BEST OF THE REST
With many pools loaded with newly aged 14U teams we are excited to follow these teams this weekend! Some programs to especially keep an eye on include:

POOL E: So Cal Athletics Medina, Suncats Jimenez 2024
POOL H: Explosion SA 2023, Batbusters Guthrie
TELL US ABOUT YOUR TEAM!
Help us learn more about your squad and the talented athletes on your roster! Do you have a GameChanger profile? E-mail us some information at mkyllokittleson@fastpitchnews.com