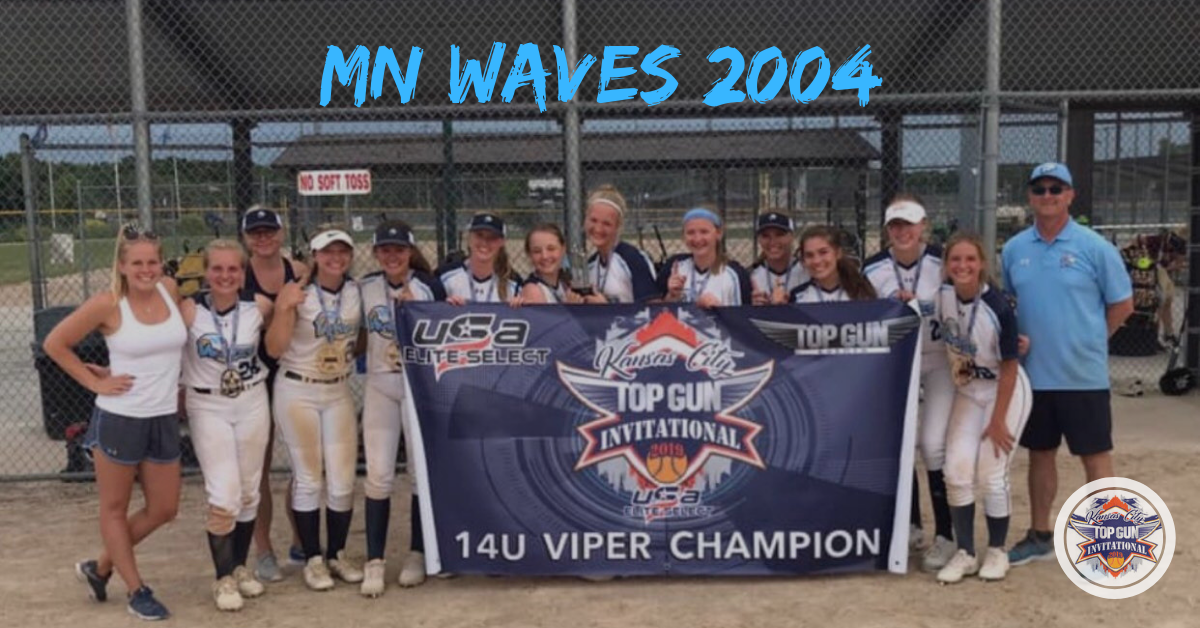 The Minnesota Waves 2004 team traveled to Kansas City to partake in the 2019 Top Gun Invite this past weekend. Coach Stone's team posted a 9-2 record and claimed the 14U Viper Division Crown.

We talked to Coach Stone about the team's weekend, being a northern program and having success, what is on the horizon for the Waves, and more!
————————————–
FPN: Can you tell us a little more about your team? What are some strengths of your athletes? Where do they come from? Anything along those lines.
Coach Stone: Our team, the Waves, is based out of Prior Lake, MN, a suburb of Minneapolis, MN. We currently have four teams in the organization- 02, 03, 04, and 05 teams. So, two 14U teams and two 16U teams. The players on the Waves 04 team all come from suburbs close to Prior Lake. All but one play in the same high school conference. The strengths of the players on the team are that they work extremely hard, want to learn and be better players, have a high softball IQ, and are very athletic.
FPN: Tell us about your weekend at the Top Gun Invite? What about your team's performance impressed you the most?

Coach Stone: Our weekend at the Top Gun tournament started out slowly. This was only our second tournament of the season, so being that the Top Gun which is a large tournament with many quality teams that had played several tournaments already, I wasn't sure what to expect. We were run-ruled in our first game and did not hit well. We also lost our third pool game, so we were sitting at 1-2 after the first day. The second day we won all three pool games and began to play better. What impressed the coaches the most was the way the team responded to adversity- losing two of three the first day and having to come from behind in each bracket game.

In the first bracket game we were down five runs after the first half inning. In the second bracket game we were down 3-0 after the first inning. In the third bracket game we were down 2-1 after the first inning and then got behind 3-1 after the third innings. In the semi-final game we were down 4-1 after the first inning. We were still behind 6-4 going into our final at bat. We scored three runs in that final inning and those three runs were scored with two outs. In the championship game, we again got behind 2-0 after four innings. We pulled ahead 3-2 before a home run scored an additional three runs. The final score was 7-3.

The theme in each of these games was we had to come back after getting behind. The coaches are very proud of the way the team fought. They never panicked and believed they could still win.

The other notable factor was that we lost one of our pitchers in the first bracket game. So, that meant two pitchers had to carry the load for the remaining four games.
FPN: Did any of your athletes particularly stand out? How about any opponents?

Coach Stone: The eight-game winning streak the team had from Friday pool play through Sunday's championship was really a team effort. The team finished the tournament 9-2. Both offensively and defensively, each member of the team contributed. I would like to mention each of our team members: Riley Vander Pal had several key hits in the final innings of a couple of games. In the semi-final game down two runs with two outs in our final at bat, we strung together four straight hits- a single by Ryan Clendening, a double by Riley Vander Pal, a single by Kendall Karrmann, and another single by Sophia Hazelton to plate the go-ahead run.

In the championship game, we got key hits from Mackenzie Jacobson, Tori Wietgrefe and Morgan Benedict, along with a big home run from Caitlyn Veal in the fifth inning to break the game open 6-2. Izzy Young put down a sacrifice bunt in the semifinal game as well as making a diving stop at second base in the championship game. The pitching from Kendall Karrmann and Meg Schultz was superb in the final four bracket games. They were both tired from a long weekend but threw well when it counted. We were without our other pitcher, Hailey Hagedorn, for the final four bracket games. Hailey was hit in her pitching hand by a line drive while pitching our first bracket game on Saturday. Hailey had also been hitting great, so we were missing a hot bat as well.

The competition, particularly in bracket play, was very tough. Each of the teams had strong pitching and excellent hitting. You could also tell the teams were well coached. Both NWA Crush 05 and Oklahoma Steele 04 were great hitting teams with very good defenses combined with strong pitching. To beat them, we had to have stout defense, great pitching, and clutch hitting. We were fortunate enough to be able to get each of these against them.
FPN: In your first pool play game you lost to Oklahoma Steele 04, you would later defeat them in the championship game! How did your team approach the re-match? What was the key to that victory?

Coach Stone: We played the Oklahoma Steele 04 in pool play and lost to them. The team knew they didn't play their best softball. Playing them again in the championship game the team just wanted to play the way they knew they could play- have good at bats, put the ball in play, play solid defense with strong pitching. We did each of these. The key to winning the championship game was getting clutch hits when we had opportunities to score.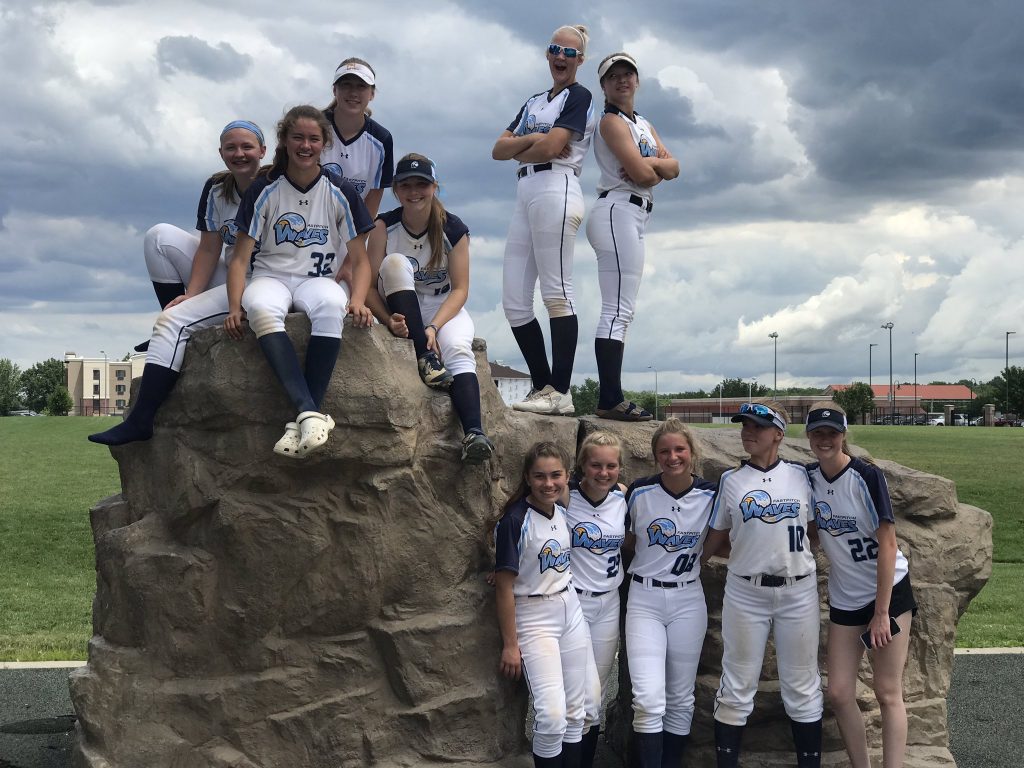 FPN: You are another "northern" team that had a lot of success this past weekend. How do you combat Minnesota's seasons and still play a high level of softball across the country?

Coach Stone: Being a team from Minnesota and being unable to play softball outdoors in cold weather, we do a lot of hitting and conditioning indoors from October through March. We also play a few games in domes during this time. In March the high school season begins and runs through the end of May. So, our travel team begins practicing as a team toward the end of May- whenever the girls high school season ends when their varsity team is eliminated in sections or at state. We only had one tournament (last weekend) prior to coming to KC, but we tried to fit in as many practices as possible to be as prepared for the competition at the Top Gun.
FPN: What is on the horizon for the Waves? Any big tournaments or games your squad is particularly excited about?

Coach Stone: As far as the remainder of the season, we play in a very competitive tournament in the Twin Cities (Minneapolis-St. Paul) this weekend that brings most of the best teams from Minnesota along with some very good teams from Iowa, South Dakota, Nebraska and Missouri.

We end the summer season playing in a PGF event in Peoria, IL at the end of July. In between we are playing in tournaments in Minneapolis-St. Paul against most of the best 14U teams from the Twin Cities and surrounding area. This area has several very good teams.
FPN: Lastly, what is something people should keep in mind – or that you'd hope they see – when they watch or follow the MN Waves?
Coach Stone: When people watch our team, I hope they see a group of girls who enjoy playing together and who play hard and smart every time they take the field- whether in practice or in games. Our goal is to learn something new at each practice and game. And, as the team showed in bracket play, even if you get behind, you are never out of any game.
————————————————–