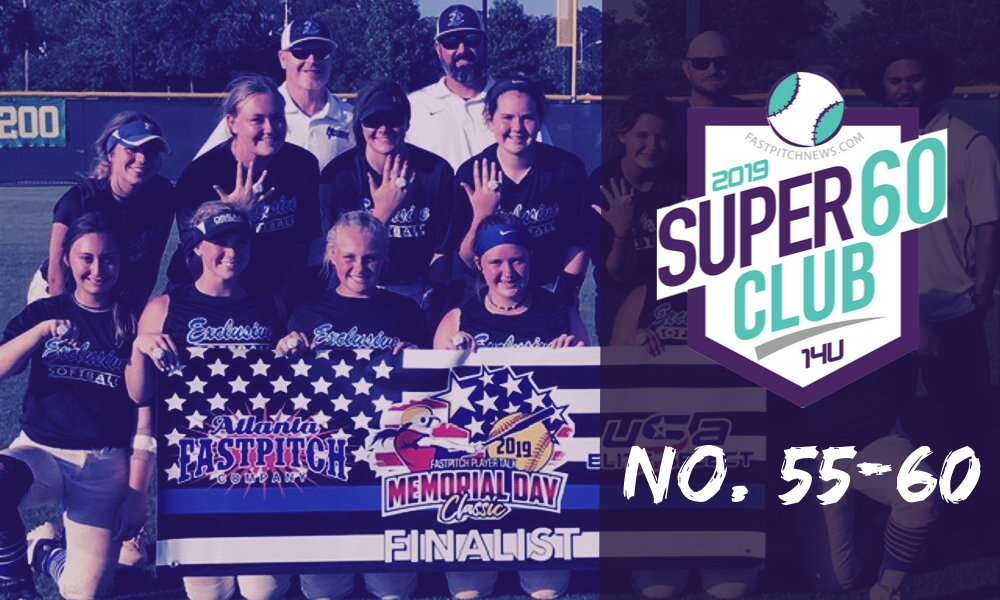 With the release of our 2019 Super 60 14U teams, we are breaking down and highlighting each of our ranked teams, their successes, impact athletes, and more.

All programs were attempted to be contacted to the best of our ability. We understand sometimes e-mails get misplaced, forgotten about, don't end up in the right place. To contribute more information, submit a photo, or help with a correction please contact us at support@fastpitchnews.com we would love to hear from you!

Keep reading with special discount code RANKINGS for 25% off your subscription!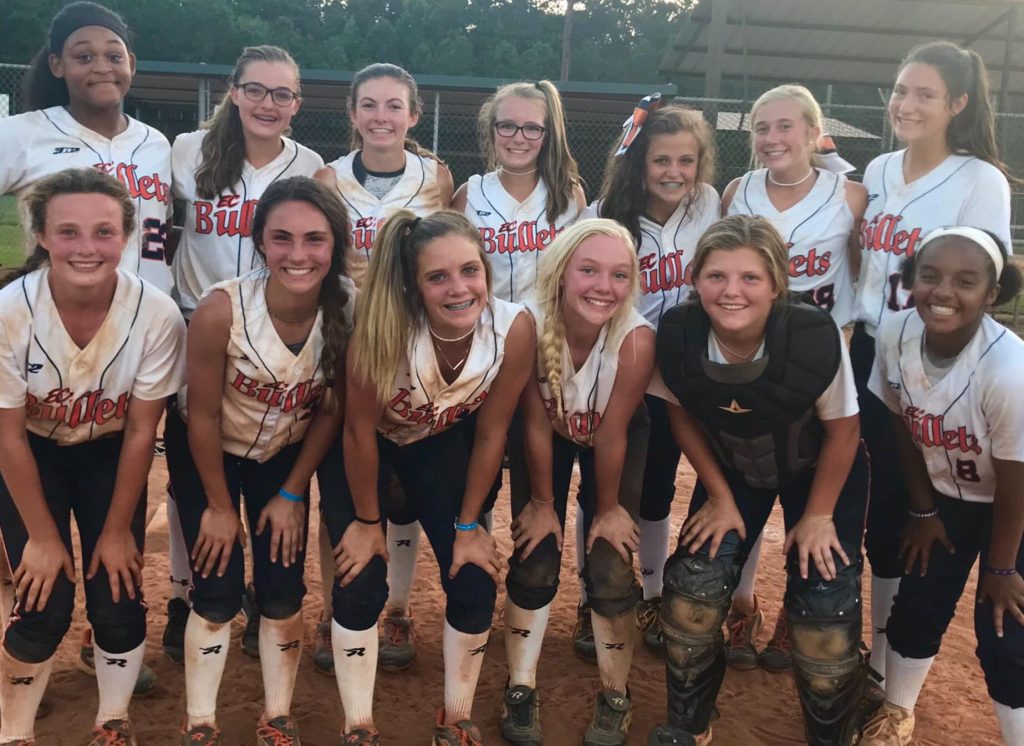 No. 55 – EC Bullets Wiggins
This first year 14U program transitioned nicely and recorded a couple key finishes including 16th at Triple Crown Nationals and 25th at the Colorado Sparkler Junior Power Pool. The Bullets challenged themselves with a tough schedule and played some of the nation's best including Firecrackers Brashear/Thornburg, No. 47 FC Holcomb Knight, No. 36 Texas Sudden Impact 2022, Hanover Hornets, No. 59 Houston Power Connors, HM Mojo 2022, and No. 17 Team North Carolina Eaton.
They return a solid core of players for the 2019-2020 campaign including Elysa Kresho and Caity Patterson. Hailing from one of the nation's most prolific programs, head coach Allen Wiggins squad is poised for an even stronger run at some of the nation's top events.
Impact Players:
– Payton Bailey (P/1B)
– Elyse Kresho (2024, P/1B)
– Erin Parker (2023, 1B/OF)
– Caity Patterson (2023, P/1B)
– Addie Keef (2023, OF/MIF)
– Katelyn Deguire (2023, 2B/OF)
–
No. 56 – Top Gun Berryman
A solid season for Top Gun, they took home a 7th place in the Colorado Sparkler Jr Elite division and 25th at USSSA Elite Select WFC. Berryman's squad put together a fantastic performance against national power, No. 2 Tennessee Mojo but fell just short. They also took on Unity 14U Norris and No. 41 Hotshots 14U Platinum.
–
No. 57 – Corona Angels Ortega
Another team from a historic program, Corona Angels Ortega dominated during the Colorado Sparkler Junior Elite tournament finishing fifth while complaining a strong showing at PGF Platinum to finish 17th. They faced off against teams such as Breakers Lab Gray, Suncats, Panthers Gold, OC No. 60 Batbusters Shockey, No. 27 AASA Pikas.
–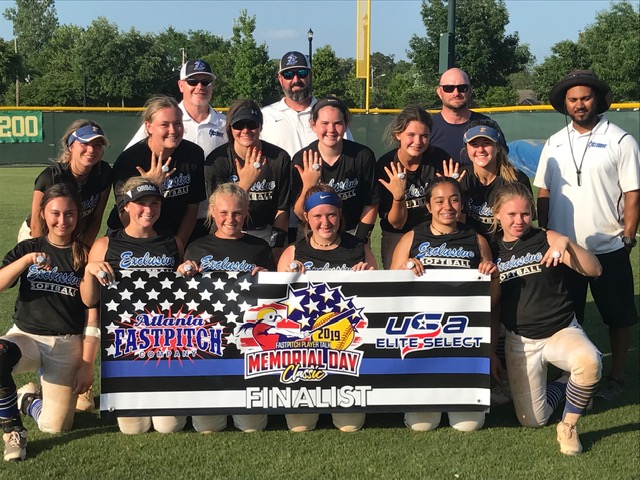 No. 58 – OK Exclusive Premier Hughes

Colorado Sparkler Junior Elite 13th place and 9th at USSSA Elite Select WFC

Exclusive faced a juggernaut of a schedule at USSSA WFC facing Texas Blaze United and Texas Glory 2004 ARK. Then in bracket play the Exclusive dropped their first contest versus Midwest Speed Wagner before rattling off an impressive stretch of wins over Tulsa Elite NWA '04, Premier Fastpitch 2023, Locos 04, and Illusions Gold Reyes. Ultimately they fell just short of the championship bracket following a loss to No. 1 Bombers Burgess.

Exclusive will age up to 16U next season under the name "OK Exclusive 16U Gold Hughes/Smith" and have added three new members to their roster.
RHP Taylor Beutler, MIF/UTL Karli Wehunt, and lefty C/OF Reagan Moore. According to Coach Dillion Sottile, Beutler throws in the low to mid 60's and owns a good rise ball, drop ball, and change up. Wehunt will bring a strong presence defensively and offensively while Moore is another presence that strengths this squad both offensively and defensively.

We talked to Coach Sottile about his squad's 2018-2019 campaign.

FPN: Can you share with us a bit about your team's season? Big successes, things you were most proud of, etc.

Coach Sottile: At the WFC in Kansas City we again battled our way back through the losers bracket. We finished sixth and getting beat out by Bombers Gold HTX Burgees, the eventual winner 4-1 in a close game that went down to the wire. That's when I knew we were legit. The entire season was a huge success. We didn't finish first in any of the big tournaments but we did compete at a very high level. The most thing I'm proud of was the team chemistry. The girls along with their parents made the entire season a great season. It also makes coaching easy…
FPN: What was your favorite match up/game/moment from the summer?

Coach Sottile: We played in the USA Elite Select Fastpitch Player Talk Memorial Classic in Conway Arkansas. We lost early in bracket play to Tulsa Elite Ark 04. They are a good team with outstanding athletes and a good coaching staff. I told one of the coaches who is a friend that we will give them a better game next time. It was now win or go home. We played a few more games on Sunday and then woke up early on Monday playing and winning 4 games in a row. We met Tulsa Elite Ark. 04 in the semifinals. The game went back and forth and we eventually we won in extra innings. We lost in the finals to OK Hotshots Premier Yeatts (now Ok Athletics 16U National team). Honestly we were outmatched. Playing five games back to back, we gave them all we had for 3-4 innings but eventually the gas ran out. That weekend set the table for the rest of the year.
FPN: Who were your key contributors?

Coach Sottile: First off I would like to mention Jillian Dickson. She was our ace all year and put up great numbers in the circle, hitting for a high average, and hitting multiple home runs. For the most part we pitched as if it was a staff but when push came to shove she was the one relied on the most. Danni Sottile, Addisyn Peterson were the other two big time pitchers that got the job done! We had a change of pace pitcher M'Kalei "Red" Meyers. She had a difficult time making her way to the circle so she adapted, worked hard and played the DP role. She had countless big time clutch hits. Another player that really carried the team was catcher Beth Damon. She had to catch more than we would have liked but she is one of the best in the business. We had some limitations of who could play where and taking her out to give her rest our defense would take a hit. Kylie Kuykendall is one of the best first basemen's in the OK. She can react, she's flexible, and makes quick decisions. She also hits for power. The middle infield was about as good as it can get. Baylea Smith and Danni Sottile has the skill set to go far in this game. Both girls hit for high averages and provided power. Third basemen Madison Conley stepped it up. She was so smooth all season. Might as well forget about bunting when she was there. Madison hit for power providing home runs. Centerfield we had Kayde Monroe. She is FAST and has a strong arm. She was the leadoff slapper for the team but could also hit for power when needed. If she didn't hit directly to a defender she was getting on base. She stole a lot of bases also. Abigail Simmons stepped up as the left fielder. She had the speed and strong arm needed. The last two girls were outfielders Bre Magby and Dulce Gallardo-Owens. Bre and Dulce were subs most of the year. At the WFC we had some injury and our star centerfielder gone, these two girls played and without a doubt were the biggest contributors in our wins. They without a doubt along with Abigail Simmons were MVP's for our team.
–
No. 59 – Houston Power Futures – Connor
Houston Power find their way into the Super 60 with a 49th finish at the Colorado Sparkler Junior Power Pool tournament and 16th at Triple Crown Nationals. Want a challanging schedule? Look no further than Houston Power's opponents during these two events. At Triple Crown, Connor's squad faced off against No. 55 EC Bullets Wiggins, No. 17 Team North Carolina Eaton, HM Tennessee Mojo 2022, No. 45 Louisville Lady Sluggers 14u-Zuege, and No. 20 Atlanta Vipers 04 – Palazzo.

In Colorado they won their pool posting a record of 2-1 and faced off against No. 58 Top Gun Berryman, Corona Angels FTS, Impact Gold National Saenz, No. 4 Diamond Sports Hotshots Nelson, LTG Henderson/Lively, and AZ Storm Putz.
–
No. 60 – OC Batbusters Shockey

The OC Batbusters went an incredible 10-0 at 2019's PGF National Platinum Tournament, taking home the national title! Coach Shockey's squad played a vigourous schedule that included matchups against teams such as Georgia Impact Lunsford, Mercado Tidd, LTG Carda/Seva, Corona Angels Ortega, Birmingham Thunderbolts 05, Texas Blaze Elite, All American Sports Academy, Texas Glory Naudin, Germantown Red Devils, Batbusters Guthrie, Ohana Tigers, Dirt Dogs, and the Cal Cruisers.

Impact Players:
– Mia Montes
– Mia Escujuri
– Indiana Langford
– Regan Shockey
– Mikayla Medellin