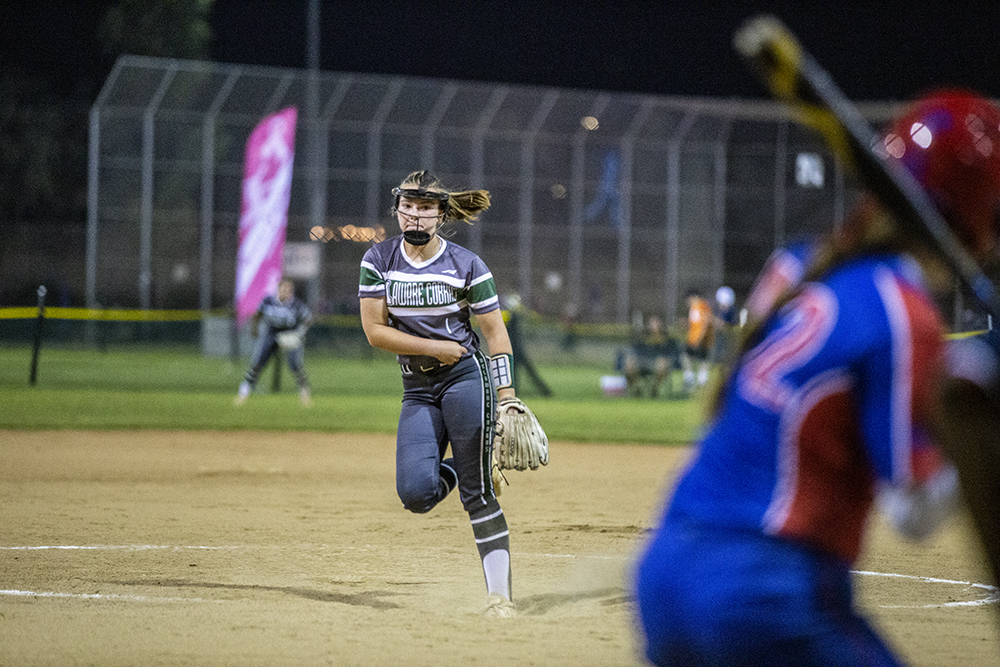 Today is the day! 14U PGF bracket play is set to begin and the field is talented with a number of squads who have a shot to make very deep runs. Let's look at who impressed through pool play and what lays ahead in this loaded bracket.
Login to continue reading! Need a subscription? Use promo code "PGF30" and pick yours up today.
Delaware Cobras
I was excited to watch this Delaware Cobras program team compete representing the Northwest and a program I haven't been able to watch before. They took the field versus Corona Angels Fel Ty Slye and impressed in the outing.

The Cobras can fly! Top to bottom they have a ton of speed, love to run the bases, and will challenge the opponents arms until proven they'll be stopped. They can also swing it a little bit and collected five hits for three runs en route to the 3-1 victory.

In the circle, Layna Gerhard (2024) dazzled and turned a lot of heads. This kid is a little stud! She one hit the Angels and they really weren't all that close to touching her over the course of the game. Gerhard's velocity was good, especially for a 2024, and her off-speed was devastating. She will throw it at any point in the count and is best when she lives low in the zone; however, she will go up with the rise which, when controlled, is also a handful for opposing hitters. Oh! And she can field her position better than most I've seen at any age here at PGF, she is extremely athletic and agile. The Cobras went 1-2 in pool play however Gerhard didn't throw much and with her in the circle during bracket play, the Cobras have a shot to make a run. Keep an eye out for her, she's coming and I believe she'll make a big impact through her prep career and beyond.

Marlayna Capaldi (2022) also grabbing my attention with her ability at the plate, blazing speed, sure glove at shortstop, and wick arm speed. She was also a ton of fun to watch with a high ceiling of potential.

Athletics-Mercado 2023 vs. Gainsville Gold
Anytime an Athletics-Mercado team steps on the field an opponent knows they are in for a battle. This program, top to bottom, operates on a different level and this Athletics 2023 squad is no different.

Gainsville Gold is another top tier program led by coach Jeremy McFadyen. I've had the pleasure of covering McFadyen's talented 18U team am excited to see how his 14s fair at PGF. Gold has a talented, well-coached roster highlighted by Tori Hedgecock (2021 – Arkansas) and shortstop Aminah Vega (2022 – UCF). Hedgecock is a pitcher who should carry a large portion of the load here in Huntington Beach and played up on the 18U program with her sister, Rylin Hedgecock (2019 – Arkansas).

In the night cap, the Athletics squared off against the Gainsville Gold in a well-balanced, fun matchup that could very easily be an early preview of a late bracket/championship game. Gold took home the victory behind a late inning comeback, 6-5.

For Gold, Vega and Madison Hewett (2022) contributed home runs while pitcher Grace Taylor (2022) collected the victory. Taylor threw five innings, sprinkled seven hits, and allowed only two earned runs; an impressive outing against a strong Mercado team.

For Mercado Priscilla Llamas, Jiselle Hernandez, and Alexa Rosales all contributed in the circle while went 2-for-2 at the plate. Alyssa Hovermale and Natalie Lopez also contributed offensively.

Again, make no mistake, these should be considered two of the top teams in this tournament. Biggest key to success? Cleaning up the errors defensively, both teams had two apiece in this contest and for Gold, those errors cost them a handful of runs which they may not be able to come back from in bracket play.

Illinois Chill
Wow. What a team! The Illinois Chill are talented and another strong representation of the level of softball talent that lives in the Midwest. Consider the Chill a big time contender in this year's PGF field.

It's hard to miss 2022 pitcher, Brinkley Kita. This young woman is dominate in the circle shutting out and one hitting a strong Universal team, 10-0. Kita has tons of tools at her disposal to wreck havoc on opposing batters. Arguably her best pitch is her off-speed, it's disgusting in the best way. She is another pitcher who is comfortable throwing it at any point in an at-bat with confidence and consistency. Universal just couldn't really figure out Kita and were unable to square much up.

But that's not all the Chill have going for them! Their entire roster can hit; they have speed on the bases; and they are so smooth, skilled, and sharp on defense. Basically, they are a very complete team.

Other standouts include Kalyn McCarthy (2022) who has blazing speed and is a big threat on the base paths. Emma Kavanagh (2024) has a big stick and a great eye at the plate, she is also a talented catcher. During the game against Universal, Kavanagh didn't necessarily do anything mind blowing behind the plate but that is also the point. She was so solid, she did her job perfectly, and unless you were specifically watching you wouldn't necessarily see it. That's often the roll of the catcher. But everything she did we sharp, crisp, executed perfectly and she lead her field well. She is very fun to watch compete. Reese Hunkins (2022) is the "poster child" for what a talented, team leading shortstop should look like; she is a "beast" in the middle infield with a ton of range, a strong arm, and all the tools to compete at a very high level.
Universal
Universal is another strong program across all age levels and this 14U team has a number of nice pieces that could carry them far. Anna Jardin (2023) and Lorenzza Marcacci (2022) especially caught my eye. Despite the rough outing versus the Chill, Jardin has some solid skill. She is very spinny, lives low in the zone, and will come in at your hands; this can be a challenging combination for opponents. Universal also has some depth in the circle that will serve them well through bracket play. Marcacci impressed the most with her game play at third base. Agile and athletic, Marcacci has the talent to make the difficult look routine and help lock down the left side of the infield.
Thunderbolts vs. Choppers
Another intriguing pool match up that could preview a late bracket contest.

On the mound for the Bolts was 2022 Madison Inscoe. She threw well with good velocity, lots of spin, and worked all parts of the zone extremely well. She will be a handful for any team that faces her through PGF bracket play. As a complete team, the Bolts were extremely aggressive on the base paths and put pressure on the opponent's defense. Look for this to continue through bracket play.

For the Choppers, I was most impressed with the play of their outfield as well as their catcher. Justine Lambert (2023) and Tenley Sweet (2023) both made incredible plays in left and right field while Julie Ogle (2023) was impressive behind the plate. The demands on Ogle this game were tough; she was going up high to rein in balls, blocking everything, and bursting side to side to keep things in front. I did not see anything get by her and that was an impressive feat, she worked extremely hard for her pitcher behind the dish and deserves "kudos".
Hotshots Premier vs. Bandits Richards
This pool matchup pitted two contenders to make deep runs in bracket play against each other and it was a fun one to watch!

The Bandits, like their older teams who competed last week, dazzled defensively. Most notably I was impressed with Sydney Doloszycki (2022 – Syracuse), she is a stud shortstop with a big bat to boot. She is a noticeable team leader with a ton of potential. Top to bottom, the Bandit bats impressed as they are yet another squad from this program who are threats at the plate.

Dakota Staffan (2023 – Missouri) anchors the Bandits in the circle, however, she isn't untouchable and will rely on her defense to secure victories. As long as the field behind her plays to their ability, it could be tough to put up runs against this team.

When it comes to the Hotshots, they are a loaded team.

Holy hitter, Dee McClarity (2022). I've had the pleasure of knowing about and meeting McClarity for awhile and it was great being able to finally see her hit in person. She rakes with tons of power and a lot of discipline. She also works incredibly hard on this craft and will be a big name to remember as she approaches her collegiate career. And it's not just McClarity that can hit, this whole roster is stacked. Madyson Manning (2023 – Oklahoma) also caught my eye at the plate, another pure born hitter she uses all fields well, has great plate discipline, and takes monster hacks. It wasn't too much of a surprise later finding out that she is an Oklahoma commit.

In the circle they are anchored by Emma Strood (2022 – LSU) and Savannah Geurin (2022 – Oklahoma) but have more depth including Kasidi Pickering (2023), Ava Brown (2023), and Madison Applebe (2022). Again, they are just stacked and incredibly dangerous. This is another team you should be on the look out for to contend for the championship.
Bracket Outlook
Find the PGF 14U Premier bracket, here.

The top corner of the winner's "B" bracket is a dozy. FC Brashear Thorn, OCBB Flores, Athletics Mercado Greg, Nor Cal FC EP, Georgia Impact Jeffreys, Teax Glory Naudin, and Texas Bombers HTX: holy cow. This is a "murders" row of programs all ready to knock each other into the losers bracket in the first few rounds of play. Many of these teams have the depth and talented needed to make deep runs into the bracket but some are going to have to do it the "hard way" and early. Any of these teams that get knocked into eliminations games will be a handful for any opponent. Depth is going to be crucial when that happens. I think OCBB Flores and Texas Bombers HTX have what it takes to get out of those first two days of bracket to set up a big match up with one another, Friday at 12:30 PST.

The middle/bottom of the "B" bracket is also interesting. Nothing is easy in PGF but the Chill could have a favorable road to Friday. I believe Texas Blaze United has what it takes to advance through the Ohio Hawks and Corona Angles FTS (depending on what pitchers are thrown) to set up a Thursday 7:15pm contest versus the Chill. The United just picked up a big win against a talented Mojo team and are not to be underestimated but I think the Chill advance to Friday where they could face one of five teams including the Bombers Gold and Atlanta Vipers programs, my vote goes to the Vipers. Who it is that could be an intense, fun game.

In a tough draw, EC Bullets Mayfield and OCBB Camp/Stith matchup in round one. It should be a big time slug fest with a tough opponent dropping into the losers' bracket straight away.

Another interesting potential game that could be set up on Thursday at 5:00pm PST could be the Mojo versus Hotshots Premier. The Mojo will need to get past the RI Thunder and Texas Glory 05 teams first while the Hotshots need one win over American Pastime for this to happen. The Mojo are another threat in this field to make a very deep run. I'm not sure how their pitching would hold up against the Hotshot's monster bats but, it would be fun to find out!

Lastly, the lower corner of the "A" bracket could be fun to follow as well with the Beverly Bandits Futures, Universal 2023, FC Brashear 2022, FC Brashear 2023, and Universal 04. It kind of stinks for teams in the same program to potentially knock each other into the losers' bracket but all the same, it could make for some tight and intense competition.
Bracket Outlook
FPN Favorites (no particular order):
Illinois Chill
Hotshots Premier
OCBB Flores
Athletics 2023
Athletics Mercado Greg
FC Brashear Thorn
Corona Angels Tyson
TN Mojo
–