Grace Sparks collected a ground ball and fired over to first baseman, Olivia Mcfadden, for the final out as the Bombers punched their ticket to the 16U PGF Premier bracket championship; surviving an intense battle against Iowa Premier. Elation took over and the celebration began.

Bombers' catcher, Maggie Herdejurgen, was one of the first down the line. The talented 2021 leapt into the air with joy but when she landed her ankle twisted and her knee followed as Herdejurgen fell to the ground in pain.

"My heart was absolutely broken," said Herdejurgen. "The pain was super instant. When I fell to the ground I sat there for a minute waiting for the trainer and when he came back, it felt brand new, it didn't hurt at all. So I got up and started walking, I moved a certain way, and it kind of tweaked a little bit so I went and sat down. My adrenaline had gone down and that's when I started hurting like really, really, really bad."

With another game left to play, Herdejurgen tried to push through.

"I was catching one of my pitchers, getting ready to catch that [next] game and I jumped to get a rise ball. My whole knee just lit on fire," she recalls.

She sat out the bracket championship and headed for cryotherapy and a laser treatment hoping it would help get her feeling well enough for the next day's National Championship game. But after a night of sleeping with her knee elevated she woke up barely able to walk.

"Having to call my coach in the morning saying, 'Hey, I can't play I'm sorry. I know y'all needed me. But I'm sorry.' A lot of emotions were flowing this morning," she said.

So Herdejurgen dressed, but she didn't play. Instead, she fulfilled her new role of dugout spark plug, biggest Bombers' cheerleader, and teammate without skipping a beat.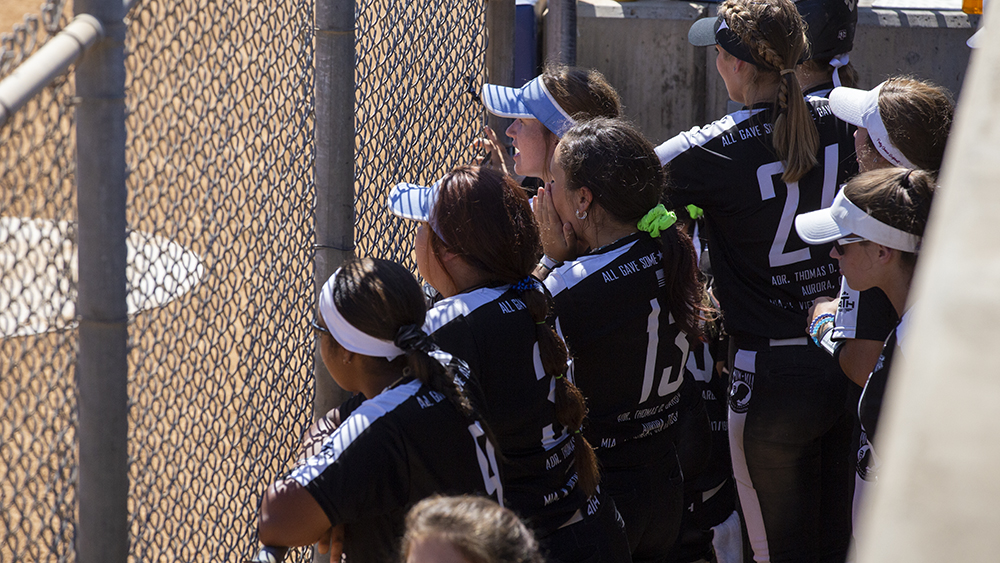 She was hard to miss. While one can assume the pain in her knee was extricating she still did everything she could to support her team. She was up on the fence cheering, partaking in the team huddle in between innings, and even walking out to the circle to help her team change out their sign cards when needed. Limping back to the dugout when her job was complete.
But then the biggest surprise of all happened.
"When he [Coach Bill Jones] told me to go start swinging a bat, I thought I was going to break down in tears," Herdejurgen said with some disbelief. "I thought 'dude, are you kidding me?'"
This wasn't something Herdejurgen and her coach had discussed as a possibility before the game and truly took her by surprise. But in the bottom of the sixth, down 4-1 with runners on second and third, the Bombers needed a timely hit to keep their title hopes alive; and it was Herdejurgen who Coach Jones turned to.
"Going into that at-bat all I wanted to do was my job," she said. "I wasn't worried about hitting a home run, I wasn't worried about being the big hero, I was just worried about putting the ball in play. And that's what I did and I've never felt a sensation like that playing in a softball game before."
Herdejurgen came through. She punched a hard ground ball up the middle to score teammates, Teagan Whitley and Kramer Eschete, bringing the Bombers within one while struggling and limping to get down the line herself.
"I thought I was going to collapse. When I finally got there I was like, 'I'm gonna sit down, on the base, please let me sit down,'" she laughed.
She was lifted for Emma Humplik who re-entered the game and slowly limped off the field toward her dugout and teammates waiting for her with open arms.
Once she made her way through the hugs and high fives, Herdejurgen found a spot on the bench to rest and get ice though it didn't take long to find her up on the fence again, cheering on her team.
This may have honestly been the most impressive thing about Herdejurgen during the National Championship final. Yes, the pinch hit was incredible, but her attitude and approach to her new role was even more awe inspiring.
"That's my job," Herdejurgen said with noticeable pride. "Whether I'm on the field or off, my teammates can do it without me. I am not the determining [factor]. We have a very, very capable catcher, I mean, she's committed to [Texas] A&M! She can do it, and she did it."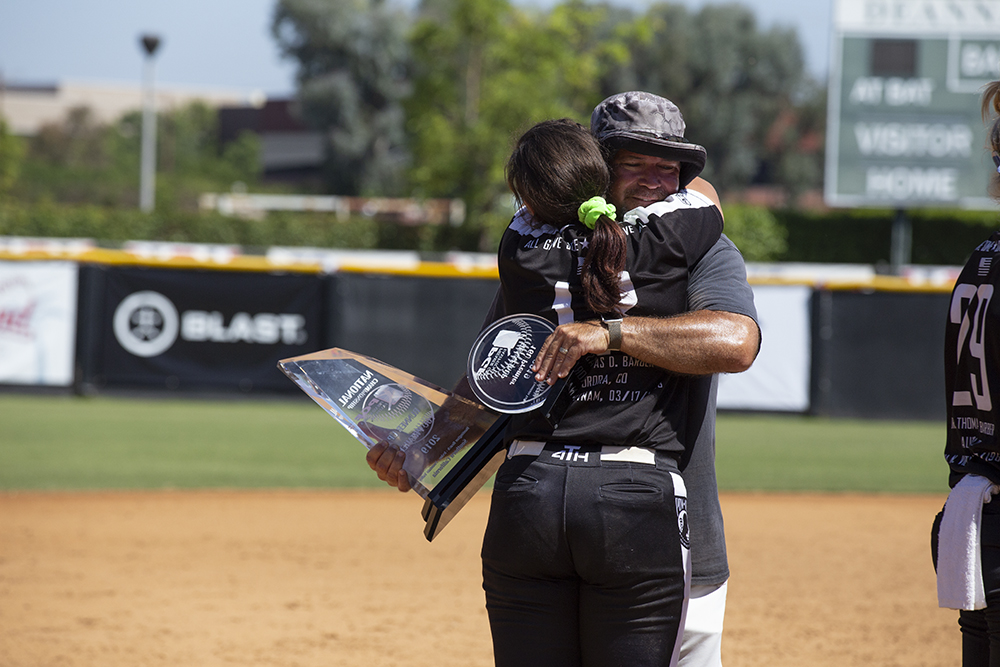 In the end, the Bombers came up just short against the Beverly Bandits in the 5-4 thriller that could not have delivered anything more and doesn't dismiss Herdejurgen's efforts or the incredible week the Texas Bombers had at PGF.
"You know, we may have come up short today but I still [believe] that any other day, we've got them," she said.
Herdejurgen, a 2021, is verbally committed to Oklahoma State University. We wish her a speedy and sound recovery.