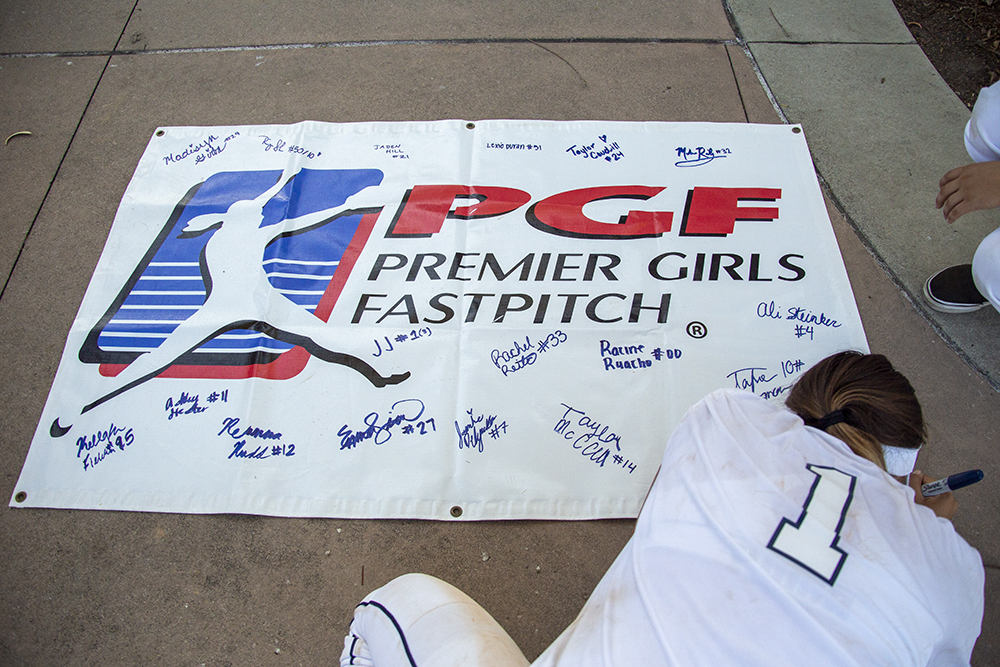 Fall Club season is gearing up and the PGF Shootout is a huge invitation only event! Teams ranging from 12U-18U will square off for paid entrees into 2020 PGF National Championship play. There is a ton of softball set to be played starting today and running through Sunday. The tournament is structured with pool play games on Friday and Saturday then moving into a pre-drawn bracket on Sunday. You can find the schedule and brackets, here.
14U POOL
POOL A
May very well the most "stacked" pool in the 14U division with teams from perennial power programs. Athletics Mercado 2023, Corona Angels Tyson, Suncats Jimenez 2023, and WA Ladyhawks-Conover make up this pool.

POOL B
2019 PGF Premier 14U National Runner-UP Arizona Storm Appel is housing within this pool and is joined by Batbusters/Fullerton, CA Grapettees Medina, and So Cal Choppers 14U. We will be interested to see how these teams stuck up against the Storm as well as if Appel's squad can continue on with their success following the end of the 2019 summer campaign.

POOL C
Two FPN Super 60 Clubs are represented in this pool: Firecrackers Holcomb/Knight 2023 and Universal Fastpitch 2023. The Firecrackers are a tight-knit group with tons of talent that culminated with a T5th finish at 14U PGF Platinum this past summer. Universal has a number of impressive pieces to their roster and are coming off a fantastic weekend at the PGF Phil Mumma Tournament in Stockton, CA. Universal posted a 8-0 record while only allowing five runs. Along the way they defeated LTG-Henderson/Lively, Sorcercer Schroll, and the CA Breeze 2023 twice. We are looking forward to watching how this match up plays out.
POOL F
Another FPN Super 60 Clubs is housed in Pool F: the Cal Cruisers Caouette. They are joined by Batbusters Wellbaum, Firecrackers Brashear 2023, and So Cal Athletics Medina. The Cruisers are in a good position to win out their pool but it is worth watching how these other programs perform especially as their first season of 14U play is under their belts.
14U BRACKET
Most Interesting Opening Round Draws:
Corona Angels FTS versus Universal
Corona Angels Tyson versus Choppers
Athletics Tidd versus Grapettes

Most Interesting Second Round Matchups:
Winner of FC Holcomb versus WA Ladyhawks versus LTG Lions
Winner of Athletics Tidd versus Grapettes versus Athletics 2023
Winner Arizona Storm versus Suncats versus Cal Nuggets

Favorites (Alphabetical Order):
Athletics 2023
Arizona Storm Appel
Corona Angels Tyson
Universal 2023
16U POOL
POOL A
We're excited to see how the Central CA Dirtdogs-Pickering (a FPN Super 60 14U Squad) age up after a dominate run at 14U Premier PGF last summer, taking home third place. They will be challenged as they are joined by Beverly Bandits Demarini Helbling, Cal Nuggets Woods, and So Cal Chopppers in their pool but with a close knit roster bursting with talent, it should be fun to watch how they do.
POOL B
A "murder's row" of teams, Pool B is sure to turn out some fun, intense games. California Breeze Birch, Firecrackers Brashear, OC Batbusters Lara/Portesi, and WA Ladyhawks Breer comprise this group.
POOL D
Corona Angels Slye headlines Pool D and are joined by first year 16U team, Firecrackers Brashear/Thornburg 2022. The Angels should be able to sweep this grouping of pool but it's always exciting to see how a newly aged up team will perform as well! Lil Rebels Vern and Suncats Jimenez round out this grouping.
POOL F
This could be a powerhouse grouping of teams that include Corona Angels Howard, Arizona Storm Mathis/Leyvas, Ohana Tigers Herrera/Helms, and So Cal Athletics Briggs. The Ohana Tigers are first year 16Us and a Super60 14U squad we are excited to keep our eye on against some fantastic talent.
16U BRACKET
Most Interesting Opening Round Draws:
Choppers versus Cruisers
Cal Breeze versus Angels Slye
Explosion Flores versus FC Thornburg

Most Interesting Second Round Matchups:
Winner of Cal Breeze versus Angels Slye versus Athletics Greg
Potential FC Brashear versus OC Batbusters Lara/Portesi
Potential So Cal A's Briggs versus Bevery Bandits Helbling
I also like the grouping of Ohana Tigers v LTG Lions and Explosion Flores versus FC Thornburg. All of these games, including winner v. winner and loser v. loser could be really exciting evenly matched affairs.

Favorites (Alphabetical Order):
Athletics Mercado Greg
California Breeze Birch
Firecrackers Brashear
OC Batbusters Lara/Portesi
18U POOL
POOL A, B, and C
When they call this event one of the most competitive events in the country, you don't have to look any further than Pools A-C in the 18U Division.

A: Athletics Mercado, Arizona Storm Mathis, NW Bullets Campos, OC Batbusters Stith, and Suncatz Jimenez.

B: Batbusters Gomes, Corona Angels, So Cal Choppers Fausett, Sorcerer Williams, and Oro Valley Suncats Gold – Judge.
C: Sorcerer Old Skool, Firecrackers Brashear 18U, Jersey Intensity KOD Premier, So Cal Athletics Richardson, Beverly Bendits Conroy

Woah! I'm not sure how you pick the "best one" because they are all incredibly stack with almost all of these teams having a great shot at winning this year's event.
POOL F
Not to be forgotten, Universal Garcia is over in Pool F along with the Cal Cruisers, Cal Nuggets Woods, and Washington Ladyhawks Miller. Universal is in a good position to sweep this pool with it's loaded roster that finished T7th this past PGF Nationals.
18U BRACKET
Most Interesting Opening Round Draws:
Corona Angels Tyson versus Beverly Bandits Conroy
Batbusters Gomes versus Firecrackers Brashear
Arizona Storm Mathis versus Intensity KOD
So Cal A's Briggs versus NW Bullets
Most Interesting Second Round Matchups:
Potential Sorcerer Wiliams versus OC Batbusters Stith showdown
Potential Athletics Mercado Greg versus Beverly Bandits Conroy
Favorites (Alphabetical Order): As far as picking favorites that's tough with a field so strong and given some of the first round matchups that will knock teams out of contention. Here are some to keep an eye out for:
Athletics Mercado Greg
Beverly Bandits Conroy
Corona Angels Tyson
Firecrackers Brashear
Intensity KOD
NW Bullets
OC Batbusters
Oro Valley Suncats
Universal Garica