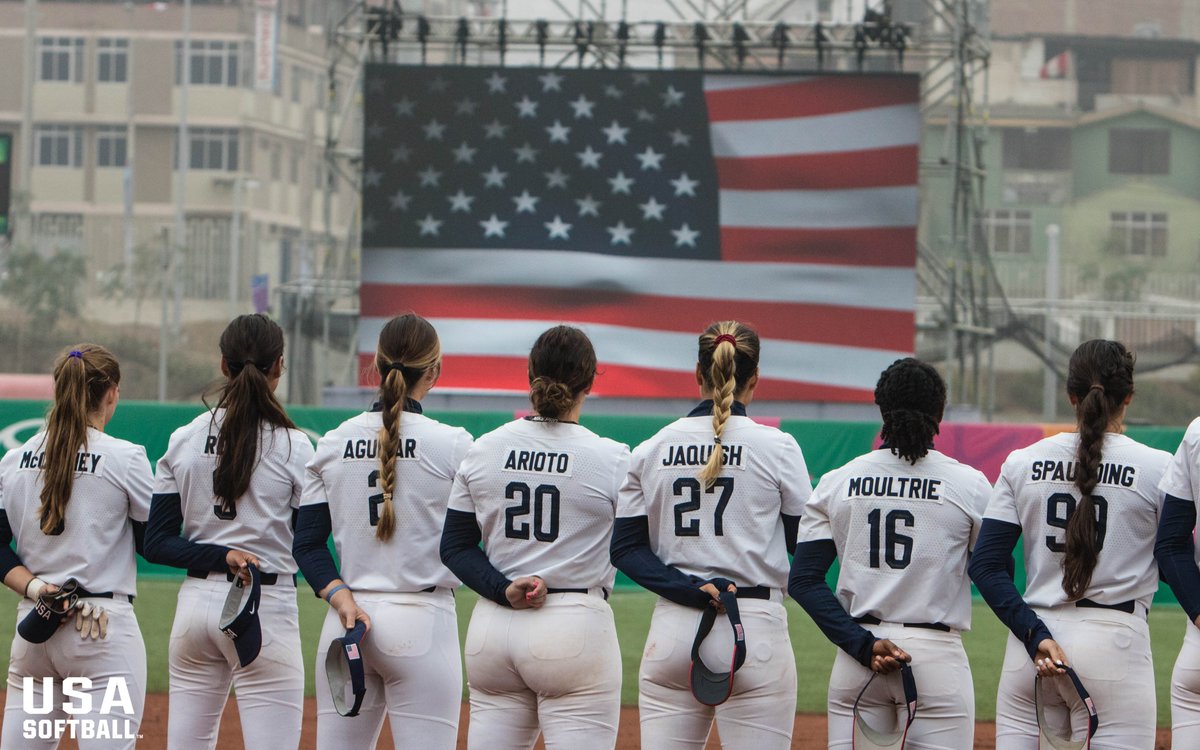 On Friday, USA Softball announced the invitations for 30 players to participate in the selection trials that will take place October 1-6th in Oklahoma City. On October 8th, Team USA will announce the roster for 2020 Summer Olympic team.
Monday USA Softball announced that Chelsea Goodacre declined her invitation. Goodacre broke her finger on July 21st when she was hit by a pitch during a game between the USSSA Pride and Canadian Wild which was reported on the USSSA Pride's Twitter page on July 22 via reporter Savanna Collins.
Goodacre has a cast in her hand with the broken finger and will not be healthy by October.
Sources tell us that Amanda Lorenz, who is also out for the USSSA Pride season with an injured knee, is expected to be healthy by the time the trials come in October.

Here are my top five questions following the release of the invitees:
1. With Goodacre now out of the mix, does the U.S. invite someone to take her spot?
I do not believe Team USA needs to replace Goodacre with another catcher as USA is deep enough at catcher with Aubree Munro, Amanda Chidester, Taylor Edwards, Sahvanna Jaquish, and Dejah Mulipola.
I would look to replace Goodacre's invitation with Ole Miss All-American and Scrapyard Fastpitch's outfielder, Kylan Becker, who I believe was the biggest snub from the list.
Becker has been part of Team USA as she was on the roster last fall for the Japan All-Star series trip. Becker, who concluded her Rebels career as an All-American, has had a great first summer with Scrap Yard including hitting against the USA pitching staff.
So here some other questions:
2. If you have not played for Team USA before do you have a chance of making the 2020 Olympic roster?
All the players invited have ties to and experience playing for Team USA at some level. So, if you are a player that has not played for Team USA in the past it's clear you aren't going to get invited. Experience in international play and playing on a Team USA roster this late in process is valuable in the eyes of the people that will selection the 2020 Olympic team.
3. Who was the biggest snub not given an invitation?
As mentioned above, Becker is by far the biggest snub. But other names include Megan Good, who's having a great rookie season with the USSSA Pride after a great 2019 campaign with James Madison where she was a top three finalist for Player of the Year. She is a strong two-way hitting pitcher and you'd figured that could be valuable for Team USA; but Good has not played in this system before.
I wonder if Good had not missed the 2018 season with a knee injury if she would have gotten an invitation to the most recent trials that were held last January in Clearwater, FL. Perhaps that could have gotten her a stronger look this summer and into October, but we may never know.
You can also make the argument that the best all-around third baseman is Jessie Warren. Her defense speaks for itself and she has proven to be a big time performer; as you saw in 2018 Women's College World Series where she was named the tournament's Most Outstanding Player.
While Warren's lack of invitation is not a surprise, considering the lack of experience in international play and not being invited in the past, it's still surprising and questionable to why she has not been part of the mix the last couple of years.
4. Who was the most surprising invitation?
Sydney Romero may the biggest surprise as many of us thought she would play for Team Mexico. This was indicated earlier this year when the Romero sisters told the Oklahoman on January 25th that they received an invitation to tryout for Mexico and intended to take the offer. So what happened? Not sure, we discussed it on Monday's edition of "In The Circle" but no one questions Romero's talent and credentials to be invited.
To me, Megan Faraimo is the biggest surprise invitee by far. While Faraimo has a bright future at UCLA after her freshman season and is having a good summer for U-19 Team USA, I don't see a scenario where Faraimo comes close to cracking the top four or five pitchers to make the roster. You can make the case that of the eight pitchers invited, Faraimo would rank eighth on the list. Good would have been a pick or even Kelly Barnhill if you want to simply pick players with Team USA experience.
Perhaps Faraimo got the invitation as reward for her strong performance on U-19 and is a vehicle to prepare her to be apart of future USA teams.
5. Who Is a lock for the 2020 Olympic Roster?
For me, there are players who I feel are dead locks to be named to the Team USA roster for the 2020 Olympics.
1- Monica Abbott– Abbott help lead Team USA to gold at World Championships last year and has shown she is still the the best pitcher in the world. Abbott also has Olympic experience as she was part of 2008 Summer Olympic team.
2- Cat Osterman– Coming back from a four year retirement, Osterman has been fantastic this summer for Team USA and is easily the second best pitcher on the roster, if not 1-B with Abbott. Osterman has proven to be effective as a starter or as a reliever and brings Olympic experience from her days on the 2004 and 2008 Olympic teams.
3- Halie McCleney– McCleney may be the best five tool player on Team USA's list who can do it all on offense and defense in centerfield. McCleney hit .520 last summer at the World Championships and always been among the top hitters on Team USA during every major international tournament she's participated in. I would be surprised if McCleney is not starting in center and hitting at the top of lineup when Team USA takes the field for their first 2020 Olympic game.
4- Valerie Arioto– Arioto is the best power hitter in the group. Arioto hit seven home runs and collected a .611 average at the 2016 World Championships helping lead USA to gold. Last summer, Arioto was pitched around often as she walked nine times but still hit .350 at last summer's World Championships. She is the most feared hitter opponents tend to be extra careful with plus Arioto plays a sound first base defensively.
5- Rachel Garcia– Garcia may be the best two way player in softball right now and has been a valuable part of Team USA's roster dating back to last summer. She provided the walk-off hit in a winners' bracket game over Japan. Garcia can obviously pitch and has hit in middle of lineup at times this summer for the US. With Team USA only able to take 15 active players with three alternates to the Olympics, versatility is critical and Garcia brings that in a big way to the table.
As far as the rest of the field, I believe it's still wide open. Plus, who knows, maybe we're in for a few more surprises. Only thing that is for sure, come October we will finally know who will be wearing the red, white, and blue during the 2020 Summer Olympics.