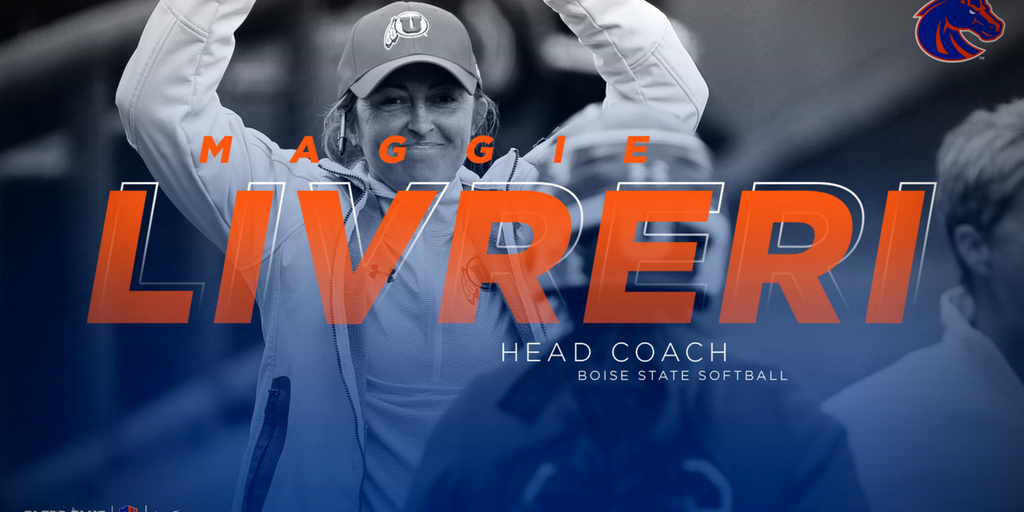 Many moves continue in College Softball this off-season with some coaches staying and some leaving. Here is the most recent news.
Boise State Names Maggie Livreri New Head Coach
https://twitter.com/BroncoSportsSB/status/1014962324354920449
On Thursday, Boise State name Maggie Livreri as the new Head Coach of the Broncos program replacing Cindy Ball who left for UCF eight days ago.
Livreri spent the previous seven seasons at Utah, her final two as associate head coach. She helped lead the Utes to the NCAA Tournament in three consecutive seasons (2015-17), including back-to-back Super Regional appearances in 2016 and 2017.
Before joining the Utes, Livreri spent five seasons at her alma mater, UNLV. Following two seasons as a volunteer assistant coach (2007-08) working under then UNLV Head Coach Lonni Alameda. Livreri spent 2009-11 as a full-time assistant, helping lead the Rebels to the NCAA Tournament in 2009.
Tracie Adix-Zins Returns To DePaul As The New Head Coach
Tracie Adix-Zins returns to Lincoln Park to lead @DPUSoftball program as next head coach.

Release ⬇️https://t.co/EfyuRWvt2d pic.twitter.com/wfHvmDhbMR

— DePaul Athletics (@DePaulAthletics) July 5, 2018
Tracie Adix-Zins is going back home as the former DePaul All-American pitcher was named Head Coach on Thursday. Adix-Zins helped lead DePaul to the Women's College World Series in 2007.
Adix-Zins takes over for her former Head Coach Eugene Lenti who after thirty-seven years at DePaul abruptly retired in June. The Blue Demons went 35-17 in the 2018 season, collecting a 15-3 mark in Big East play. The squad earned the conference's automatic bid to the NCAA tournament by winning the Big East Tournament.
Tracie Adix-Zins had most recently been an assistant coach at North Carolina State under Shawn Rychcik for three seasons. She tutored the Wolfpack pitching staff during her time at NC State.
Before her tenure at North Carolina State, Adix-Zins had also been an assistant coach at Oklahoma State, Wisconsin, and South Dakota State, serving as the pitching coach in each stop. The DePaul position will be her first as a head coach.
Omaha Names Amanda Rivera-Eberhart New Head Coach
https://twitter.com/OmahaSB/status/1014958205166866434
Amanda Rivera-Eberhart was named new Head Coach at Omaha on Thursday. Rivera-Eberhart joins the Mavericks after spending the last two seasons as an assistant coach at Purdue.
Before Purdue, Rivera-Eberhart spent four seasons as the head coach at IUPUI, leading the Jaguars to a 95-108 record and the Summit League Tournament championship game in 2016.
"We had tremendous interest in our softball head coaching position, and Amanda emerged as the leading candidate for several reasons," said Omaha Athletic Director Trev Alberts in Omaha press release. "She had previous head coaching experience in the Summit League, taking a team that had not had much previous success and building it into a conference champion.
Tripp MacKay Named New Head Coach at Kennesaw State
We're excited to welcome Tripp MacKay as our new head coach! Coach MacKay comes to Kennesaw State after two years at Texas.

Read the full release here: https://t.co/AASBE3x294 pic.twitter.com/WvBCfqvQwb

— Kennesaw State SB (@KSUOwlsSB) June 29, 2018
MacKay takes over a Kennesaw State program that is coming off its best season at the NCAA Division I level after going 39-17 in 2018, capturing the ASUN Conference's regular season and tournament titles, and earning its first NCAA regional appearance.
MacKay succeeds Pete D'Amour, who was named head coach at Virginia Tech on May 31. MacKay becomes the sixth head coach in program history.
Providence Hires Jill Karwowski
Thrilled to welcome Jill Karwoski back to Friartown as our new head coach! #GoFriars

Release – https://t.co/A2lESPbh0P pic.twitter.com/MPYYRwFp10

— Providence Softball (@PCfriarsoftball) July 2, 2018
Karwoski comes over from Quinnipiac where she was the Head Coach for five seasons, leading the Bobcats to a 102-154 record during her tenure and posting a 43-57 record in MAAC play.
Before Quinnipiac, Karwoski had also been the head coach at Merrimack College, a Division II school, and Morehead State. This marks a return for Karwoski who was a volunteer assistant at Providence from 2012-2013.
Karwoski takes over a Providence program that went 13-32 in the 2018 season, posting a 6-14 mark in the Big East.
Morehead State Hires Samantha Jones To Be New Head Coach
HIRED: Morehead State Athletics is excited to announce Samantha Jones as Head Softball Coach. Jones comes to @MSUEagles following a stint as assistant coach at Miami University and has extensive head coaching experience. #OneTownOneTeam

Read more: https://t.co/N1K2f4E9LU pic.twitter.com/BxwTZDooNi

— Morehead State Athletics (@MSUEagles) July 2, 2018
Jones spent three seasons as an assistant with the Miami Redhawks, assisting Chris Kuhlmeyer with the team's offense and working with the program's outfield corps.
Before her tenure on the staff at Miami of Ohio, Jones spent four seasons as the head coach at Asbury University, an NAIA school in Kentucky. She led the Asbury Eagles to a 70-100 record during her tenure at the school.
Jones takes the helm of a Morehead State program that posted a 28-23 record in 2018, including an 8-14 record in the Ohio Valley Conference.
Jenn Steele Steps Down as Marshall Head Coach
Stunning news out of Marshall on Monday as the University issued the following release: "Head softball coach Jen Steele will not be returning to Marshall University. A national search for the next head coach is underway. We will refrain from further comment until a new head coach is named."
Steele, who came to Marshall June 28, 2017, after four seasons as Head Coach at Jacksonville, coached Marshall for one season, going 25-29-1 including 13-9-1 in C-USA.
Megan Bartlett Staying at Ball State Through 2021
Cardinals sign @BallStateSB head coach Megan Ciolli Bartlett (@coachcbartlett) to extension through the 2021 season: https://t.co/7hi8Ed6QYL#ChirpChirp | #WeFly pic.twitter.com/dIMlhGyoKS

— Ball State Sports (@BallStateSports) June 29, 2018
Bartlett has led Ball State to 89-79 record in first three seasons including 37-19 in 2018 season which was the Cardinals' best during Bartlett's tenure as head coach. Ball State earned a share of the MAC West Division title with a 16-7 conference mark. Bartlett was a two-time All-American player at Notre Dame winning the Big East Player of the Year in 2004 and ended her collegiate playing career as the Fighting Irish's all-time leader in hits and stolen bases. She also spent a pair of seasons in the National Pro Fastpitch league with the Chicago Bandits. Bartlett has coached at Purdue; DePaul; Northern Illinois; and Loyola Chicago prior to arriving to Ball State.
Fordham Names Melissa Inouye New Head Coach
.@FordhamSoftball Announces Hire of Melissa Inouye as Head Coach https://t.co/noy8tyziCU

— Fordham Athletics (@FordhamRams) June 28, 2018
Inouye spent six years at the helm of Iona, posting a 112-173 overall record. The Gaels were 68-48 in MAAC play during her tenure, winning the conference tournament championship in 2014 and advancing to the NCAA tournament. The Gaels also participated in the National Invitational Softball Championship (NISC) inaugural tournament in 2017.
In addition to her time at Iona, Inouye's coaching resume includes stints as an assistant coach at Southern Miss; Kentucky; and Northwestern State, as well as time spent as a volunteer assistant at UNLV, her alma mater.
She takes over a Fordham program from Bridget Orchard who after 17 years as Head Coach left to her alma mater Villanova earlier this summer. Fordham posted a 33-23 overall record in the 2018 season going 18-4 in the Atlantic 10, finishing the regular season with the #2 seed in the Atlantic 10 tournament. The Rams won the conference tournament for their sixth consecutive A10 championship and NCAA regional berth where they went 0-2 in Baton Rouge Regional.
Plenty of College Softball assistant coaches are on the move to new places, and one particular coach is changing sports. Here are the latest buzz and steps involving College Softball assistant coaches.
Jennifer Herzog Promoted to Associate Head Coach at James Madison
James Madison announced on Thursday that Assistant Coach Jennifer Herzong got promoted to Associate Head Coach under Loren LaPorte.
Herzog has been in charge of the Duke's offense during her six years at James Madison.
"Jennifer has been a major reason for this program's success over the last six years," said LaPorte in JMU press release. "Her work ethic, dedication, and passion are truly remarkable and the program is very lucky to have her. Not only is Jennifer a quality and respected coach, she is a great person and a terrific role model for our student-athletes."
LaPorte got a four year extenstion which was announced on June 19 that will keep LaPorte at James Madison through 2022 season.
Matt Lisle Leaves College Softball For College Baseball
Matt Lisle goes from being a hitting coach at an SEC Softball program to an SEC Baseball program as Lisle leaves South Carolina to become the hitting coach at Missouri Baseball.
For the last 6 years, the softball community has been like family 2 me.

When I first started coaching 18 years ago my dream has always been Omaha & today I took a big step towards that!

I'm excited & thankful to Coach Bieser for the opportunity https://t.co/5r7MJ8Uwi4

— Matt Lisle (@CoachLisle) July 3, 2018
Lisle got his start in college softball as a volunteer coach at Oregon in 2012. Lisle has built a strong following online among NPF and MLB players as a hitting consultant through his online videos and e-books including Major League Baseball players Josh Donaldson of the Toronto Blue Jays and Joc Pederson of the Los Angeles Dodgers.
Rumors in the softball community had Lisle as a possible candidate for Head Coaching jobs at Delaware and UCF, but Lisle ends up going to Baseball with the Tigers.
Trena Prater Follows Renee Luers Gillispie from UCF to Iowa
We would like to welcome Trena Prater to the #Hawkeye coaching staff! Prater will oversee hitting and our outfielders.

More info ➡️ https://t.co/JvZQfFZNJ6#FightForIowa pic.twitter.com/XUqVTjVXpM

— Iowa Softball (@iowasoftball) July 3, 2018
Renee Luers- Gillispie first move as Iowa Hawkeyes Head Coach is to bring Trena Prater with her from UCF to Iowa as Prater was hired by Gillispie the last off-season at UCF.
Prater helped the Knights to a 34-22 record and a third-place finish in the American Conference.
Before UCF, Prater spent seven seasons as a head coach at Buffalo and Hampton, where she amassed 141 wins and a MAC East Division title and MEAC Tournament title.
Prater was in the mix for the UCF Head Coaching job once Gillispie left on June 8th for Iowa. Instead, Prater goes to the Big Ten and reunites with Gillispie and becomes the third former UCF coach to be coaching at Iowa with Gillispie and Iowa's Men Basketball assistant coach Kirk Speraw who was the Head Basketball Coach at UCF (94-10)
As an assistant coach, Prater coached at George Washington (2003-04), Maryland (2006-08), and Mississippi Valley State (2008-10).
Prater had a legendary career at LSU where she was a first-team All-American at LSU in 2002 winning SEC Player of the Year.
Prater also spent seven seasons in the National Pro Fastpitch League, playing for the Akron Racers (2004, 2010), New York Juggernauts (2005), Chicago Bandits (2006), and Philadelphia Force (2007-2009).
Katie Rietkovich Named New Hitting Coach at Minnesota
We are excited to welcome @KRietkovich to the #Gophers family as our newest assistant coach! pic.twitter.com/t5Z0JKF5lY

— Minnesota Softball (@GopherSoftball) July 3, 2018
Rietkovich comes to Minnesota following a three-year stint as a volunteer coach and camp coordinator at Ole Miss.
Before Ole Miss, Rietkovich spent one year as an assistant coach at Savannah State.
Rietkovich made a few stops during her playing career starting at Georgia under head coach Lu Harris-Champer where she was a part of the Bulldogs' third-place finish at the 2010 Women's College World Series. After her stint at Georgia, she played in the NAIA at both South Carolina-Beaufort and Reinhardt.
Chris Malveaux & Sara Michalowski Hired By Missouri
https://twitter.com/MizzouSoftball/status/1012424811572809728
New Tigers Head Coach Larissa Anderson made her second hire since arriving at Missouri in bringing in Chris Malveaux.
Malveaux recently spent the 2018 season at the University of Kansas as the program's video coordinator. He brings a combined 17 years of experience as an assistant and head coach at the NCAA Division I level.
Malveaux is more well known for serving as the associate head coach at Louisiana from 2016-17. It marked his second stint with the Ragin' Cajuns, as he was also an assistant coach from 2009-11.
Malveaux also served as an assistant coach at Bradley from 2012-15, head coach at McNeese State from 2005-08 and an assistant coach at McNeese from 2002-04.
Anderson also hired Sara Michalowski on June 18th as Michalowski follows Anderson from Hofstra where she worked for Anderson from 2017-2018 as an assistant.
https://twitter.com/MizzouSoftball/status/1008789856846340102
Exclusive to Fastpitch News : Cassie Tysarzyk Leaves Coaching To Pursue Nursing Career
Former Texas A&M All-American player Cassie Tysarzyk is leaving the college coaching industry to pursue a Nursing career Fastpitch News has learned. Tysarzyk had been a volunteer coach at Houston since August 5, 2016, working with outfielders and assisted with hitting, base running, and infield. Before Houston, Tysarzyk was an assistant coach at Miami (Ohio).
Tysarzyk will stay in Houston as she works on nursing degree.
Danielle Spaulding Leaves Long Beach State
Danielle Spaulding has left the 49ers program and will pursue an entrepreneurial venture according to Justin's World who broke the story.
Spaulding was a three-time All-American as a two-way player at North Carolina, Spaulding was the ACC Player of the Year in 2008 and 2009 before being named the ACC Pitcher of the Year in 2010. Spaulding led the nation in strikeouts per seven innings in 2009, averaging a dominant 14.3 K/7, and hit over .300 in each of her final three seasons with the Tar Heels.
After finishing her North Carolina career, Spaulding went on to play professionally for two seasons while working as a volunteer pitching coach for Texas A&M.