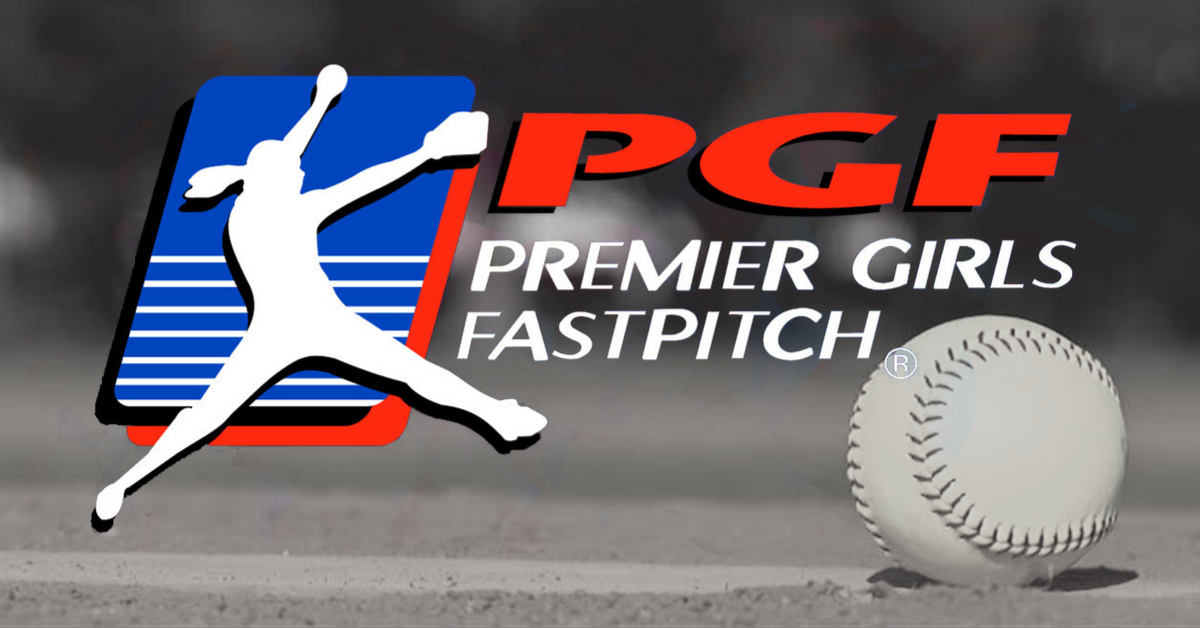 Last weekend PGF hosted their "Shootout" tournament with teams competing for paid entries to the 2020 PGF National Championships. It was a loaded field of some of the nation's top talent and there was no shortage of fantastic competition. We previewed the event, here, and now let's hear what a handful of coaches from the top finishing teams have to say about their team's performances.
14U
CHAMPION: Corona Angels Tyson
RUNNER UP: Universal
T3RD: Cal Cruisers, Explosion SA
Coach Marty Tyson: Our 14U Team has been together now for six weeks and have only had four practices [so] their weekend was amazing. We always start from scratch in the fall, because I coach the 9th grade teams so our girls come from multiple teams both in and out of the program. First step is becoming a TEAM with the kids and parents getting to know each other. We have a talented group of players lead by a "Four Headed Pitching Staff": 2023's Christal Lopez, Anaya Togia, Taylour Spencer, and 2024 Stefini Ma'ake.

Offensively we have a good mix of speed and power. We have table setters Ayanna Shaw, Jaydyn Leon, Kaitlyn Wynia, Jada Lewis, and Emma Jackson. Our power will come from Jaeya Butler, Kassidy Munoz, Cheyanne Castille, Samantha Bland, Sierra Humphreys, Dahalia Palacio, Alyssa Herrera, and Abby Laskowski. We also have kids who can play anywhere in Scarlet Russ, Arianna Rameriz, Mikalah Nitta, and Victoria Prado.

We are [also] learning how to WIN. In the championship we overcame our biggest hurdle so far: TEAM DEFENSE. [We record] NO ERRORS while Stefini Ma'ake pitched a shutout and hit a home run in a 1-0 win against Universal unlike my "Gold" Team the next six weeks means a lot of performing in front of college coaches and learning "Corona Angel Softball".

We will head to D9 in Florida in October, and Finish the fall at PGF's Pre-Thanksgiving.

BIG SHOUT OUT TO MY STAFF: Domonique Tyson, Gary Richards, and Krista Humphreys. They got them to Sunday!
CAL CRUISERS CAOUETTE / FPN 2019 Super 60 Squad!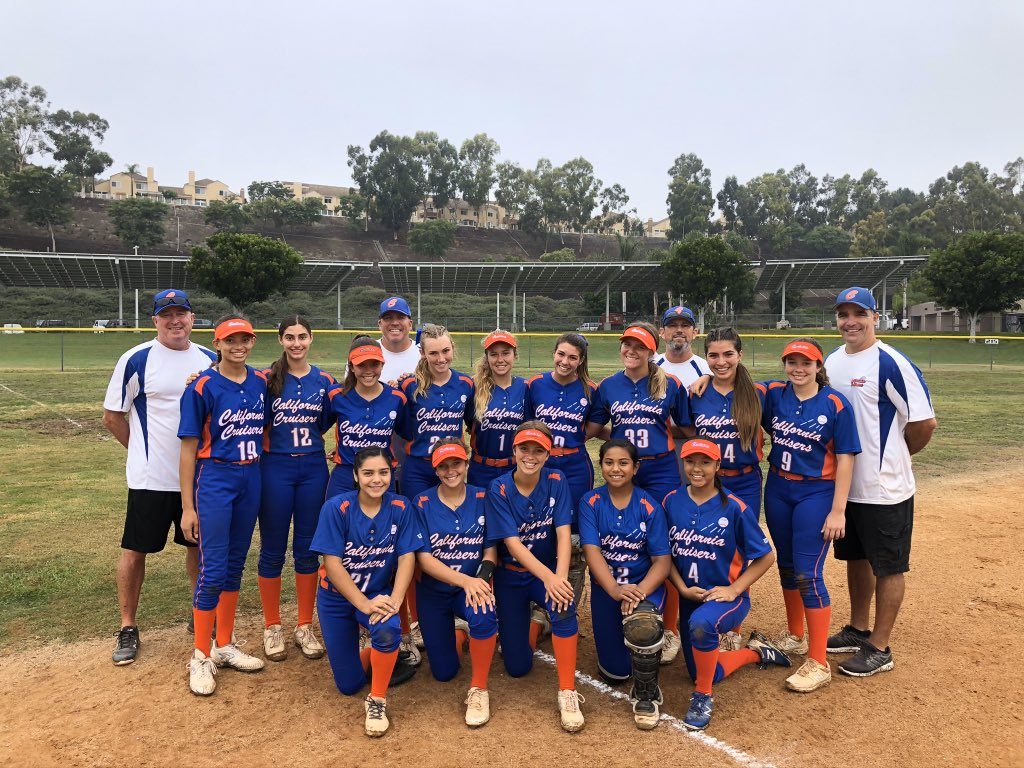 FPN: Can you share with us a bit about your successful weekend?
Coach Allen Caouette: This weekend was a great experience for our girls. After a successful year we got to play against the best of the best and played really good, reaching the semis and losing to the eventual champion, Corona Angels Tyson. I was happy that the team won numerous bracket games and played with confidence. The pitchers were great and defense was really solid. We are moving to the 16U division and looking to continue our success.

FPN: Who stood out among your players? Any specific top performers?
Coach Allen Caouette: Alex Caouette (2023, P): 3-0, .050 ERA, big win in quarterfinals. Kennedy Hobson (2022, P): 1-1, 1.4 ERA, great game in loss to Corona Angels. Leilani Gonzalez (2023, MI/OF) 8/16, 500. avg, six RBIs, three runs, two doubles, and one huge game tying home run. Siena Stickney (2023, MI/OF) 7/14, 500 avg, 4 RBIs, 4 runs, 5 sac bunts
FPN: What's coming up for your team in the weeks to come?
Coach Allen Caouette: October Showcase (October 19-20) Great Park Field 3, Irvine, CA. Las Vegas Surf City/On Deck Showcase (Nov 1-2-3) , Las Vegas, NV. TCS Players Weekend (Nov 16-17) , Lake Elsinore, CA. Surf City Early Thanksgiving (Nov 22-23-24), Huntington Beach, CA.
16U
CHAMPION: Athletics-Mercado/Greg
RUNNER UP: Bandits Helbling
T3RD: Explosion, Athletics Ornelas
FPN: Can you share with us a bit about your successful weekend?
Coach Matt Helbling: We were missing four girls from our roster, some injuries while one girl was at a camp/visit but you can't expect to be at 100% in the fall so it was a good test for us.
I think our strengths are our pitching and defense, this played out very well until a multiple error inning in the Championship game. That is to take nothing away from the Athletics Mercado team they played mistake free softball and are a well coached quality opponent.
We scored 42 runs in the first six games and gave up 11 in the same span. I think we are a very fast, athletic team that can score runs in bunches with the pressure that we apply. I like our defense and pitching a lot but we still have work to do in both areas.
We were happy to be the only team from east of the Rockies to travel to Huntington Beach and compete against the best the West Coast has to offer but our goal was not to finish in second place.
FPN: What were you happy with?
Coach Matt Helbling: I was happy with how we competed, I never saw any nerves or felt that the moment was to big for us. We have some very confident and mentally strong young ladies, that is a key to being able to survive and advance in a big tournament.
FPN: What is your team looking to build on going forward?
Coach Matt Helbling: Our goals are pretty simple, we want to win PGF Nationals this coming July. We were right there last July having a lead against the Texas Bombers (finished second to Bill Conroy's Bandit team) heading into the seventh inning but we just didn't finish. We have added a few players to the mix and believe that we have the ability to finish the job this coming summer.
FPN: Who stood out among your players? Any specific top performers?
Coach Matt Helbling: Lexi Paulsen 2022 – Washington Pitcher – pitched five games for us and gave up five earned runs; she pitched the entire semi final game and every inning but one of the Championship.
Sam Booe – 2021 – uncommitted pitcher – pitched in four games for us and gave up three earned runs. Sam did a great job keeping girls off balance and limiting her walks.
Savannah Fitzpatrick 2021 – uncommitted catcher– hit .550 for the weekend and didn't give up a stolen base. She is just a beast for us, super smart (33 on her ACT), extremely coachable.
Lydia Coleman 2021 – uncommitted OF – hit over .400 for the weekend while displaying some of her power with a HR and multiple extra base hits. She has elite level speed from the left side but you can't sleep on her power.
Kaytlan Kemp 2022 – uncommitted 2B/OF – hit over .400 for the weekend and had some key hits for us while scoring 12 runs and stealing a number of bases. She is someone that has a ton of athleticism and as her confidence continues to grow she is developing into a major contributor for our team.
Melina Wilkison – 2021 – uncommitted OF – hit over .400 and made some huge plays for us in CF.
FPN: What's coming up for your team in the weeks to come?
Coach Matt Helbling: We are at the Finesse Fall Showcase this coming weekend in Sylvania OH. 10/25 D9 in Orlando at the WWOS. 11/2 Scenic City in Chattanooga. 11/15 Wilson Fastpitch Championship in Viera Florida.
18U
CHAMPION: Batbusters Stith
RUNNER UP: So Cal A's Richardson
T3RD: Firecrackers TJ, Corona Angels Tyson
Coach Mike Stith: Of the eight games we played on the weekend our pitchers threw six shutouts which is a good sign at this point of the year. Jasmine Perezchica (FPN Top Prospect) is getting back to form and had a strong weekend at the plate after missing last fall with a tough injury.

After a sluggish start the offense picked up some and scored 32 runs Saturday only to face a tough pitching effort by Devin Netz (FPN Top Prospect) of the So Cal A's who held us to a few hits and one run. Nicole May (FPN Top Prospect) didn't allow a run all weekend and is progressing nicely as she prepares for Oklahoma. May was solid in the final with only allowing a coupe hits and no runs. Playing this much this early in the fall is difficult but it was a good feeling to play well and to build on for the remaining fall events.

We play in the Surf City October Showcase event next week as we prepare for the Wilson invitational in November at Space Coast in Florida sponsored by USSSA and Wilson. Teams from around the country will join both Florida and Florida state and also the USSSA Pride in a weekend of great softball in Florida.
Coach Marty Tyson: My Gold Team really showed fight throughout The Shootout getting down 6-0 to Conroy's Bandits in the first game out. They put a lot of pressure on themselves and we kicked the ball around early.

Kylee Magee gave us three innings of one hit ball and the defense settled down. Offensively Morgan Smith's three Run BOMB put us ahead. Juniors Cydney Sanders (FPN Top Prospects) and Beautae (FPN Top Prospects) were keys to our comeback. Sanders record three hits and RBIs while Beautae had two hits and two runs. Sarah Willis got us on the board with a home run.

The second game against Athletics Mercardo, senior pitcher Morgan Smith (FPN Top Prospect) dominated, striking out eight in a five inning shut out, 7-0. Juniors Savannah Pola (FPN Top Prospect) contributed a three run shot and Sanders went back-to-back with a solo shot. Beautae's also stayed hot with two hits.

In game three sophomore Kylee Magee pitched an 8-0 perfect game against the NW Bullets. Sanders sent a three run bomb to get us on the board. Savannah Pola, Sarah Willis (FPN Top Prospect), and Smith each had two hits.

In the semi finals So Cal A's Richardson won 5- 1. A bright spot offensivley was Pola who had two hits while juniors Savannah and Kendall Mangel (FPN Top Prospect) pitched scoreless relief.

Our Fall is different from a lot of programs. All our players are done, except one and she has two offers and taking trips to decide. We spend the six week recruiting window working on each players weakness and specific game plans. We will head out to Florida in November for an elimination event .